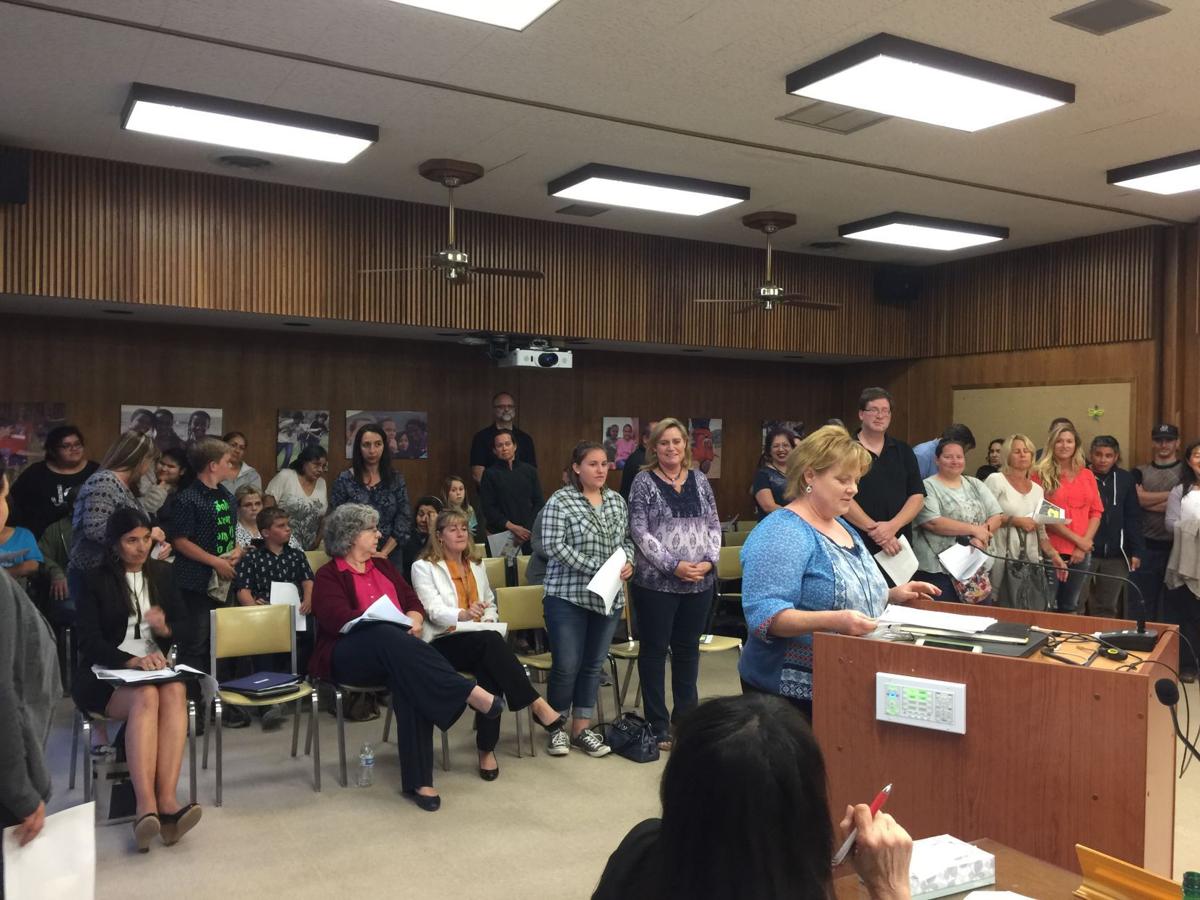 About 40 supporters of Trivium Charter School filled the Lompoc Unified School District's Education Center board room Tuesday evening to try to convince the district's board of education to accept the school's new charter petition.
Trisha Vais, Trivium's executive director, stressed to the board members that her school and the district should be viewed as working together on the same team with a shared goal to support student learning. She then turned the floor over to several speakers who extolled the ways in which Trivium has helped their children.
The scene was all part of a public hearing, made necessary by a recent change in law governing the ways that charter schools are approved, regarding Trivium's petition to receive a charter to continue operating its Lompoc learning center. None of the four present members of the LUSD board — Richard King was absent — offered comment on the matter following the 26-minute hearing, and no action was taken.
The board will need to vote on whether to approve or deny the charter within 90 days or the petition will be automatically approved. Vais requested that the board vote on the petition at its regularly scheduled Dec. 5 meeting.
Asked afterward if she was confident in the petition's chances to be approved, Vais said she was unsure what to expect.
"Charter schools aren't very prolific on the Central Coast, so I think that's our biggest battle," she said. "Any district can hire a lawyer to go through our petition and try to nitpick it and find something wrong with it, but I know our petition is solid. So I really hope that people step back and look at the big picture, that there's not a one-size-fits-all (solution). We don't try to pretend that Trivium is the best fit for every student, and I don't think districts should pretend that they're the best fit for every student. There should be a lot of choices out there.
"I'm completely confident about what we're doing at Trivium," she added. "I'm not confident that the politics won't railroad the process."
Trivium was founded in Lompoc in 2011 as an alternative, nontraditional school for students in kindergarten through 12th grades. Since then, the school has expanded to include two more learning centers in Santa Barbara County — in Santa Barbara and Santa Maria — and another two in San Luis Obispo County — in Atascadero and Arroyo Grande.
Currently, the school has 740 students, with 378 of them in Santa Barbara County. There are about 140 students enrolled from Lompoc.
The school had been operating under a charter from the Santa Maria-based Blochman Union School District. State education code stipulates that the school can also operate centers in adjacent counties, as long as the majority of its students are in its chartering county — in this case, Santa Barbara County.
Because of a recent court ruling in the case of Anderson Union High School District v. Shasta Secondary Home School, however, all charter school resource centers must operate within the boundaries of its authorizing school district, unless one or more detailed exceptions apply. Schools have until June 30, 2018, to get this authorization.
It's because of that ruling that Trivium is now seeking approval from LUSD for the first time.
According to a report from district staff, the board will consider the level of support for Trivium's petition by LUSD teachers, as well as other employees and parents in the district.
While there were no comments made by anyone who identified as a district employee at Tuesday's public hearing, the speakers who did address the board were all in favor of Trivium continuing its operations.
Some parents pointed to the school's individualized curriculum and said that their child, or children, would not have succeeded in school without it. Others said their children were bullied in traditional schools and had come to appreciate the more personal instruction, and space, offered by Trivium.
As evidence of the school's appeal, Vais said there's a waiting list of 150 people who are trying to enroll in the school in San Luis Obispo County.
If the LUSD board votes against the charter petition, the school can appeal to the county and, if necessary, the state. It could also seek charters in neighboring counties.
Regardless of how it all plays out, Vais was insistent that the school will not cease operation.
"We're not gonna close," she said. "I feel way too passionate about this and I have backup plans to the backup plans to the backup plans. There's too many ways that we can make this work for any parent to have to worry about us closing. That's just not an option that we're anticipating."
Willis Jacobson covers the city of Lompoc for Lee Central Coast Newspapers. Follow him on Twitter @WJacobsonLR.
Be the first to know
Get local news delivered to your inbox!