Three northern Santa Barbara County school districts are eligible for state advisory support to help improve their academic performance, student engagement or conditions and climate, according to the latest batch of school performance data released by the California Department of Education.
A review of California School Dashboard results for local school districts found that Santa Maria Joint Union High, Guadalupe Union and Lompoc Unified qualify for assistance through the state's recently developed System of Support — an expanded network of experts from local and state agencies to the state's county offices of education. The three northern Santa Barbara County districts join 371 others — slightly more than a third of all California school districts — eligible for advisory input and further data analysis. 
"We're very pleased with some of the data the dashboard shows us in respect to graduation and suspension rates," John Davis, assistant superintendent for curriculum at the Santa Maria high school district, said of the district's latest results. "In others we know we have work to do."
Released annually by the state education department, the dashboard evaluates K-12 schools and districts on a scale of five colors (with red the lowest and blue the highest) in up to six statewide categories: English test scores; math test scores; high school graduation rate; suspension rates; as well as chronic absenteeism and college/career readiness, which were added this year. In addition to measuring a district's performance status, the dashboard also tracks the change in performance (whether a district improved or declined) compared to the prior year.
"[The dashboard is a] big change from the past accountability systems," explained Ellen Barger, assistant superintendent for Curriculum and Instruction with the Santa Barbara County Education Office. "[The old model] had a tendency to rank or categorize schools as good or bad, but now we recognize that there are lots of ways of being good. Every district has ways of [showing] continuous improvement."
The state's old accountability system — the Academic Performance Index (API), which measured school performance on a scale of 200 to 1,000 — was suspended four years ago amid concerns over the system's reliance on standardized tests. Now in its third release of data, Barger said the new dashboard results have helped teachers and school administrators align local resources to better support struggling students.
"[The dashboard] gives districts and schools the opportunity to set their own growth targets, and [provides] context as to how they're doing compared to the rest of the state," she said. Barger noted that districts also consider their performance on local indicators — Local Control Funding Formula (LCFF) priorities not included in state data collection — when developing educational programs and support services.
Information is also broken down by student group — socioeconomically disadvantaged, English learner, foster youth, homeless — to help districts pinpoint and address any gaps in student achievement.
If at least one student group receives the lowest performance rating (red) in two or more achievement metrics, districts qualify for individually tailored help to correct performance issues or disparities. Changes to the dashboard and introduction of the new metrics resulted in 146 additional districts eligible for support this year, up from the 228 that qualified in 2017.
Academic performance was the most common reason a district qualified for supplemental assistance, with college/career readiness, chronic absenteeism and suspension rates often taking the second or third spot. Students with disabilities at all three districts scored more than 100 points below standard scores on the state's English and math tests — lower than the statewide average for similar student groups.
"Those student populations require a lot of effort to meet their needs," said Davis, promising that the district will continue to work on improving educational outcomes for students with disabilities. "[This isn't] a problem that's isolated in the Santa Maria Joint Union High School District; it's a problem around the state."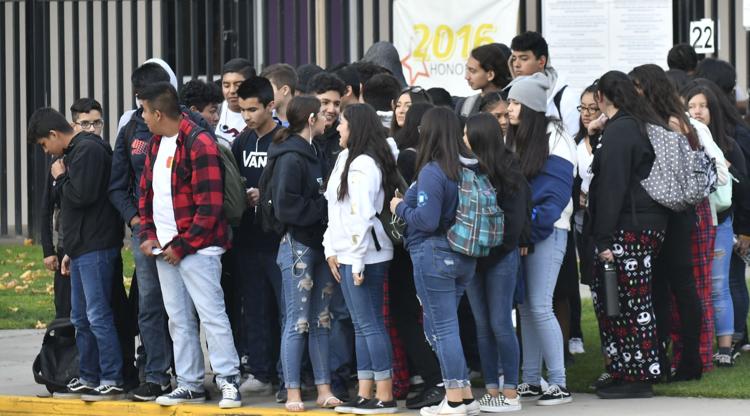 Davis said the district has made positive improvements in their graduation rate — currently 91.2 percent, a rate higher than county and state averages — and decreases in the suspension rate, which is now at 3.3 percent.
"We've placed a lot of emphasis on support programs, intervention programs and made tons of changes in the last five years ... by making sure we have credentialed counselors on all of our campuses," Davis said. "We want to get more eyes focused on students, their academic progress and how they're doing in their classes."
At Lompoc Unified, which qualified for assistance for the second consecutive year, dashboard results indicate additional performance disparities among foster youth and homeless students. Suspension rates for all three groups increased compared to last year: roughly 1 in 10 students with disabilities and homeless students, and 1 in 5 foster youth have been suspended once.
"We continue to have a lot of work to do to help all of our students succeed," Superintendent Trevor McDonald said in a statement, "however, we now have the data to understand the specific needs and develop appropriate programs and tools to address them."
Like Santa Maria Joint Union, McDonald reported a growth in Lompoc Unified's graduation rate and improvement in the number of students that are college/career ready.
All four major student subgroups — English learners, students with disabilities, Hispanic students and socioeconomically disadvantaged students — registered the lowest academic performance. Suspension and chronic absenteeism rates among students with disabilities also increased compared to 2017.
Overall academic performance increased at the Santa Maria-Bonita School District, with English and math test results improving from orange to yellow. Nicole Wiseman, the district's coordinator of curriculum, said the growth in academic performance was the result of the district's focus on targeted support and early intervention. 
"We're looking at the outcomes and targeting our goals to student needs, and really making sure we're planning and providing the support students need — whether emotional or academic," she said. "I feel that the systems we put in place ... [contribute] to improved student outcomes in [those] areas."