The Santa Maria-Bonita School District kicked off its annual visual and performing arts festival Thursday with choir performances, hip-hop dance and even a little jazz.
Held every spring, the Fine Arts Festival brings students and parents together for a two-day celebration of music, dance, art and theater. Students and parents will return to Grace Baptist Church, located at 605 E. McCoy Lane, on Friday for the closing performances.
The Fairlawn Elementary third-grade choir opened the event, which featured performances from El Camino Junior High's Titan Hip Hop Crew, Rice Elementary's Rainbows ukulele players and the Ontiveros Elementary choir. The district's elementary honor band, junior high honor band and junior high honor jazz band followed in a 7 p.m. performance.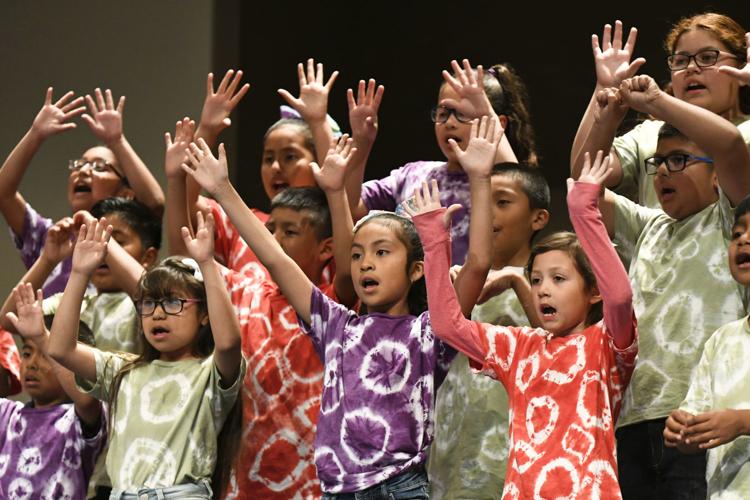 Aspiring actors will take the stage Friday at 5 p.m., when the Adam Elementary Drama group performs scenes from  "Frankenstein for Kids." The Oakley Dolphins Baton Twirling Group and the Bruce Elementary ukulele players will follow. Baile folklórico (folklórico dance) troupes from Taylor Elementary and El Camino will be featured during the 7 p.m. show, which also includes a performance from the district's third-grade honor choir. 
Students from each school will receive recognition for artwork on both nights.
On Saturday, seventh- and eighth-grade band students will join musicians from other local junior high and high schools, as well as performers from Hancock College, as part of a 400-person ensemble dubbed the "Bandarama." Billed as the largest indoor community exposure to local music programs, the event will be held at the gymnasium at Santa Maria High School from 6:30 to 8 p.m.
While all events are free and open to the public, parking and seating are limited.