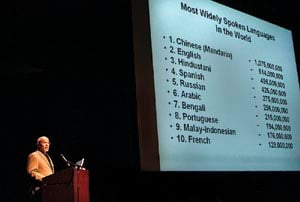 What will education look like in 20 years?
University and college presidents, an industry training expert and the global director of the Oracle Education Foundation did their best to provide some answers to that question Tuesday in a presentation of 21st Century Learning Skills at the Clark Center in Arroyo Grande.
Cal Poly President Warren Baker; Hancock College President Jose Ortiz; Cuesta College President Gil Stork; Keith Lovgren of Pacific Gas and Electric Co.; and Bernie Trilling, director of the Oracle Education Foundation, all provided their view of how education is evolving.
Together, their ideas are being used to help the Lucia Mar Unified School District develop a long-range plan for its curriculum.
The framework for 21st Century Learning Skills focuses on the "Seven C's," according to Trilling, who co-authored a book called "21st Century Skills: Learning for Life in Our Times." Those C's include: critical thinking; creativity and innovation; collaboration; cross-cultural understanding; communication; computing technology; and career learning.
Those aren't exactly the three R's — reading, writing and arithmetic — that have been the core of traditional education.
Trilling didn't advocate throwing out the core curriculum, but instead said restructuring the educational system to teach career- and skills-based learning is long overdue.
"How do we adjust the educational system to reflect the need?" Trilling asked the crowd of several hundred.
Lifelong learning is the key to success in the 21st century, he said.
Baker, Ortiz and Stork all laid the foundation for Trilling's presentation.
Baker, Cal Poly president for the past 30 years, said the university's "Learn By Doing" philosophy has helped students prepare for successful careers for generations. But as much as he lauded the institution's traditional academics, he cited a study in which more than half of Cal Poly alumni who responded said the university's informal co-curriculum, such as student professional organizations, clubs and senior projects, provided as much valuable learning as traditional classroom and lab instruction.
"We can no longer be the sage on the stage. We need to be the guide on the side," he said.
Ortiz brought a message of cross-cultural understanding and diversity to the presentation.
Hancock's president comes from Puerto Rican heritage and said the American educational system needs to focus on expanding its horizons beyond its English language and roots.
Ortiz cited a study that showed only eight of every 100 university students in this country study foreign languages, a statistic and trend he called "abominable."
He said this country's view of English as the dominant language of commerce in the world is narrow and offered a statistic that English is more of a second language around the world, with Mandarin Chinese used by twice as many people globally.
Ortiz also said the study of foreign languages leads to better understanding of other cultures.
Stork offered his view of the last 46 years in public education, nearly all of it at Cuesta College.
He identified what he called academic skills – traditional reading, writing, math and speaking talents – and soft skills – such as communication, responsibility, goal setting and a willingness to try new things.
Stork said he has spoken with employers more interested in those soft skills than the technical facts students can retain.
Lovgren, who has developed job skills programs for PG&E, told the audience that companies such as his are looking for schools, universities and job training programs to provide workers who are ready to become problem solvers, collaborators, critical thinkers and leaders. He said because of the economy, employers can't afford massive training programs they have had in the past.
He also said clean energy industries such as solar, biofuels, energy conservation, the Smart Grid and wind power will also provide jobs not currently available.
Lovgren also would not dismiss core curriculum education, including computer training.
The challenge for all of the educational leaders at the forum, the Lucia Mar school district and many of the educators and administrators in the audience is marrying traditional curriculum with the project-based, life and career skills training needed for the high-technology future.
Lucia Mar Superintendent Jim Hogeboom plans two more forums next month – May 24 at Nipomo High School and May 25 at Arroyo Grande High – to discuss how to incorporate 21st Century Skills into the district's curriculum.
Be the first to know
Get local news delivered to your inbox!