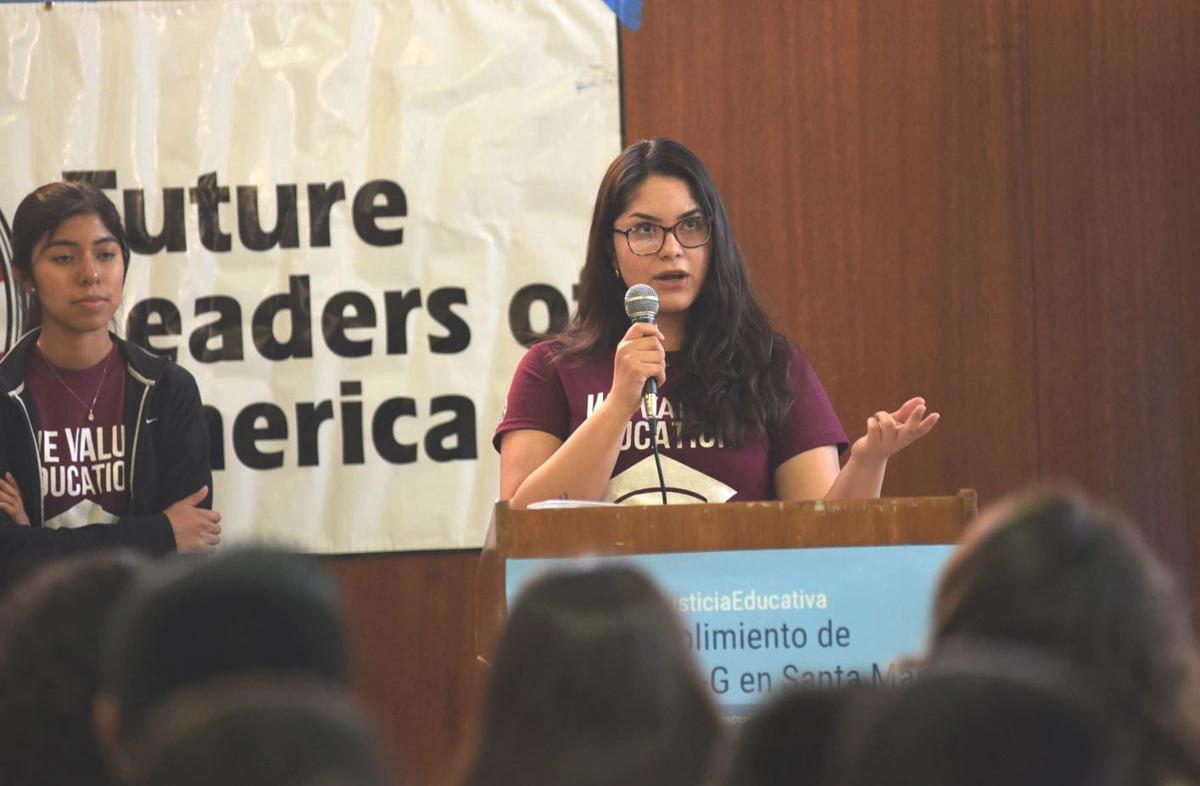 In a crowded room at the Santa Maria Veterans Memorial Center, high school students and youth advocates gathered for the second time to ask Santa Maria Joint Union High School District board members and administrators to realign their graduation requirements with those needed to gain admission to one of California's 31 public four-year colleges or universities.
As they did last May, students from three district high schools — Santa Maria, Righetti and Pioneer Valley — and Orcutt Academy asked the district to help build a "college-going" culture, one where students are encouraged and supported to reach their academic goals.
Pioneer Valley High School junior Anthony Vilchis — a member of Future Leaders of America, the youth advocacy and empowerment group that organized Monday night's forum — took issue with the district's high graduation rate yet low number of students who are able to apply to a four-year college. 
Only one in five graduates from the graduating Class of 2017 completed the state's A-G requirements, the courses students must complete (with a 2.0 minimum GPA) to be admitted to a UC or Cal State campus, according to the California Department of Education. 
"What we think is that, if we were to hold the school district to the [same] standard they hold us to, and grade them as they would, we believe they would be getting an F," Vilchis told the crowd, demanding the district realign their graduation requirements with the state A-G courses, but also the addition of an ethnic studies graduation requirement.
Without that, Vilchis asserts that the district "is setting us up for failure."
District officials again shied away from the students' request, however.
You have free articles remaining.
"We would love to see higher A-G [completion] rates in our district, and I applaud the students for caring about the problem, but it is a complicated problem, not a simple one," Davis continued. "Simply ramping up the graduation requirements to mirror the [University of California] is not an answer."
California students are required to complete 13 yearlong courses specified by the California Education Code to receive a high school diploma. While local school districts can supplement those graduation requirements, Santa Maria high schools only require the state minimum.
Some students claimed they were only informed of the A-G requirements at the start of their freshman year, and would later find themselves blindsided by the fact that the classes they had taken since freshman year would not meet the state's college admissions standards.
Davis said students meet with credentialed school counselors "regularly" to devise an academic path that aligns with their long-term goal of trade school, community college or a four-year university. He said students are presented with the A-G requirements before their enrollment and several times during their first few years.
"Nobody wants to see students fail," he said. "We all want to see students [succeed.]"
Note: Due to an error with the California Department of Education's open data tool, an accompanying graph included incorrect information about Orcutt Academy High School's A-G completion rate. Seventy-nine percent of the Class of 2017 completed the graduation requirements.
More than 700 cases of measles -- the largest number since 1994 -- have been reported across the United States, including 40 cases reported in southern and northern California. While no cases of measles have been reported in Santa Barbara or San Luis Obispo counties, a handful of local elementary schools -- both public and private -- are vulnerable to the disease due to low vaccination rates among kindergartners, according to the "Shots for Schools" website, which is run by the California Department of Public Health.
Whether coming back to school or heading home for the day, Michele Frantz, a first-grade teacher at Joe Nightingale Elementary School, makes s…