Phil Alvarado never ventured far from home or school.
He first stepped onto a Santa Maria school campus as a kindergartner in 1960, and when school lets out in June, he will leave the Santa Maria-Bonita School District for the first and last time in his career.
The 60-year-old Alvarado is retiring after 38 years with the district, the last six as superintendent, where he began his career as a bilingual instructional aide. He announced his retirement to his staff Thursday.
He is probably the only man who to visit Fairlawn Elementary School as a student, instructional aide, teacher, assistant principal, principal, assistant superintendent and superintendent.
"It can't be put into words," he said about how he felt about wrapping up a career he loved every day he went to work. "How blessed am I to be able to spend my entire career in the city I love?"
Alvarado spent more than his career in Santa Maria. He was born and raised here, spending much of his life on the west side of town and attending some of the schools he would eventually govern.
"I grew up a block from Fairlawn Elementary. I walked about five blocks to El Camino Junior High. Then I rode my bike to Santa Maria High School," he said with his ever-present smile.
About the only time he left town was to get his education. After a brief stint at the Brooks Institute of Photography in Santa Barbara, Alvarado took some advice from Ken Milo, another career-long teacher and administrator in the district.
"He said 'You need to seriously consider education as a career. You have a knack for getting through to kids. Education would make a really great career,'" Alvarado said recalling the advice of a man who preceded him in the superintendent's office.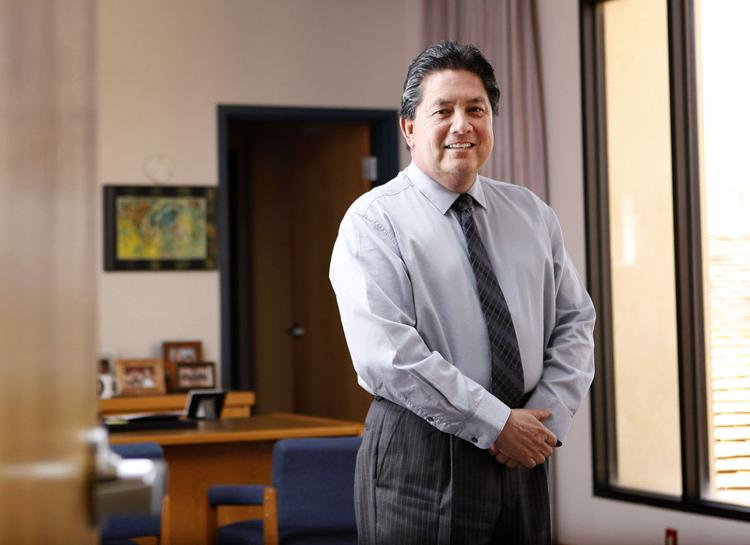 It was advice he heeded. He went from being a bilingual instructional aide after graduating from Santa Maria High to Cal Poly to get his degree and teaching credential. And as soon as he could, he returned to Santa Maria to begin his career.
Alvarado taught at practically every level of elementary school, served as an assistant principal at Adam and Miller elementary schools and Fesler Junior High. He became a principal at just 31 years old when the district opened Ontiveros Elementary, a job he called one of the highlights of his career.
After eight years at Ontiveros, he moved into the district office, eventually replacing Fidenzio "Bruno" Brunello, now a school board trustee, as assistant superintendent of instructional services. He took the superintendent's position in 2009.
You have free articles remaining.
Through all of those years, Alvarado's attention has never strayed too far from the kids in the classrooms, because many years ago he was one of those kids.
"If it wasn't for Phil, we wouldn't have the flag football and soccer programs we have today," said Bill Libbon, former director of the Santa Maria Valley Boys and Girls Club who also grew up on the city's west side. "He's responsible for starting a lot of the programs. He was instrumental in starting ASES (After School Education and Safety Program). He has a passion for kids and that's what it takes."
"Oh no!" Santa Maria Alice Patino said after learning about Alvarado's impending retirement. "So many of the good things that are going on in the district are because of Phil. He's such a wonderful superintendent. He's easy to work with. He's easy to communicate with. I'm just glad they had him while they had him. He did a lot of good work while he was there, and you can't say that about everybody."
"We are saddened by Mr. Alvarado's decision to retire but are grateful for his many years of dedicated service to the Santa Maria-Bonita School District and the Santa Maria community," said board President Jody Oliver. "He has been a humble and caring educational leader for 38 years as well as an outstanding role model for students and other educators. We wish Phil and his family a long, healthy and happy retirement."
During his tenure as superintendent, enrollment has swelled to over 16,000 and the district's schools have grown to keep pace with it. The district's 20th school will open in August, and more growth is on the way thanks to Measure T, the $45 million bond measure voters approved last November.
Alvarado said the bond measure and other changes coming to the district are the reasons he said it is time to step away. 
"It's just real important to me that the timing be as natural as possible," said Alvarado, who has been thinking about the move for the past couple of years but wanted to accomplish one more thing before hanging it up. "I wanted to pass a bond. It hadn't been accomplished in the past. It's something the district and the community needed."
He said with the bond approved, a new state funding formula in use and new assessment testing beginning this year, the timing seemed right for him to pass the torch to somebody else. His last day will be June 30.
He plans to spend more time with Cindy, his wife of 35 years, his daughters, Amanda and Alicia, a grandchild, and a large group of friends he's made over the years.
"Plans?" he asked, saying he was looking forward to the simple things. "Just being able to go to a ballgame midweek. Reading something other than a report, a study, an agenda or a spreadsheet -- something for pleasure will be nice."
But, he added, there's no way he can stray too far from a profession he called home for nearly four decades.
"I still plan to be involved in many community organizations and activities," Alvarado said. "Retiring as superintendent doesn't mean retiring from my commitment to children or our community. Santa Maria will always be home."