Essential life lessons are taught in Rebecca Borjas' kindergarten classroom.
As a primary school teacher for the past 31 years, Borjas taught generations of Santa Maria-Bonita students how to grip a pencil and handle a pair of scissors, the importance of sharing and playing fair, and how to make friends.
But some Santa Maria-Bonita kindergartners feel uncomfortable or out of place in school. They're not used structure and routines of a classroom, Borjas said, and being away from their parents for the first time can be a difficult separation.
To ease the transition for soon-to-be kindergartners who need additional support or did not attend preschool, the district hosts a summer bridge program for three weeks prior to the start of school.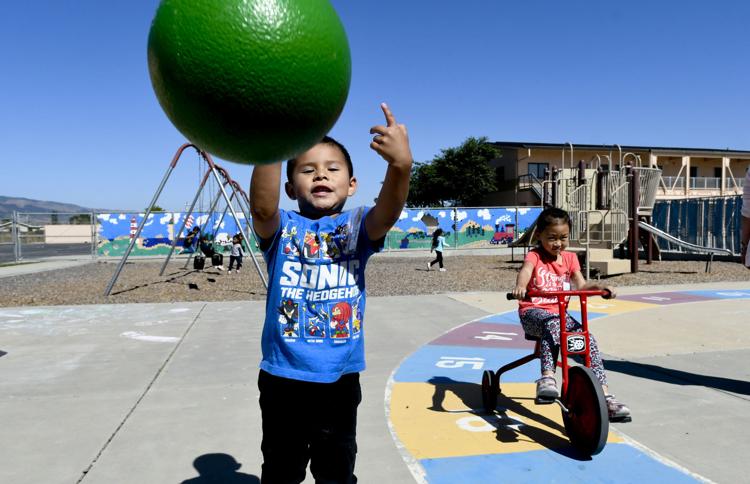 "As soon as this program was made available to Arellanes Elementary, I just thought it was a great idea," said Borjas, who chose to work the three-week "Kinder Bridge" program despite her July 1 retirement.
"These [students] feed directly into our classrooms, so it affects who we get in August."
The three-week program teaches students about school and its routines before they enter as kindergartners.
Preschool and kindergarten teachers are paired up to develop the curriculum, lead instruction and support students at various levels of social-emotional development. 
"We help them get a little bit better [prepared], so they're not as fearful, they're happier and they know friends," Borjas said.
District preschool Director Karin Dominguez, who oversees the Kinder Bridge program, said students who attend preschool before kindergarten are more familiar with classroom structures and routines. They typically understand how to sit down, look straight, listen to the teacher and not talk to their friends.
But not every parent who wants to send their student to preschool can.
The first steel column of what soon will become Santa Maria's newest public elementary school was erected Monday, nearly four months after con…
"We have an issue in infant toddler care," Dominguez said. "It's not available."
Santa Maria-Bonita offers 24 preschool classes with room for approximately 570 students. Even when factoring in local Head Start programs and other private options, there are simply not enough preschool spots for Santa Maria children.
You have free articles remaining.
Register for more free articles
Stay logged in to skip the surveys
Last year, Santa Maria-Bonita enrolled more than 2,100 kindergartners. Dominguez estimates roughly 60% of them did not attend preschool.
"The school district does a good job moving children a year's growth, but they're coming in behind," she said.
According to Dominguez, Santa-Maria Bonita students who attended preschool score seven points higher on the Kindergarten Student Entrance Profile — a 13-item assessment that gauges a child's social-emotional readiness and knowledge of grade-level concepts — than those who did not.
"Even just with a short amount of time, [students who went to preschool] are coming in at a higher level than children [who didn't]," she said.
When students return in August, Arellanes Elementary kindergartners will enter and leave school at the same time as their older counterparts. The Tanglewood elementary school — the smallest in the 17,000-student school district — will pilot full-day kindergarten instruction, a first in Santa Maria-Bonita. 
Borjas said staff and site administrators chose to pilot the program in order to evaluate its potential benefits and drawbacks for the school.
"Sometimes it's like we're rushing to get everything in, so we tend to focus more like on math skills and language arts than we do social studies or science," she said of the constraints imposed by the three-hour instructional period in half-day programs.
"Now we'll have all day, so we'll have more time to hit all the curricular areas and do a good job."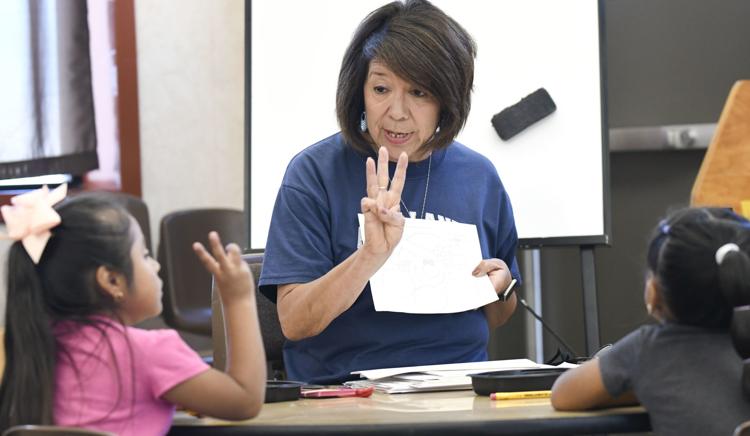 A 2010 review of research by a team from Duke University found that children who attended full-day kindergarten had greater self-confidence, were better at working and playing with others and performed better on academic tests than children in half-day programs.
"They're missing all the preschool and beginning literacy skills, so hopefully, with a full-day program, we've got more time to focus on the beginning literacy gaps that they might have ... [and] hit the grade level standards we're expected to have them achieve," Borjas said.
Fourteen states and Washington, D.C., require school districts to offer full-day kindergarten, according to a comparison of kindergarten policy compiled by the Education Commission of the States.
California law requires school districts offer half-day kindergarten, but school attendance is not mandatory until the age of 6.
Arellanes' small size — 51 kindergarten students enrolled last year — allows it to meet the program's staffing and facility requirements, conditions that could not be met at larger schools in the district.