Tony and Aleah Martinez spent most of Thursday evening scurrying from station to station at Jiménez Elementary's second Family STEAM (science, technology, engineering, art and math) night.
The energetic pair of second-graders said they had the most fun experimenting with sugar crystals, learning about raising livestock and watching a demonstration by Spartatroniks, the Orcutt Academy High School Robotics Team. Their mother, Melinda Martin, said she appreciates the event's family-friendly nature as a way to make science fun and easily accessible for students and families.
"It's a really great program," she said, adding that both Tony and Aleah were excited to show off their science experiments. "[This year they] really got into the project and the science [behind it.] It was a fun project and great way to spend time together."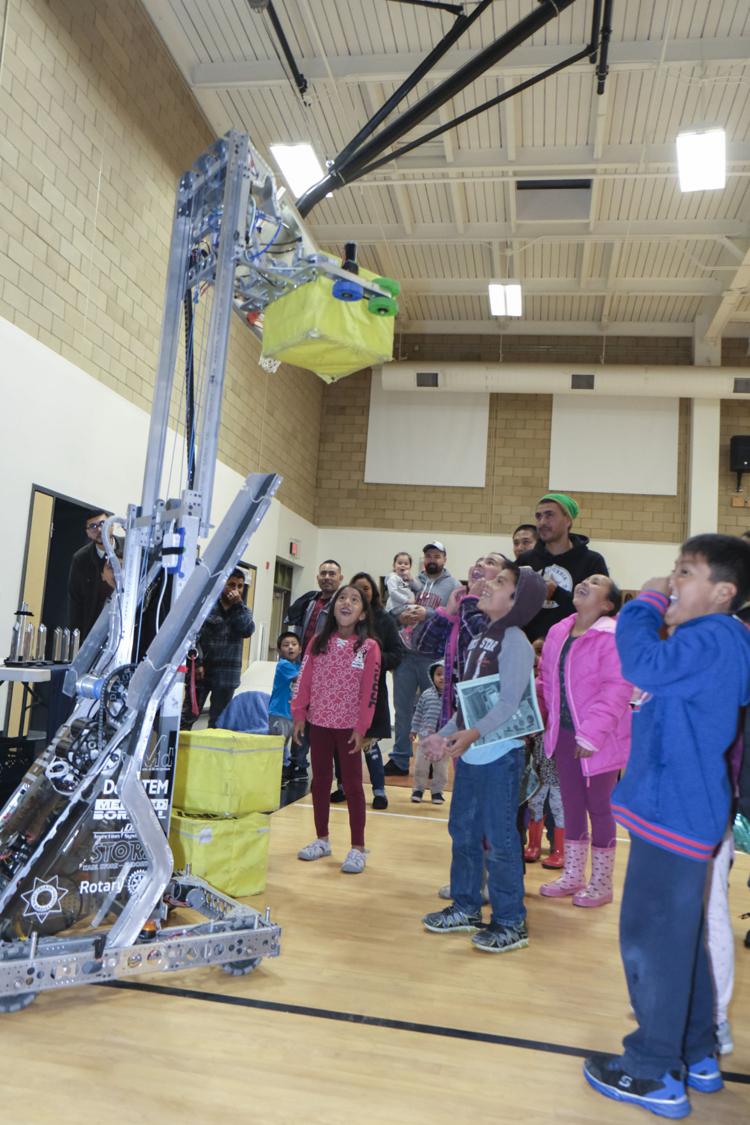 Assistant Principal Shandee Bayne, who helped the school's Parent-Teacher Council coordinate the event, said the night was designed to help parents and families go from passive observer to active participant in their child's education. From straw rockets and LEGO racers, the more than a dozen workshops and self-led activities gave both students and parents a reason to be excited.
"We always are looking for ways to involve our families in the events," she said. "We want our families to be part of the education at Jimenez; we think that's really important. Events like this are [ways for us] to give them ideas for [activities] they can do with their kids at home."
Now in its second year, the school chose to integrate the kindergarten-to-sixth-grade science fair into the evening's activities. Featuring nearly 200 entries, students were given the opportunity to showcase their science projects to siblings, parents and judges.
"The kids are very excited to share what they're learning at school with their parents," Bayne said. It also fits into the school's mission of building a healthy community outside of the classroom.
"There are plenty of opportunities out there to do science," said Baileigh Ruiz, FFA president at Pioneer Valley High, "it's just about [showing students] what they're able to take advantage of."
On hand Thursday as part of the evening's animal science demonstration, Ruiz said the crispness and cleanliness of the FFA uniforms (as well as her family's background in agriculture) attracted her to FFA. The program's vast opportunities (she recently traveled to Indianapolis for the organization's national convention) are what kept her dedicated and involved.
"People usually stereotype FFA as a farmer-producing program, but we're more than that," she said. "The Santa Maria Valley is an agriculture community but so many of these kids think ag is just about working in the fields. There's so much more to it than they can possibly think."
Bayne said events like this are important for preparing students for careers in an increasingly connected society.