Education, faith at forefront of annual Catholic Schools Week celebration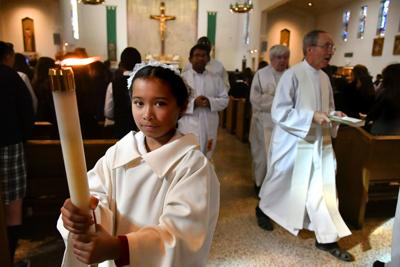 On the day honoring St. Thomas Aquinas -- the patron saint of schools and learning -- more than 600 students, faculty and staff from four North County Catholic schools crowded into pews at St. Mary of the Assumption Church to celebrate the intersection of faith and education. 
Featuring readings about wisdom, knowledge and youth, the special Monday morning Mass marked the start of Catholic Schools Week -- a weeklong event highlighting the contributions of Catholic education across the nation -- for La Purisima School, St. Mary of the Assumption School, St. Louis de Montfort and St. Joseph High School.
Entering its ninth year, school administrators say the collective kickoff helps students form relationships with peers and colleagues from other schools.
"We're blessed to have so many students join us in celebrating our faith and the positive impact Catholic schools have had not only here but across America," said Michelle Cox, St. Mary's School principal. According to Cox, Monday's Mass was the largest gathering of Catholic youth in northern Santa Barbara County this year.
Rev. Thomas Cook, who delivered Monday's homily, recounted his experience with Catholic education to the congregation. Cook refused to attend public school as a child, despite being "a block and a half" from his house. Instead, he made the mile-long trip every day to attend a local Catholic school outside of his neighborhood.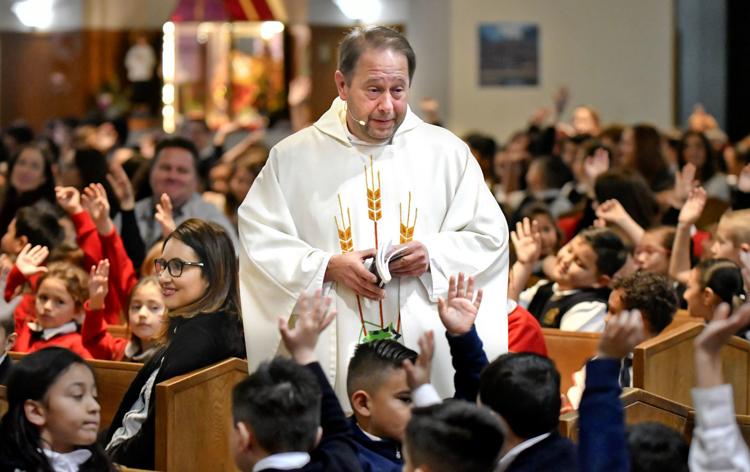 "It makes a real difference," he told the students. "You're allowed to have a crucifix on the wall, ... pray, read the Bible ... [and] go to Mass every week or more. It makes a difference. It reminds us all the time about Catholic Christianity and what it is."
To Cook, a strong Catholic education must do more than prepare students to meet rigorous academic standards. Developing a strong sense of morals and values are central to the educational system, as is building a sense of pride in the Catholic faith.
"There was a student who liked his uniform so much that he wore it to church every Sunday," Cook said, recalling a former La Purisima student. "Not just on the Sunday of Catholic school but every Sunday. He certainly wasn't embarrassed to have people know he went to Catholic school. He certainly wasn't embarrassed to be a Catholic."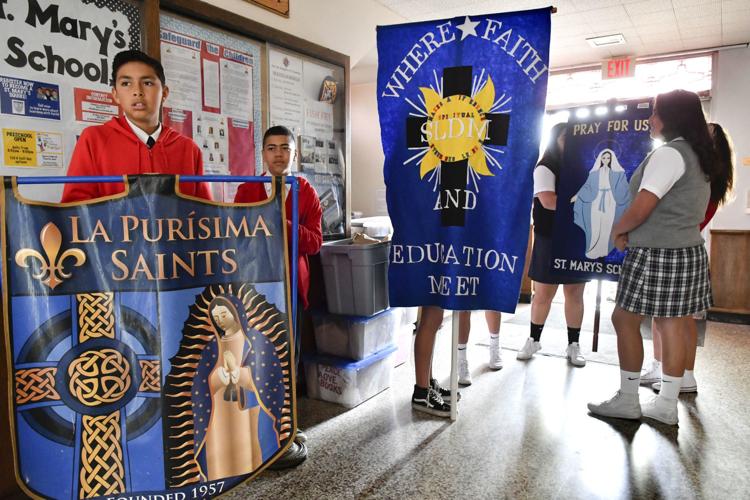 St. Joseph High School Principal Erinn Dougherty said creating a school culture that promotes active parental involvement is central to the success of Catholic education. Though the school prides itself on strong academics, a balance of religious and "whole child" education helps St. Joseph prepare students for what awaits beyond the classroom.
"Catholic school students come much more prepared, but that's not the most important part of what we do in Catholic education," she said. "We know that our students are prepared and that they're going to be successful, but we teach them how to focus on their interior life and values — whether they're a practicing Catholic or not."
"We're smaller and not the traditional public school, so sometimes it can seem like [our students] are the only Catholic children," Cox added, "but when we gather, they feel a sense of joy being part of such a [larger] community."
Mathew Burciaga covers education in Santa Maria and the surrounding area for Lee Central Coast Newspapers. Follow him on Twitter @math_burciaga