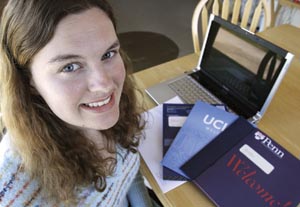 When Ryan and Teri Schwab's oldest daughter, Sarah, began sending out college applications, they just were hoping their high-achieving home-schooler would be accepted to a good university.
When she received acceptance notices from the University of Pennsylvania, Rice University, UCLA, UCSB and UC Irvine, they were relieved their years of home work had paid off.
"We knew it was going to be a brutal college application year," Ryan said, referring to more than 57,000 applications received at UCLA alone. "When she got into college, we were just happy she got accepted."
When Sarah opened letters from Penn and Rice, both of which offered scholarships, the Schwabs were "jumping for joy."
Sarah earned Rice's Trustee Distinguished Scholarship, which covers nearly all expenses for four years if she chooses to attend the university.
Over the next two weeks, she plans to visit both schools with her mother.
"I've never been to Houston or Philadelphia, or Texas or Pennsylvania for that matter," said Sarah, who has already narrowed her list to the two schools.
"I'm not really considering any of the UCs right now because Rice and Penn have offered me really good scholarships," Sarah added. "I just feel like I have the opportunity to see different areas and experience different cultures and other ways of life."
Stifling east Texas summers and frigid Pennsylvania winters might deliver some culture shock for the Southern California native, but the educational opportunities outweigh physical discomfort for Schwab.
Penn seems to be her top choice at this point because of its tradition and history — Benjamin Franklin founded the school in 1750. She also has friends in the area.
Last year, the school received nearly 23,000 applications and admitted only 4,018 freshmen. The school has more than 24,000 full-time students, with about 10,000 undergraduates and roughly the same number of graduate students.
Schwab would like to become an attorney, making Penn Law School a attractive option.
"I'll start worrying about that in my junior year of college," she said.
Right now, Schwab has seven weeks of online high school left. She studies in Stanford University's Education Program for Gifted Youth Online High School.
After that, she'll be out looking for a summer job just like thousands of other high school graduates.
Get local news delivered to your inbox!
Subscribe to our Daily Headlines newsletter.