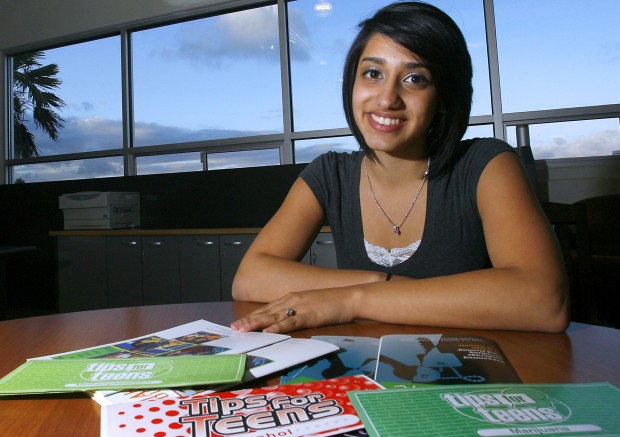 Demi Urias speaks softly, but carries a big message to her peers when it comes to the dangers of drinking and driving.
A junior at Pioneer Valley High School, Demi delivers her message through the Fighting Back Santa Maria Valley Youth Involvement Group and is one of four Central Coast high school students being honored today as "Awesome Kids" by the Kids Network of Santa Barbara County.
Enrique Padilla Jr., of Righetti High School, Christopher Wagstaffe, of Santa Ynez Valley High School, and Jessica Rodriguez, of Girls Inc. of Carpinteria, were the others chosen for the honor. All have devoted their time and effort to improving their communities. They each receive an award and a $200 savings bond.
Demi looks back to Feb. 9, 2008, as the day her life changed. It was the day her mother, Maria, was killed in a traffic accident on Highway 101 while riding with a drunk driver.
The accident left Demi and her younger brother, Nathaniel, without a parent. Grandparents John Vargas and Esmeralda Gonzales, and aunt Dawnette Smith took the kids in.
A freshman at the time of the accident, Demi and her aunt both struggled with the loss. Demi fell behind in school and lacked direction.
"After losing my mom, I was a child with no discipline, no guidance and no one to lean on," Demi explained.
Nearly a year after the accident, Smith got a job with Fighting Back Santa Maria Valley (FBSMV), a nonprofit group that fights drug and alcohol abuse and youth violence, and she talked Demi into joining her.
"It's was something that was needed for her to do. It's given my sister's death some meaning," Smith said.
Both women found the work at FBSMV almost cathartic. Smith works as the class action coordinator, while Demi shares her story with fellow students.
"The first time, it was really hard to speak about it," Demi explained. "After (I spoke), I saw that it affected other people. I saw them crying, too.
"I can't really be selfish and make it about me. Other people are struggling, too," she added.
Demi has used her soft voice to tell the story many times since. She recently participated in the Every
15 Minutes event at her high school. She also appeared at Life Interrupted programs at Fesler and El Camino Junior Highs and The Real DUI program at Righetti High, a program which takes students through an actual DUI court proceeding.
"I think she really reaches people's lives," said Jada Clark, of FBSMV who nominated Urias for the honor. "She's somebody who has walked through that loss and realized they made it through."
Enrique credits his mother, Martha, for his decision to change his life.
In 2007, Enrique was a sophomore at Righetti High School, a member of a local gang and using drugs. One day in December, a fight broke out at the school, which was locked down. Four students from Guadalupe, Enrique's home town, were arrested.
You have free articles remaining.
Even though he wasn't involved, he decided it was time to change.
"I decided I didn't want to make my mother cry anymore," Enrique said. "I saw the pain I was causing my mother with what I was doing in school and outside school, and it made me want to change."
 Enrique decided to take drastic measures, so he enrolled in the Grizzly Youth Academy, a charter high school in San Luis Obispo run by the California National Guard. Five and a half months of military-style discipline later, Enrique emerged a different person with more focus and self-confidence.
"We call him Mr. Padilla now. He's earned that respect," said counselor Elena Hernandez, who nominated him for the award. "As a teenager, showing self-initiative on something that huge is admirable."
When he returned to Righetti High, Enrique's old life was staring him directly in the face. His old friends from the gang sized him up almost immediately. Some shunned him for changing, some tried to coax him back into the lifestyle and others threatened and harassed him.
Now a senior, Enrique works with Righetti High staff to help maintain a safe campus. He addresses Spanish-speaking parents about how to identify gang affiliation and drug use in their children.
He's also seeking funding to get a youth soccer program started in Guadalupe. He hopes the program will keep kids in his town away from gangs and drugs.
"So many kids would benefit from it," he said.
Chris Wagstaffe doesn't volunteer just to have his college applications look good. The senior at Santa Ynez Valley Union High School strives to serve others by feeding the hungry or building houses in Mexico with his church youth group.
"Chris leads his peers by example. His compassion, character, work ethic and spirit of volunteerism are evident in his actions," Principal Suzanne Nicastro said in her nomination form.
Wagstaffe has been apart of the Paradigm Shift, the youth group at Valley Christian Fellowship in Santa Ynez, for the last four years and is now the group leader. They go to Santa Barbara on weekends to feed the hungry with other area youth groups and they each take a turn in cooking the meals, handing out plates or serving food.
"I like bringing people joy, even if just a small amount like a meal and making them laugh. Seeing others happy makes me happy," Wagstaffe said.
His youth group also travels to Mexico once a year to help other Christian Fellowship churches with services needed such as projects building houses or fixing up old stadiums used for church retreats.
Jessica Rodriguez has been overcoming challenges since birth and has earned the honor of being an Awesome Kid through her sheer grit and determination.
Born with spina bifida, Jessica has addressed representatives of the entertainment industry at national conventions about how teen girls are depicted in the media. She also was instrumental in forming a club to educate her classmates on recognizing recyclable waste materials.
"I'm determined to obtain my goals and am not easily wavered," she said in her nomination form.
 Jessica was nominated for the honor by Asa Olsson, teen director of Girls Inc. of Carpinteria.
Raiza Canelon contributed to this story.