Swimmers were back in the water Monday at the Lompoc Aquatic Center, which reopened its doors to the public for the first time in four months.
Staff at the Aquatic Center, located at 207 W. College Ave., welcomed lap swimmers and began reintroducing some other programs on the first day of public access since the facility was closed on March 13 due to the COVID-19 outbreak. The reopening was limited, however, as several amenities remained shuttered and several more health and safety procedures were put in place for those looking to utilize the facility as summer heats up.
Still, Lompoc Aquatics Supervisor Mike Espino said he was excited to see the complex back in use. The number of swimmers allowed inside the pools at any one time for lap swim has been capped at 14 in an effort to promote social distancing. That maximum was reached Monday before 9 a.m.
"We've had a good wave of folks come in," Espino said just before noon. "It actually went pretty smooth overall; no issues whatsoever."
Although Gov. Gavin Newsom ordered the re-closure of many indoor establishments on Monday, Espino said the Lompoc Aquatic Center's retractable roof panels, which he plans to keep open during operating hours, should allow the facility to remain open.
The reopening of the Aquatic Center was a piece of a partial return to service for the Lompoc Recreation Division on Monday.
In addition to inviting back swimmers, the Recreation Division also resumed processing passports via an appointment system at the Anderson Recreation Center, 125 W. Walnut Ave. People looking to use that service are encouraged by the city to call 805-875-8100.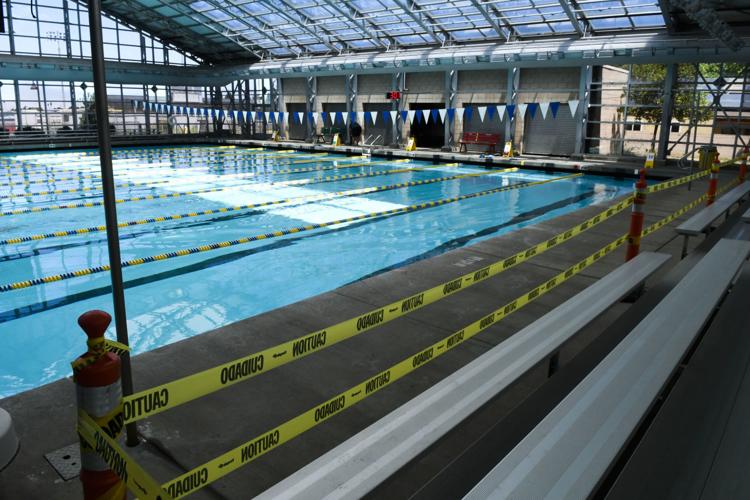 At the Aquatic Center, online reservations are required for lap swimming, which is currently available only to people 14 years or older. Reservations can be made for particular lanes for either 30 or 60 minutes at a time.
Time slots and lap lanes can only be reserved up to 48 hours in advance, and swimmers are limited to just one slot per day to ensure that more people have access.
Some of the other major changes in place at this time:
All locker rooms are closed off, so guests are encouraged to arrive in swimwear.
All water fountains are shut down, so visitors are advised to bring their own drinking water.
People who enter the facility must wear a face covering until they reach the pool.
For lap swim, people in odd-numbered lanes will be asked to enter the pool from the south end, and those in even-numbered lanes will be asked to enter from the north.
All items that are left behind by guests and considered non-valuable, such as towels or goggles, will be thrown away daily.
"We've really taken a lot of precautions," Espino said. "It's so we can make sure people are safe and can have an enjoyable experience while they're here."
Other programs reintroduced Monday include water exercise, swim lessons for those in levels 5 or above, and adult swim lessons.
Some amenities at the Aquatic Center aren't expected back until 2021 at the soonest, according to city officials. Those activities include open recreation swim, lower-level swim classes, day camps, rentals for parties or gatherings, water slides and the kids' Aquaplay area.
Espino noted that Aquatic Center staff is developing a plan to potentially offer private swim lessons for those in lower levels, which typically involve young children.
Espino said those private lessons will likely not allow for physical contact between the instructor and student, so they will require a parent or guardian to enter the pool with their child and then work closely with that child as the teacher provides instruction.
To make a reservation, or for more information about the new safety guidelines, visit the city's Recreation Division website at https://www.cityoflompoc.com/government/departments/recreation.
Espino, who took over management of the Lompoc Aquatic Center in April 2019, pointed out that all plans at this time are tentative.
"We just don't know with the current spike [in coronavirus cases] that's going on right now," he said, noting that the Aquatic Center could potentially close down again. "But I'm glad that we're able to reopen. We take everybody's safety — both people coming in, as well as employees — we really take that to heart."
Espino — who has managed aquatic facilities since 1988, including 16 years with the American Red Cross and another 10 years as a safety and risk specialist for aquatics at the national YMCA headquarters — said he considers Lompoc to be "truly blessed" to have a facility of such quality.
His main goal now is to keep it that way, as safely as possible.
"I was actually telling my staff the other day as we were doing training to reopen, that in all my years in aquatics, I've never experienced anything like this," he said, referring to the unprecedented coronavirus crisis. "It is something different and new, and, of course, some of the procedures that we've [put in place] we'll have to look at and see if they're actually working and then adapt. But yeah, this is definitely something that none of us have experienced."
Willis Jacobson covers the city of Lompoc. Follow him on Twitter @WJacobsonLR.
Concerned about COVID-19?
Sign up now to get the most recent coronavirus headlines and other important local and national news sent to your email inbox daily.