Imagine going to your job every day to find urine and feces splashed outside the door to your workplace, items left apparently to intimidate you, fresh graffiti sprayed on the elevator doors and dead animals rotting inside.
When you leave late at night, you pass dim alcoves that could easily hide an assailant and walk through darkened pathways and courtyards completely hidden from public view.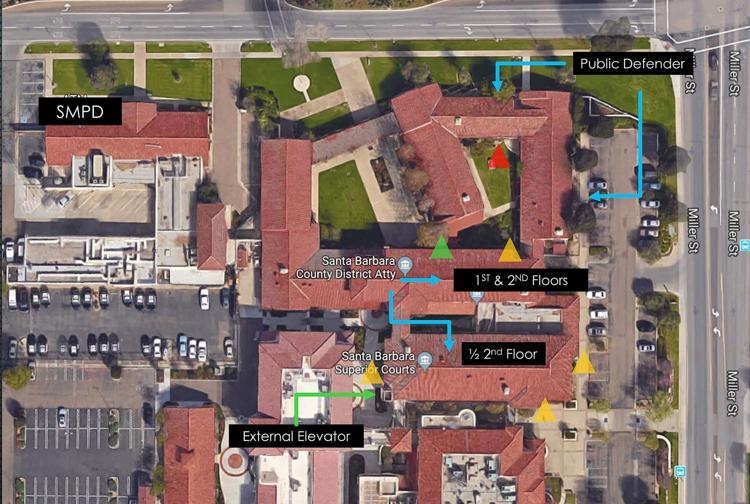 By day, the building is plagued by electrical and plumbing problems; by night, people of questionable character do drugs and drink alcohol in its isolated recesses, where the homeless make camp for the night.
That's the situation district attorney and public defender employees face at their offices in the Santa Barbara County Courthouse complex at East Cook and South Miller streets in Santa Maria, according to representatives of the two departments.
But it's possible the county might solve the problems by purchasing the former Santa Maria Police Department station next-door and moving the staff of both offices into that building.
Mag M. Nicola, chief deputy district attorney, and S.E. Ballard, an attorney with the Office of the Public Defender, painted the grim picture of the courthouse complex for the Board of Supervisors as they reviewed potential capital improvement projects Tuesday in Santa Maria.
The two asked the board to consider purchasing the adjacent Santa Maria Police Department facility at East Cook and South McClelland streets to house their employees.
Supervisors didn't promise anything, but they directed the staff to look at the possibility of purchasing that site or providing relief through security guards or posting it for no trespassing during certain hours.
'Terrifying' situation
Nicola told supervisors the building is 65 years old and experiences ongoing problems with the heating and air-conditioning, electrical and plumbing systems as well as other structural issues.
It's also deficient in fire protection, energy efficiency, adequate office space and in meeting Americans with Disabilities Act requirements, he said.
"There is a homeless population that seems to be ever-present," Nicola said, adding employees frequently come to work to find urine and feces at the entrances.
Following a recent child molestation verdict, employees were greeted by a condom wrapped around the door handles, which they took as an attempt to intimidate them.
Another time, employees found a butcher knife blade embedded in a picnic table in a grass area hidden by three wings of a building.
"The butcher knife and the condom are intimidating, and it's terrifying to our staff, Nicola said.
He said entry doors located inside the complex can be reached only through walkways that are dimly lighted at night, and employees who often work late must walk through them as well as past dim alcoves that are ideal for an ambush.
An isolated exterior elevator to an open-air walkway provides the only access to district attorney offices on the second story of an adjacent building, and the doors are frequently covered with graffiti.
"The graffiti reminds (employees) this is an unsafe and unsecure place to come to work," Nicola said.
"Our staff is genuinely afraid of this location," he said. "The public defender staff is genuinely afraid of this location."
Ballard agreed: "We are in lockstep with the DA on this issue."
Crime and dead animals
Ballard also had horror stories for the supervisors.
"I was lucky enough to find that knife," said Ballard, explaining she had come to the office and settled in to work when she happened to glance outside.
"I was looking out … at a 12-inch butcher knife right outside my window," she said.
Recently, an employee working late heard what she thought was a mild disturbance outside about 9:45 p.m., but she attributed it to the homeless who sleep in that grassy area where the butcher knife was found.
"At 10 o'clock she left the office and walked right into a crime scene," Ballard said.
The 9:45 disturbance was a stabbing that took place in the lot where the employee had parked.
"In the last five years, we've had 18 callouts for dead animals and 22 for structural issues," Ballard said.
The animal had died inside the suspended ceiling, and by the time it began to smell and an employee called General Services Department workers for help, the carcass had been invaded by insects.
"She was walking through the office and stepping on what she thought was rice," Ballard said. "She was stepping on maggots."
She said such things destroy the professional atmosphere of the office.
"How would you feel walking into a doctor's office or a lawyer's office and the first thing you smell is a dead animal?" she asked supervisors.
Nicola said because the state owns the buildings, the county is limited on the maintenance it can perform, but whenever the state does any work, the county gets billed for a share of the cost.
"We can continue to nickel-and-dime this, but we do not own the building," agreed Janette Pell, director of the General Services Department.
Nicola said the vacant Santa Maria Police Department building is "a good opportunity for the county to get out from under the Superior Court."
Ballard supported that idea.
"Let's not throw good money after bad," she said. "This building is broken and needs to be fixed with a move across the street."
Supervisors couldn't take any action because the proposal wasn't on the agenda, but they did direct staff to look for options to move the DA and public defender offices out of the building.
"I've been in that elevator and it's scary," 5th District Supervisor Steve Lavagnino said. "I would like to see us close the purchase. I think we have to do something, and that makes the most sense."