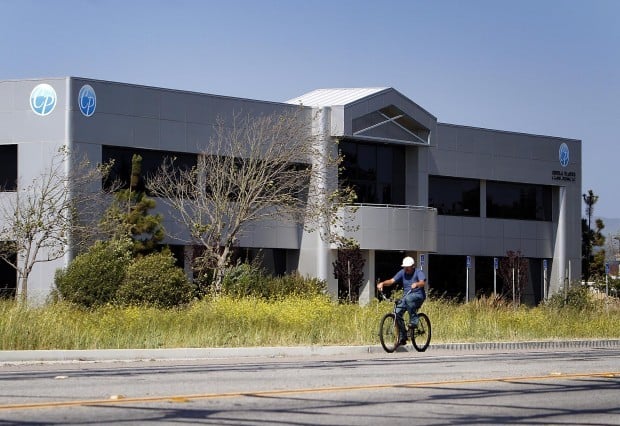 DenMat Holdings LLC, a dental products provider and major employer with plans to grow, announced Wednesday that it will vacate its facilities in Santa Maria and relocate its 350 employees to Lompoc.
The move by DenMat, which as been talked about behind the scenes for several months, will begin in June and take place over six months, according to Steve Semmelmayer, chief executive officer of DenMat.
"Our current and future space needs dictate a move to a facility where we can consolidate operations under one roof as well as provide room for expansion," Semmelmayer said in a prepared statement.
DenMat, which also provides laboratory services to dentists in more than 68 countries, will be moving to 1017 W. Central Ave. in Lompoc. The building is now occupied by Central Plastics, Inc., a supplier for DenMat, which is expected to eventually relocate to another building in Lompoc, according to city officials.
Lompoc Mayor John Linn, who was out of town Wednesday but in touch with city hall, said the DenMat announcement is important news for Lompoc.
"This is the largest single-employer gain since the Space Shuttle," Linn said, referring to the aerospace industry expansion in the 1980s. "It's going to put a bunch of folks in Lompoc every day."
Although few if any new hires will occur in Lompoc, DenMat's expansion plans bode well for the city's future, Linn said.
"They are in an expansion mode, so we look for growth over time, and we hope some of their employees will join us in Lompoc," he said.
Lompoc's unemployment rate, about 15 percent, is the highest in Santa Barbara County.
DenMat now operates out of two facilities which are across the street from each other in Santa Maria — 2727 Skyway Drive and 2850 Skyway Drive. Both are owned by Dr. Robert Ibsen, who founded DenMat in 1974, then sold the company in December 2008.
Semmelmayer told employees in a March memo that he had not signed a new lease and was negotiating for a building in Lompoc.
You have free articles remaining.
C&D Zodiac, a growing aerospace products manufacturer at 2641 Airpark Drive in Santa Maria, will move into DenMat's space at 2850 Skyway Drive, Tony Guy, C&D general manager, said Wednesday. Guy said he intends to also inquire about the building at 2727 Skyway Drive. 
Zodiac already leases five buildings in that area and now has 1,100 employees in Santa Maria, Guy said. It has 6,500 employees total, mostly in California and Washington, he said.
Todd Tiberi, DenMat's chief administrative officer, said the company conducted an exhaustive search for a new building.
"After an extensive search of the Central Coast, with a focus on Santa Maria, only one building met our needs — the building in Lompoc," Tiberi said in the company's prepared statement. "We also appreciate the responsiveness and important support of Lompoc's mayor and his Economic Development Office."
Santa Maria leaders helped search for a new building that would have kept DenMat in Santa Maria, Tiberi said.
"We thank the Santa Maria Economic Development Commission and others who tirelessly helped us in our search for an appropriate building in Santa Maria," he said.
Semmelmayer said that finding a location close to Santa Maria was a goal of the company, which had conducted a transportation survey of employees.
 "Many of our employees have been with DenMat for quite a few years so finding a location that was as close as possible to Santa Maria was very important to us," he said.
Lompoc City Administrator Laurel Barcelona said city leaders and staff "worked together to support DenMat during their search for a building on the Central Coast to facilitate its operations and plans for future expansion. We welcome DenMat to Lompoc, and wish them a long successful future."
Semmelmayer concluded: "We are excited about DenMat's relocation to Lompoc. With this move, DenMat will be well-positioned to seamlessly expand its operations on the Central Coast. We look forward to a long and successful future in Lompoc."
Ibsen sold DenMat to DLJ Merchant Banking Partner in December 2008. DenMat is credited with pioneering at-home and professional teeth-whitening products in the 1990s with its Rembrandt brand of oral care products. DenMat sold the Rembrandt line to Gillette Company in 2004.
Centre Partners, a private-equity firm in New York City, and Mill Street Partners LLC, a Los Angeles-based company that provides investment advice to makers of dental and medical devices, bought DenMat in November.
Semmelmayer, Tiberi and Robert Cartagena, who founded Mill Street Partners, assumed leadership of DenMat.