An investigation into the social media-fueled spring break party that turned violent after revelers clashed with law enforcement officials in Isla Vista has led to eight more arrests, according to the Santa Barbara County Sheriff's Department on Wednesday.
Santa Barbara County sheriff's detectives spent months looking into the April 5 mayhem at Deltopia, an unsanctioned party that drew an estimated 20,000 people.
Videos of the mayhem — which resulted in hundreds of arrests and injuries to 26 civilians, six sheriff's deputies and one UCSB police officer -- began emerging in the immediate aftermath. Sheriff's Department officials said they reviewed footage and relied on crowd sourcing tools to help identify some of the offenders. The results led detectives as far as South Lake Tahoe, the Bay Area and Los Angeles County to make the arrests.
The most recent arrest was made Friday, when 23-year-old Agustin Guerrero was taken into custody at his workplace in Oxnard.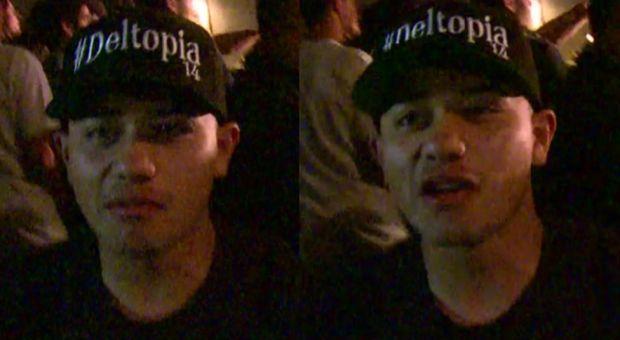 In one of the most widely circulated videos from the incident, Guerrero, wearing a black baseball cap with "Deltopia 14" written across the front, was seen throwing a large rock at a white, UCLA-owned van parked at Camino Del Sur and Sabado Tarde Road.
Authorities believe that it was Guerrero's initial act of vandalism that incited a mob to form and completely destroy the the UCLA van. Several pieces of evidence related to the crime were seized when sheriff's deputies served a search warrant at his residence.
Guerrero was booked into the Santa Barbara County Jail on an outstanding $50,000 arrest warrant for felony vandalism and inciting a riot. Additionally he also had a $5,000 traffic warrant unrelated to the Deltopia incident.
Due to the sensitive nature of the ongoing investigation into the civil unrest, seven arrests in April and in May were not made public, according to Kelly Hoover, spokeswoman for the Sheriff's Department.
Geddy Miller, 19, was arrested in South Lake Tahoe on April 18. Miller was captured on a widely-shown video jumping on top of the UCLA van. He was transported to the El Dorado County Jail and booked on charges of inciting a riot and felony vandalism.
Refusing to disperse and remaining at a riot resulted in the arrest of William Hopkins, a 22-year-old UCSB student from Goleta. He was taken into custody on April 6, the day after the civil unrest.
Arron Cozza, a 19-year-old from Arroyo Grande, was captured on video pulling a stop sign out of the ground and waving it around, authorities said. He was arrested April 10 at Santa Barbara City College where he is a student. Cozza was booked on charges of receiving stolen property and theft.
Mike Duenas, 20, of Acton was also taken into custody April 10. He was transported to Santa Barbara County Jail and booked on charges of inciting a riot.
On April 15, 21-year-old Austin Escobedo was arrested in Santa Barbara and booked on charges of making terrorist threats and participating in a riot.
Two days later, 21-year-old Jorge Santana was arrested in San Lorenzo after he was identified as a suspect who threw two canisters of tear gas at deputies. He was booked at the Santa Barbara County Jail on charges of obstructing and resisting a peace officer with violence.
In May, Justin Mott, 18, of Valencia was identified as a suspect who vandalized a vehicle in a Goleta grocery store parking lot after the riot. He was arrested May 21 and booked into the Los Angeles County Sheriff's substation in Santa Clarita. 
The Santa Barbara County District Attorney's office will review the cases of the eight arrested.
Hoover said the sheriff's office has sent four other cases to the DA's Office requesting review for other possible charges.
A total of 470 people were arrested or cited during the mayhem. Of those arrested, 457 were adults over the age of 18 and 13 were juveniles. 
Of those arrested, 30 percent were identified as being affiliated with 66 different educational institutions, 64 from California and two from out of state. Twenty-one people were from UCSB and 22 from Santa Barbara City College. The remaining 96 people were from out of area colleges and universities.
Detectives from the sheriff's office are continuing to seek information regarding additional suspects and ask that anyone with information to contact the anonymous tipline at 681-4171.
Get local news delivered to your inbox!
Subscribe to our Daily Headlines newsletter.