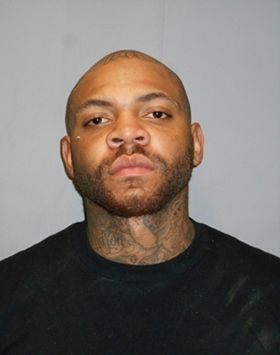 Lompoc Police on Thursday identified the suspect allegedly involved in a domestic violence incident that led to a five-hour standoff with SWAT team members on North C Street Wednesday as Dandre Kenyon Jordan, 27, of Lompoc.
Officers responded to a domestic violence 911 call shortly before 11:45 a.m. in the 200 block of North C Street, where Jordan was still inside a residence with the victim, according to Lompoc Police Sgt. Bryan Dillard. 
Jordan was allegedly wanted in connection with multiple violent criminal investigations over the past several months, which revealed he was in possession of a handgun and had made statements that he would resist arrest if approached by police. 
This information prompted officers to establish a perimeter around the residence and issue a shelter-in-place order to nearby residents, who evacuated their homes, Dillard said. 
After attempts to call Jordan out of the home for the next five hours without success, Lompoc Police and Santa Barbara County Sheriff SWAT team members launched chemical munitions into the home before entering the residence, where Jordan was found hiding in the attic. 
Negotiations to get Jordan to surrender continued, although they also failed and the SWAT team launched more chemical munitions into the attic, after which Jordan surrendered shortly after 5:30 p.m., Dillard said. 
No injuries resulted from the standoff and Jordan was booked at the Lompoc Jail for outstanding warrants and on suspicion of nine domestic violence-related charges, including robbery, damaging a communications device to prevent help and child endangerment. 
Sign up for our Crime & Courts newsletter
Get the latest in local public safety news with this weekly email.