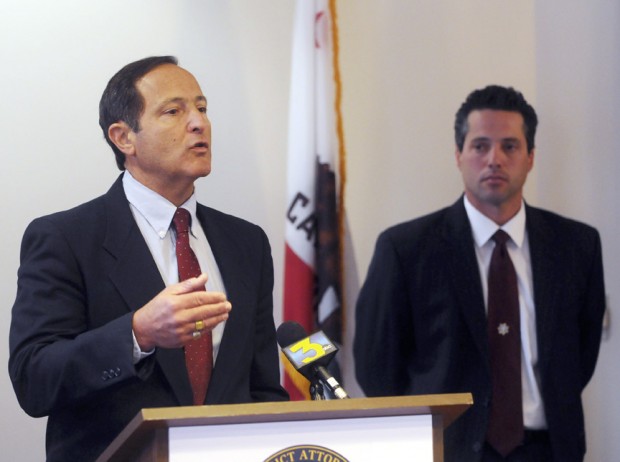 Officials remained tight-lipped Friday about what led them to file misdemeanor charges against two men whose brush-clearing efforts are suspected of causing the devastating Jesusita Fire earlier this year.
Representatives from the Santa Barbara County District Attorney's Office and the county Fire Department held a press conference Friday, a day after announcing that Craig Ilenstine, 50, and Dana Larsen, 45, have each been charged with a misdemeanor violation of county codes for using gas-powered weed cutters to trim brush around the trails the day the fire broke out on May 5.
But they offered few additional details about the two suspects, or what led investigators to file charges against them.
The blaze raged for nearly a week, destroying 80 homes and charring nearly 9,000 acres of in the hills above Santa Barbara and Montecito.
 The investigation was turned over to the District Attorney's office in September, according to Joshua Lynn, Acting Santa Barbara County District Attorney.
The misdemeanors stem from the fact that neither of the men had a "hot work" permit, required under county code as well as
California Fire Code, said Senior Deputy District Attorney Jerry Lulejian, who is overseeing the case.
Such a permit is required when doing any kind of brush clearing with a gas or electric powered tool that has a metal blade, Lulejian said.
"The metal blade will strike rocks, soil and will cause small embers to come out," Lulejian said.  "You may or may not actually see them… but they're hot enough to start a fire.
"If you're out in the forest areas, and whatever you're doing could possibly catch a fire, you need to have a permit from county fire before you do it."
Volunteer groups clearing the trails aren't unusual, and a hot work permit isn't required for brush clearing with hand tools or with weed cutters that use monofilament plastic line to cut vegetation.
A hot work permit also requires that the workers have fire suppression tools with them, like a shovel and enough water to put out a fire should one break out, as well as one person to watch the area for at least half an hour after the work is done to ensure no embers are left smoldering.
"These are two requirements that are important to this case and would have, we think, prevented this situation from occurring in the first place," Lulejian said.
Residents in wildland areas are required to get a permit to cut brush on their own property if they are planning on using tools with metal blades.
The Zaca Fire that broke out in the summer of 2007 brought up the same issue, and a hot work permit was part of that case, he said.
Lulejian said he couldn't comment on whether two suspects came in voluntarily.
The pair are being charged with misdemeanors because felony charges would depend on the DA's office proving that the pair had recklessly set fire to the area.
"We don't think we have the facts and circumstances to justify that,"  he said.  "The case is simply not there."
The maximum penalty for the offense is a $25,000 fine and imprisonment in county jail for a period of no more than 90 days. 
The DA's office is also seeking full criminal restitution in the case.  The California Department of Forestry is also seeking civil cost recovery from Ilenstine and Larsen.
"We will have to prove that the crime, which is not having the permit, caused the fire in order to get the victims of the fire criminal restitution," said Lulejian, and added that restitution covers all out of pocket expenses that resulted from the crime.
The cost of the fire suppression from the Jesusita Fire was roughly $19.5 million, according to Mike Dyer, county Fire Chief.
Ilenstine and Larsen are due to appear in Santa Barbara Superior Court for arraignment in January.
Sign up for our Crime & Courts newsletter
Get the latest in local public safety news with this weekly email.