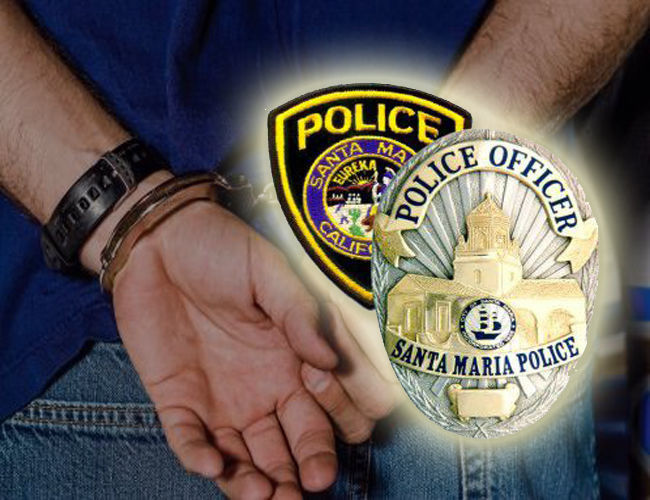 Law enforcement agencies in Santa Barbara County are taking steps during the COVID-19 pandemic to protect officers, including limiting arrests when necessary and handling non-emergency calls over the phone. 
But officials say protecting the public and maintaining calm is their top priority.
"I tell [my employees] this, that people look to us for calm so we have to be calm," said Santa Maria Police Chief Phil Hansen. "My job is to set an example." 
Hansen gave directives on Friday following a critical meeting between the chief and his employees on the coronavirus, which Hansen said could become a "real problem." 
A second confirmed case of coronavirus in the county was reported Tuesday; the first was reported on Sunday, according to health officials. 
Officers already have the discretion to cite people in the field for certain misdemeanors rather than making an arrest, but Hansen said he's reinforcing that idea to limit potential COVID-19 exposure.
Arrests for violent crimes will continue, he said, adding that the department is taking extra precautions with transporting inmates, such as regularly disinfecting patrol vehicles. 
"If it's the kind of arrest that merits custody, we'll make it," Hansen said. "We'll continue to do our job and be there for people." 
While Hansen falls within the age range of those urged to self-isolate by Gov. Gavin Newsom, he said he will continue to report to work every day. 
Officers will continue to respond to calls, and have been given personal protection equipment including gloves and N95 respirators, while being authorized to wear utility uniforms as they are easier to clean, according to Hansen. 
The uniforms are similar to what officers wear now, but blue in color and resemble the battle dress uniforms worn by the military. 
Dealing with potential pathogens is par for the course for police officers, who often interact with people with hepatitis, HIV and tuberculosis on a regular basis, Hansen said. 
Contingency plans include moving officers from specialized units back into patrol if large numbers of officers are taken out of commission or get sick. 
Department officials are expecting to handle an increased volume of calls and could have officers take reports over the phone for "low impact" nonviolent crimes and nonemergencies, Hansen said. 
The Santa Barbara County Public Health Department has 1,700 coronavirus sample collection kits available to high-risk individuals, with one of those tests confirming the second case of coronavirus in the county Tuesday morning.
The Santa Barbara County Public Defender on Monday has asked clients in all criminal cases to contact its office to have attorneys make appearances for them in court as a measure to contain the spread of COVID-19.
The Lompoc Police Department is taking steps to limit exposure, including closing the lobby, said Capt. Kevin Martin. 
Officers are still responding normally to calls for service, although the public is being advised to call the LPD for non-emergency needs. 
Ride-alongs and public tours have been temporarily suspended, and nonessential and most of the part-time staff sent home. 
If needed, Martin said, officers may resort to a "tactical deployment," or a 12-hour on, 12-hour off work cycle with no days off — which Santa Maria Police are also considering. 
"There is no reason for us or our community to panic," Martin said. "We're still doing everything we can." 
Santa Barbara County sheriff's deputies were also issued personal protection equipment and encouraged to exercise discretion while making arrests on a case-by-case basis, according to county spokeswoman Raquel Zick. 
The Sheriff's Office has suspended jail visitations until further notice as a measure to curb the spread of the coronavirus. 
Testing among inmates is conducted according to guidelines issued by the Centers for Disease Control and Prevention, but no inmates have yet met the criteria for testing, Zick said. 
Santa Barbara County officials on Thursday have limited public access to court and jail facilities in an effort to prevent the spread of COVID-19 as the national response to preventing spread of the disease intensifies.
The Sheriff's office is in the process of sourcing nonalcohol hand sanitizer for inmates, although it's competing for a limited supply, Zick said, adding that inmates are encouraged to wash hands frequently. 
Hand sanitizer and soap is readily available to sheriff's employees, who are also encouraged to exercise diligence with hand washing and social distancing. 
Concerned about COVID-19?
Sign up now to get the most recent coronavirus headlines and other important local and national news sent to your email inbox daily.