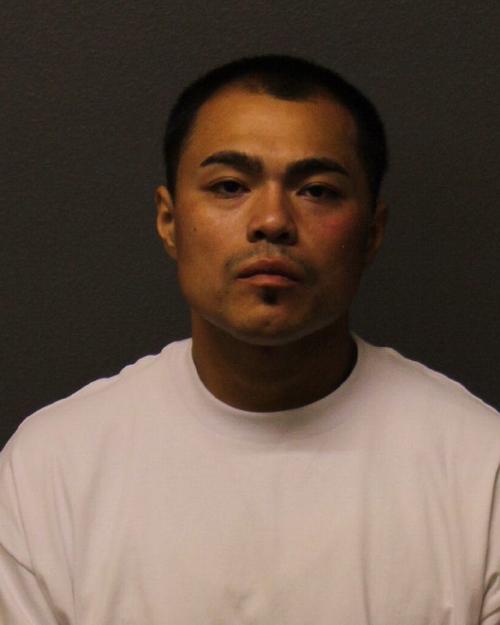 Anthony Michael Zuniga, 25, appeared in Superior Court in Santa Maria shackled and wearing a blue jail jumpsuit for a preliminary hearing to face multiple felony charges related to the Oct. 19, 2019, pursuit.
Judge Patricia Kelly held Zuniga, of Santa Maria, on four charges, including two counts of evading a peace officer with wanton disregard, assault with a deadly weapon on a peace officer and possession of a deadly weapon, specifically brass knuckles. 
Zuniga was accused of attempted murder on a police officer, according to a Santa Maria Police Department spokesman, although that charge was not included in the criminal complaint.
Three suspects, including a juvenile, were arrested Wednesday following a high-speed vehicle pursuit with police from Lompoc to Solvang and involved two minor traffic collisions, according to a Santa Barbara County Sheriff's Office spokeswoman. 
Chris Mathews and his partner Ruben Peinado, both officers with SMPD's Special Enforcement Team, were patrolling the 100 block of Chapel Street in their SUV shortly after 7:30 p.m. Oct. 19 when they encountered Zuniga driving a burgundy 2003 Chevy Tahoe and followed him.
Zuniga led police on a pursuit through Santa Maria, weaving between lanes and driving into oncoming traffic at speeds up to 60 mph, Mathews said. 
A few days prior, Mathews said he learned that Zuniga violated his probation during an encounter with a fellow officer. 
Peinado was driving the SUV but discontinued the pursuit two separate times on Oct. 19 out of "risk to public safety," Mathews said. 
Mathews said they later discovered Zuniga's Tahoe parked on Eagle Court with its lights off. 
A video from the cruiser's dash cam showed the officers shining a light onto the Tahoe as they approached, when Zuniga accelerated, sideswiped the SUV and fled the scene. 
The impact shattered the driver's side window and sprayed glass across Peinado's face, Mathews said, leaving him with series of small but "serious" cuts.
Suspect wanted for alleged attempted murder on a police officer arrested on Sunday morning in the 700 block of E. Oak in Santa Maria following high-speed chase. 
Brian Carroll, Zuniga's attorney, disputed the claim that his client intentionally rammed the police cruiser.
"Those spotlights are very bright and they essentially blinded him," Carroll said. "I don't believe he would've known he was facing a peace officer."
At 11:25 p.m., Santa Barbara County Sheriff's Office Deputy Sandy Frausto received a call that Zuniga's Tahoe was heading southbound on Highway 101.
Frausto said he located the Tahoe near Avenue of Flags in Buellton, recognizing the front end damage it sustained hours earlier.
A man reportedly high on methamphetamine who led police on a pursuit in an RV and ended with a standoff in Buellton was arrested on Tuesday, CHP said. 
The deputy pursued Zuniga westbound on Highway 246 from Buellton to the roundabout located at Purisima Road near Lompoc, exceeding speeds of 100 mph. 
Zuniga managed to swerve around spike strips deployed on the highway by the California Highway Patrol, Frausto said. 
The Tahoe once again regained speeds of 100-plus mph from Purisima Road to Highway 1, leading police past Vandenberg Air Force Base and briefly slowing to approximately 85 mph due to fog, Frausto said.
The pursuit continued back into Santa Maria as Zuniga was followed by police, including a California Highway Patrol airplane, Frausto said, and tracked to the 700 block of East Oak Street in Santa Maria. 
The pursuit ended at 12:16 a.m. Oct. 20 when Zuniga was taken into custody, according to Santa Maria Police Officer Alredo Rodriguez.
Zuniga's next court appearance is at 8:30 a.m. Jan. 29 in Department 8 of Santa Barbara County Superior Court in Santa Maria.
Sign up for our Crime & Courts newsletter
Get the latest in local public safety news with this weekly email.