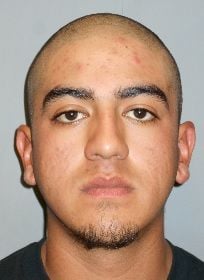 A Lompoc man was arrested Sunday after allegedly being involved in a shooting, then attempting to flee from police.
Salvador Lemus, 18, was booked into Lompoc City Jail on charges that include shooting at an inhabited dwelling, hit-and-run, willfully resisting a peace officer, and participation in a criminal street gang.
The Lompoc Police Department reported it received several 911 calls around 5 p.m. Sunday regarding shots fired and/or heard in the area of West College Avenue and North T Street. Some callers provided a description of two vehicles suspected to have been involved, police reported.
A short time later, Lompoc Police officers located two vehicles matching the description near the intersection of H Street and Ocean Avenue. The driver of one of the vehicles reportedly flagged down an officer and implicated the other vehicle in the shooting.
Police ultimately caught up with the suspected vehicle, an SUV, near the intersection of Hickory Avenue and North F Street after it had collided into multiple parked cars. The driver of that vehicle, Lemus, reportedly exited the vehicle and ran into the 300 block alley between South F and G streets, according to Lompoc Police.
"The driver was seen by a witness slow down as he entered the alley and throw a shiny object into a nearby backyard, which was located and discovered to be a handgun," read a portion of a report released Monday by the Lompoc Police Department.
You have free articles remaining.
Bullet casings located in the 500 block of the North T/U alley matched the caliber of the handgun that was recovered, according to Lompoc Police.
There were no reported injuries.
Anyone with further information regarding the incident is encouraged by the Lompoc Police Department to call 805-736-2341.
Willis Jacobson covers the city of Lompoc for Lee Central Coast Newspapers. Follow him on Twitter @WJacobsonLR.