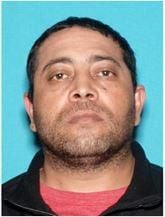 A former Uber driver on Thursday pleaded guilty to one count of rape of an intoxicated person in Santa Maria Superior Court.
Shadi Abdul Aziz, 37, was identified as a suspect after a woman reported being raped by an Uber driver in April. Abdul Aziz was taken into custody on the Mexico border by U.S. Immigration and Customs Enforcement agents in May and booked into Santa Barbara County Jail, according to a Santa Maria Police Department spokesman.
Appearing in an orange jail jumpsuit and speaking through an Arabic interpreter, Abdul Aziz agreed to serve 364 days in County Jail as part of his plea agreement, serve five years of felony probation, register as a sex offender and pay a fine.
His attorney Adam Pearlman couldn't immediately provide the details on the fine amount. 
A Santa Maria Uber driver who allegedly sexually assaulted one of his customers was booked into the Santa Barbara County Jail on Monday and ch…
As part of his plea agreement, prosecution will drop Abdul Aziz's second charge of sexual battery.
According to Pearlman, his client was charged in the alternative, meaning he was accused of two different crimes that define the same behavior.
In addition, Abdul Aziz received a restraining order in which he is not to have contact with his victim for the next 10 years. Abdul Aziz is already under an additional restraining order preventing him from having contact with his victim pending the outcome of his case, according to Pearlman.
An Uber driver from Santa Maria was arrested Wednesday on charges of rape and burglary after detectives allege he targeted intoxicated females…
The felony conviction will count as a strike against Abdul Aziz under California's three-strikes law.
Pearlman added that his client — who has been in jail since his arrest on May 23 — will only serve half his sentence in County Jail under PC4019, which stipulates that an inmate will serve four days of confinement for every two days spent in actual custody if the person is sentenced to a county jail.
That means, according to Pearlman, that Abdul Aziz will be released from custody on the day of his sentencing Nov. 14.
According to his attorney, Abdul Aziz is not a U.S. citizen and is living in the country on a granted asylum application.
Pearlman added that his client will work for a relative in Santa Maria upon his release.
COLLECTION: Most Wanted in Santa Barbara County 
Sign up for our Crime & Courts newsletter
Get the latest in local public safety news with this weekly email.