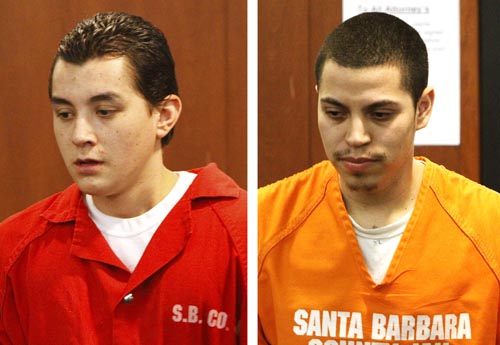 A former Lompoc gang member said in court Wednesday that he was with a group of friends when three of them admitted they had shot a teen-age boy to death.
The member of the Lompoc street gang VLP, whose name is being withheld by the Times at the request of prosecutors due to fear of gang retaliation against him, said he was at a friend's home the evening of Jan. 14, 2008, when Roberto Galindo Barrera, Richard Reyes and Keith Sullivan announced to a group gathered in a garage that they had shot someone.
Barrera and Reyes are on trial in Santa Barbara County Superior Court for the murder of 14-year-old Daniel Rodriguez. Sullivan was initially included in the murder charges, but pleaded guilty to a lesser charge in exchange for his testimony against his co-defendants.
Rodriguez apparently was unarmed when he was shot at about 7 p.m. near an apartment complex in the 700 block of North E Street.
The witness questioned by Chief Deputy District Attorney Stephen Foley told a pair of juries — one for each of the suspects  — that he was at a fellow gang member's house when Barrera, Reyes and Sullivan drove up and gathered everybody in the garage to describe what happened.
"Bobby Barrera — he said he leaned over a car and pop, pop, pop. That was it," he said, indicating Barrera had fired a rifle at the victim.
He did not indicate Reyes had fired a gun. The witness also testified he saw the three men take off their clothes and burn them in a "barbecue pit" in an attempt to destroy potential evidence.
The former gang member testified that he also assisted Lompoc Police detectives in their investigation by secretly recording both personal and telephone conversations with Barrera. He also said he helped police locate suspects of other crimes on two other occasions.
"I think it was wrong to kill a little kid. I think that's wrong. I don't want to be part of that any more," he told the jury under questioning from Foley.
The testimony coincides with what Sullivan testified to in the preliminary hearing in January, when he admitted seeing both Barrera and Reyes fire shots at Rodriguez. Sullivan is scheduled to testify when the case returns to court Friday.
Reyes' attorney, Madeleine Nantze, and Barrera's attorney, Christopher Biely, both questioned the credibility of the witness, who admitted to having arrests for possession of heroin and being under the influence of drugs.
Nantze said the witness displayed a history of drug use with three arrests in the years following the murder. She also got him to admit he cooperated with police because he "wanted to get out of custody."
Foley also questioned a ballistics expert, two Lompoc Police detectives and an officer Wednesday.
Michele Nichols, a criminalist with the California Department of Justice, testified that her examination of eight shell casings found near the scene showed they came from two different .22-caliber guns.
She also examined three bullets recovered by Lompoc investigators, including one recovered from Rodriguez's body, and said they were all either .22 caliber long, or long rifle.
Sign up for our Crime & Courts newsletter
Get the latest in local public safety news with this weekly email.