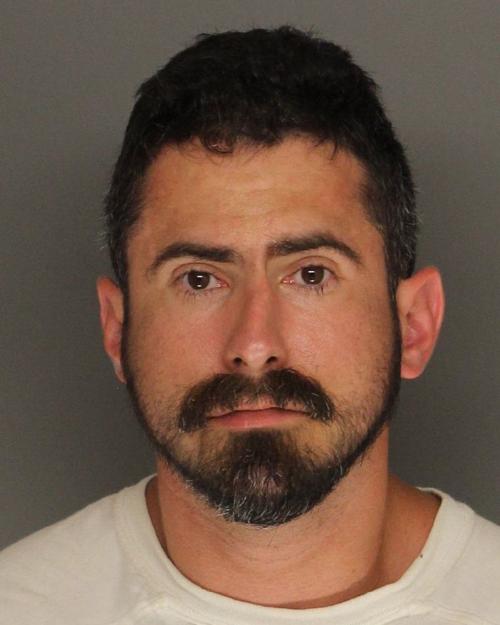 The arraignment for a Santa Maria man arrested after a standoff with SWAT police last June in Grover Beach was continued on Tuesday to allow more discussion with the prosecution.
Santa Barbara County Superior Court Judge James Voysey agreed to an Oct. 28 arraignment on information hearing for Michael Paul Aldaco, 32, who is accused of trying to set an ex-girlfriend on fire after breaking into her Orcutt home and threatening her with a pistol.
Aldaco was charged with attempted murder, kidnapping, first degree burglary, dissuading a witness, false imprisonment, corporal injury to a spouse or co-inhabitant and two firearm enhancements.
Aldaco appeared in court bespectacled and wearing an orange jail jumpsuit top. His attorney, Santa Barbara County Public Defender Lori Pedego, said the arraignment was continued to allow further discussion with County Deputy District Attorney Catherine Pringle, who is prosecuting the case. Pedego said she made an offer to the District Attorney's Office, which was rejected. Pedego didn't give details on the offer. 
Due to the violent nature of the allegations, Aldaco isn't eligible to serve a state prison sentence in county jail if convicted, an option that's mandated for some felons under penal code 1170(h) to reduce overcrowding in state prisons.
The incident unfolded on June 22 when Aldaco allegedly broke into the victim's home in Orcutt, then bound her to a chair and doused her with lighter fluid.
According to the details that emerged during the preliminary hearing on Sept. 30, the victim said she was reading a book in her bedroom when Aldalco suddenly appeared outside her bedroom's sliding glass door and demanded to be let inside. Once inside, Aldaco allegedly pointed the pistol at the victim as he continued to put bullets into the gun's chamber, ejecting unspent 9-millimeter cartridges throughout the residence. 
Aldaco allegedly bound the victim's hands and tied her to a chair with blue painters tape while he "trashed" her house, according Santa Barbara County Sheriff's Office Deputy Michael Reynoso, referring to the victim's statement as he testified during the preliminary hearing. Reynoso was the deputy who responded to the residence. 
"It's all going to be over soon," Aldaco reportedly told the victim as he allegedly pistol-whipped her with the gun and then proceeded to pour lighter fluid over her.
The Santa Maria man who pleaded not guilty to violating a domestic violence restraining order after contacting his former wife following the s…
According to Reynoso, the victim broke free and ran outside, alerting her neighbors. Reynoso said that when he arrived on scene, he noticed the victim covered with liquid that smelled like lighter fluid. 
Before the deputy arrived, Aldaco sped away in a silver Chrysler sedan and was later found at this father's residence in the 1400 block of Atlantic City Ave. in Grover Beach, where a standoff ensued with the Grover Beach Police Department, Santa Barbara and San Luis Obispo county sheriff's offices and SWAT police.
Aldaco was arrested without incident, according to the Santa Barbara County Sheriff's Office.
He's currently held in Santa Barbara County Jail on $1.1 million bail, according to court records. 
Sign up for our Crime & Courts newsletter
Get the latest in local public safety news with this weekly email.