Around 35 people braved frigid temperatures Monday morning to be among the first people to eat at Cracker Barrel's newest restaurant and store. 
The Santa Maria store and restaurant, which is situated in the Enos Ranch development, is the Southern chain's 659th location across 45 states and only the third Cracker Barrel location in California.
The family-friendly casual dining restaurant is known for its traditional Southern comfort food, like cornbread, country fried steak, buttermilk biscuits with gravy, fried catfish and cured ham.
The inside of Cracker Barrel is split between a dining room and a store which features toys, games, music and movies, food items, sports apparel, candy, clothing, accessories and novelty decor items.
On Monday, Cracker Barrel opened its doors to the public at 6 a.m. to a line of fans, many of whom were wearing Cracker Barrel-branded T-shirts, hats or other apparel.
Santa Maria resident Randy Whinery said he was excited to see the chain open a store on the Central Coast.
"I went to one once before in Arizona," Whinery said "They had the best Southern comfort food."
Some of the people waiting to get inside Cracker Barrel on Monday had driven from as far away as Clovis, a city in California's Central Valley located immediately east of Fresno.
Clovis resident Bruce Rosique was one of the roughly three dozen people who lined up outside Cracker Barrel on Monday morning to be among the first people to eat at the Santa Maria restaurant.
Rosique, who was dressed in a Raiders jacket and Cracker Barrel hat to shield himself from the cold, said he had been to over 40 Cracker Barrels during the past eight years. "I've been all the way across the country and back," he said. "The first one I went to was in Kingman, Arizona, and it was great. It was just what I wanted — the Southern food and the hospitality."
The Tennessee-based chain's Southern comfort food was what kept him coming back to Cracker Barrel over and over, Rosique said.
"The fried catfish, the fried okra, turnip green, fried apples — all that good stuff," Rosique said. "What I'm going to get right now is called Uncle Herschel's Favorite — fried catfish, grits, eggs, hashbrown casserole and biscuits and gravy."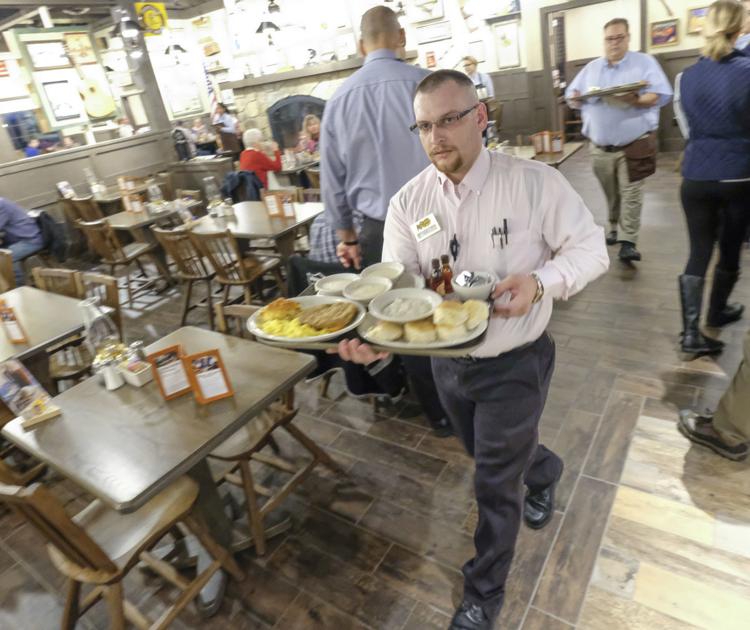 Rosique had attended the grand openings of Cracker Barrel's two other California locations in Sacramento and Victorville last year and said he would "definitely" go to the grand opening of Rialto store and restaurant next month.
Dan Schneider, general manager of the Santa Maria location, said he was happy to see how well the restaurant had been received by the local community.
"It's really exciting to see so many people on the front porch waiting," he said. "Everyone is in good spirits and everyone's been really excited. We got a lot of phone calls this weekend asking about when we open, what time we open — this had been great."
"It's a cult following, it's a loyal fan base," Schneider said, noting the number of people who were dressed in Cracker Barrel apparel or accessories. "It's really impressive to see people get up at the crack of dawn to come in here and be the first ones in. It's pretty cool."