A controversial wind farm proposed for the ridgetops south of Lompoc will take another step forward if a contract for environmental review is approved by the Santa Barbara County Board of Supervisors when they return from their summer recess.
But it could be next spring before the public gets a chance to weigh in on potential environmental impacts that could be created by the wind turbine electric generation project proposed on the site of a similar project that earned the county's approval nine years ago.
"We'll go to the board on the 14th (of August) with a contract to have a consultant start preparing a supplement to the environmental impact report," said Kathy Pfeifer, a planner with the Energy Division of the County Planning and Development Department.
The decision will mark the county's next administrative step toward potential approval of the Strauss Wind Energy Project, Pfeifer said.
Strauss Wind LLC wants to erect up to 30 wind turbine generators along the ridges of a 2,988-acre plot in the Santa Ynez Mountains almost 2 miles southwest of Lompoc.
The wind turbines would be located on the same site as the Lompoc Wind Energy Project that was approved by the county in 2009 but subsequently withdrawn by the applicant, Pacific Renewable Energy Generation, and later sold to Strauss Wind LLC.
A full environmental impact report was prepared for the Lompoc Wind Energy Project, but a supplemental study will be required to address differences between that project and the latest proposal from Strauss Wind.
Pfeifer said once the consultant has a draft of the supplementary EIR, it will be sent out for public review.
"Then we'll go to Lompoc and hold a hearing on the adequacy of the supplemental report," Pfeifer said. "That will be the next step for the public."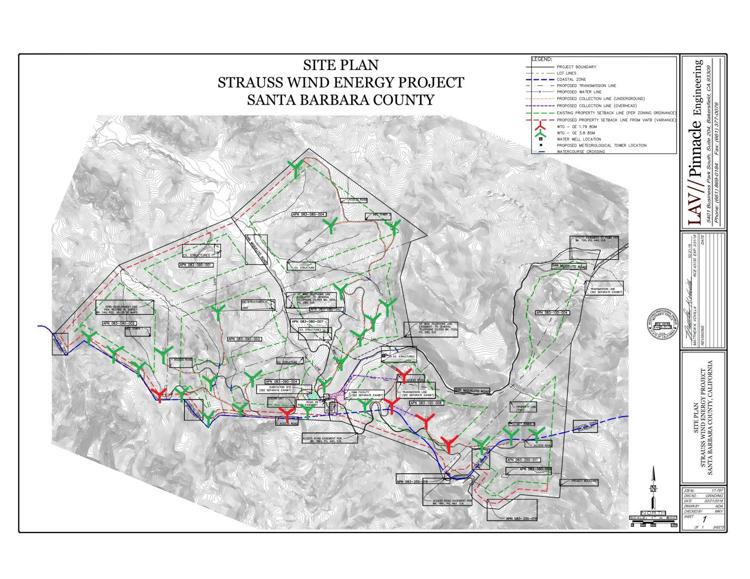 Pfeifer hesitated to predict when the draft SEIR might be ready because of all the variables involved, but the goal is to have it circulated by late winter or early spring next year.
The Strauss proposal has seven major differences from the previous project, including that the wind turbines would be substantially larger and more powerful, but, as a result, fewer turbines would be needed, according to an Energy Division summary.
It's unclear if the larger wind turbines would be more visible from Lompoc or from Highway 1, which is 3.6 miles to the northeast.
"It's my understanding, the way it's proposed at the moment, most of the northern section transmission line will be visible from Highway 1," Pfeifer said. "I don't know if the turbines would be visible. That's part of what the SEIR is all about."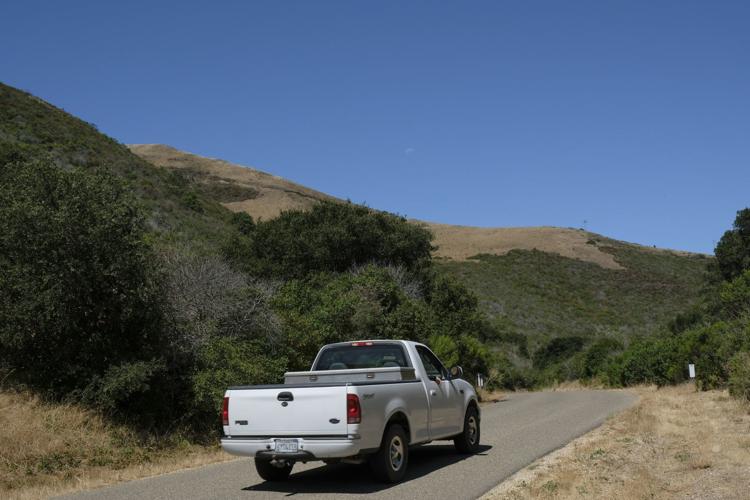 As proposed, the project would consist of six General Electric wind turbines each generating 1.79 megawatts and 24 GE turbines each generating 3.8 megawatts for a total capacity of 102 megawatts.
Together, the turbines could generate up to 300 gigawatt-hours of electricity — enough to supply about 44,700 homes — per year, according to the detailed project description.
Other differences include the layout of access roads and other components, modifications needed to San Miguelito Road to accommodate transport of 213-foot-long turbine blades and the amount of ground that will be temporarily and permanently disturbed.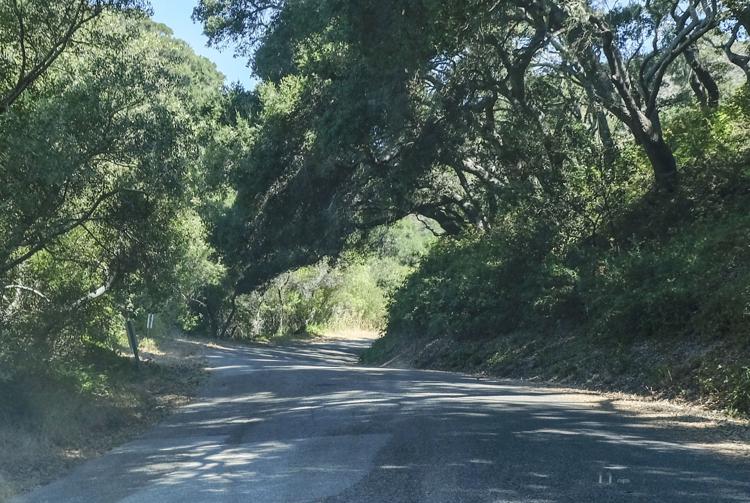 Although some grading will be required in the Coastal Zone that was not needed in the previous plan, the net 155.86 acres proposed for grading is less than the 235.9 acres for the previously approved project, according to the project description.
Another 73.96 acres will be graded for the transmission line corridor that were not included or analyzed in the 2009 project EIR.
In addition, the northern section of the proposed 115-kilovolt power transmission line does not follow the environmentally superior alternative route approved for the previous project.
Winds of public opinion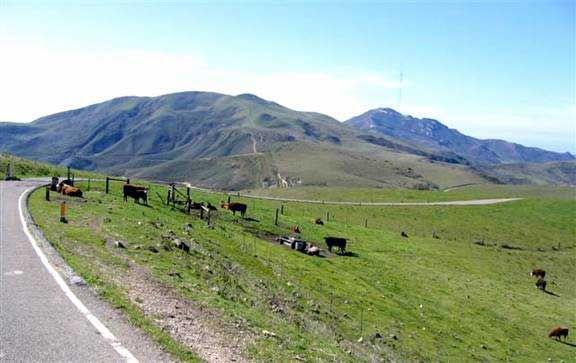 Earlier this year, the issue of wind energy projects came up in supervisors' discussions of the budget and revenues.
Some supervisors said regulations should be amended to make it easier for revenue-generating projects, including wind and solar energy farms, to be approved.
So far, no grassroots movement has been launched to support the Strauss proposal, but some have questioned certain aspects of it, and a few individuals oppose it outright.
Amber Wilson, president and chief executive officer of the Lompoc Valley Chamber of Commerce, said her organization has not taken a position on the project, and she couldn't say if it is something the chamber might consider in the future.
Andy Caldwell, executive director of the Coalition of Labor, Agriculture and Business, didn't say whether COLAB specifically supports or opposes the project, but he raised a couple of issues regarding its location.
"Whereas that might be a suitable place by virtue of being a wind tunnel, the road in is narrow and there are certainly going to be impacts to the neighbors," Caldwell said.
"We keep wondering if there are better locations elsewhere on [Vandenberg Air Force Base] property?" he said. "Or better yet, the Channel Islands."
Caldwell also objected to how wind energy projects in general are treated by government.
"We also don't like the double standard with regard to the environmental and deadly impact on birds and bats, as wind typically gets a free pass in comparison to what oil companies and farmers have to go through," Caldwell said.
"One more thing," he added. "The county needs to demand a new EIR. These turbines are larger than the old ones, and the other EIR is 10 years old."
A Lompoc resident who's a vocal opponent of the Strauss project agreed with Caldwell's assessment that wind energy projects are not held to the same environmental standards as other projects when it comes to wildlife deaths.
"Government has given them a Get Out of Jail Free card," said David Grill. "(Wind energy) has a track record of just slaughtering everything with wings on it, especially big ones.
"I wouldn't get upset about losing a few sparrows," he said. "But losing large predators like golden eagles, bald eagles, owls, ospreys and especially condors is not acceptable."
Grill said the possible environmental damage doesn't end there.
"Another potential that's even worse, those machines put vibrations into the ground," Grill said. "I expect they will drive away underground dwellers like gophers and ground squirrels, even worms and insects.
"It's going to sterilize that soil," he continued. "When the prey animals disappear, the predators disappear, so it can collapse a whole ecosystem.
"But the real damage it can do is to that canyon," he added. San Miguelito is just a precious area."
Grill, 72, has lived in Lompoc since 1989 and is no stranger to city politics, having unsuccessfully run for City Council "10 or 12 times" and the school board once, plus applying for appointment to the school board twice.
He lives on the east side of Lompoc and doesn't believe he'll see the transmission lines coming in to the Pacific Gas and Electric Co. substation from his backyard.
"But if those turbines are 500 feet tall, I've got to wonder if I'm going to see 30 turbines along the hilltops," he said. "It could be everyone in Lompoc is going to see wind turbines up there the rest of their lives."