Santa Maria officials agreed to take stronger action Tuesday to encourage compliance with health orders and collaborate with the Santa Barbara County Public Health Department after heated discussions with health officials at the City Council meeting.
Santa Maria has led the county in COVID-19 cases for two months, with a total of 1,515 confirmed as of Tuesday and data showing disproportionately high rates among Latino residents compared to other parts of the county.
In light of the increase in cases, County Public Health Department Director Van Do-Reynoso was invited to Tuesday's City Council meeting, where she shared case statistics for Santa Maria and gave recommendations on how city officials can assist the county with curbing the spread of the virus through education and enforcement. 
"It is really time for us to engage with City Council, your code enforcement, as well as your law enforcement to support us in that enforcement action," Do-Reynoso said. 
COVID-19 data in Santa Maria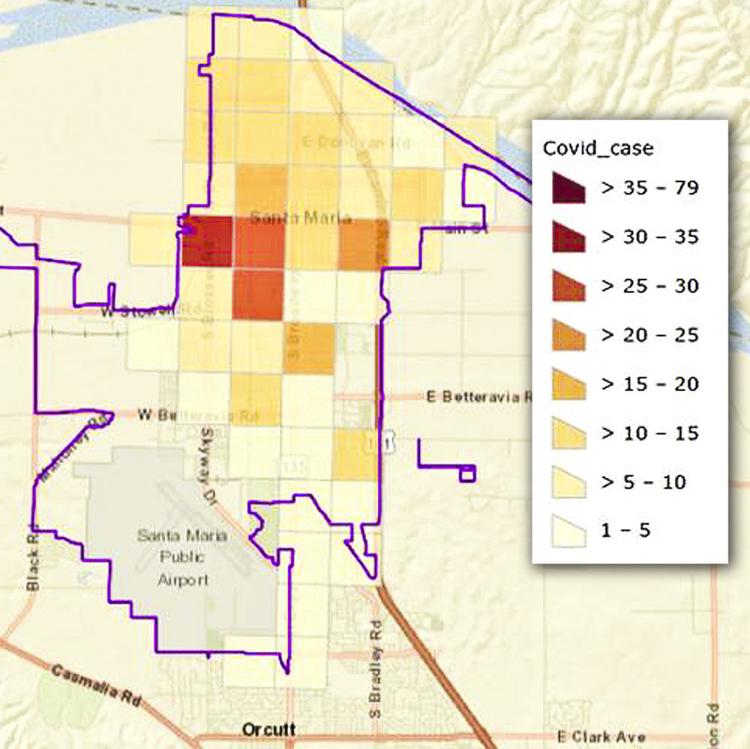 During Tuesday's meeting, Do-Reynoso presented data based on point-in-time survey responses, as well as information gathered by case investigators.  
According to that data, those infected in Santa Maria are more likely than those infected in other areas to live in households of four to seven people, less likely to have a health care provider they can visit and more likely to be uninsured or without private insurance. 
Additionally, survey results suggest that 90% of Santa Maria cases are among the Latino community, versus 52% in other areas. 
Broken down by occupation, 20% of Santa Maria cases are among agricultural workers. A June 11 count of agricultural worker cases showed that of the county's 142 confirmed cases in that work sector, 131 were from the North County areas of Santa Maria, Guadalupe and Orcutt. 
Code enforcement
Following the presentation, Do-Reynoso encouraged the city to provide further education to local businesses, coordinate with the county and community partners and, most importantly, participate more strongly in enforcing county health orders. 
City Attorney Thomas Watson pushed back against the request for the city to enforce codes, arguing the county had not provided enough support for that to take place.
"I just question the fact that you've provided us lots of statistics, but you've provided us no actual response in your presentation this evening," he said. "I would ask, what is the county's response, rather than asking what the city's obligation is."
The pool is planned to reopen in mid or late July for limited lap swim and classes, but will not be open for general recreational swim due to COVID-19 restrictions, Recreation and Parks staff said. 
Do-Reynoso noted the county health and safety code gives city police the authority to enforce local health codes, adding that after months of county officials providing education and resources to Santa Maria businesses and communities, it is time for the city to take the reins. 
"I want to say from the public health perspective, we have done our due diligence and have focused on Santa Maria quite a bit because of the burden of disease there," she said. 
Mayor Alice Patino noted that in previous City Council meetings, she had operated under the impression that it was the responsibility of the county to enforce health codes, rather than city police. 
"Initially, when we started these meetings ... the question I asked when all these rules came down was, 'Who is going to do the enforcement?' And I was told [it was] Public Health," Patino said. "Now I'm being told that our policemen and our code enforcement [officers] are going to be doing this." 
City Manager Jason Stilwell said the city has been attempting to coordinate virus response efforts with the county in recent months in order to prevent unnecessary overlap in response.
"The challenge we've had is getting consistent information," Stilwell said. "If we can better coordinate that information sharing to be able to align resources, that would be better."
After three hours of discussion, Councilwoman Gloria Soto called on fellow council members to take responsibility for addressing the spread of the virus in the city.
"It's important to look at ourselves and ask, 'How much money are we willing to invest, how many resources are we willing to invest?' If we feel Public Health isn't doing enough, then who is going to step up? Are we going to let this city burn while we wait for someone to do this?" 
Patino ultimately agreed, saying the city would need to step up to work more collaboratively with Public Health and ensure local compliance. 
While the city's increase in cases has elicited concern, Marian Regional Medical Center in Santa Maria has seen manageable influxes in COVID-19 patients requiring hospitalization, with the facility still far from reaching capacity, Marian CEO Sue Andersen said.
However, the possibility of increasing hospitalizations is still concerning, she added.
"We feel ready for it, we feel prepared, but on the other hand, what we need from the community right now is for people to be smart," Andersen said.
COVID-19 presentation by SB County Public Health
Slides from a presentation by the Santa Barbara County Public Health Department on COVID-19, which was delivered to the Santa Maria City Council on Tuesday, July 7, is shown.
Get local news delivered to your inbox!
Subscribe to our Daily Headlines newsletter.