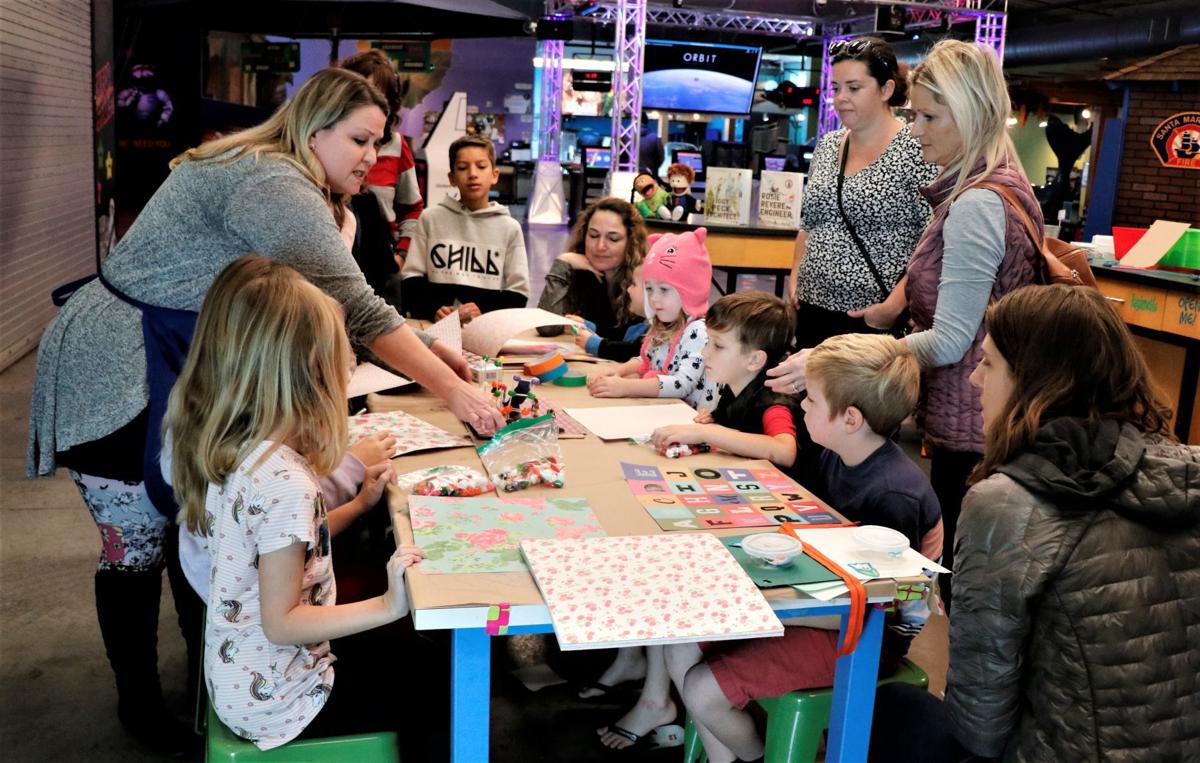 The project was built by children, ages 3 to 12, but no hard hats were required.
"We provided the children with bags of construction materials," said museum education director Ilsa Toepfer. "They were filled with jelly beans, gummy worms, miniature marshmallows and toothpicks. And we provided construction paper, glue, tape — whatever the children needed to complete their projects."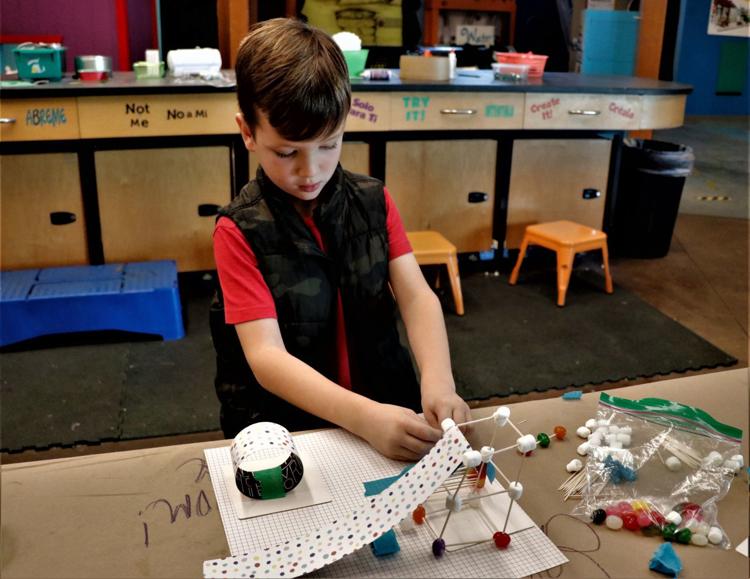 The children used marshmallows to build the base, toothpicks to create the frame, jelly beans to create joints and gummy worms for monkey bars.
Some children even built elaborate construction paper slides that sloped from the top of their jungle gyms to the table.
"We built one to give the kids an example of what they could do and then we let them create their own designs," said Toepfer. "The kids have so much fun.
"But they are also learning so much because this encourages them to use all kinds of scientific skills — engineering, problem solving, critical thinking, geometry and other math skills — and they do it all while having fun."
"It is fun," said 7-year-old Zeke Pick, from Arroyo Grande. "I like doing this."
"We have a nice playground in our neighborhood," said Zeke's mother, Kimberly Pick. "Ilsa is my friend, and when she told me about this, I told Zeke that he could build his own jungle gym any way he wanted, and he was really excited to come down to do this."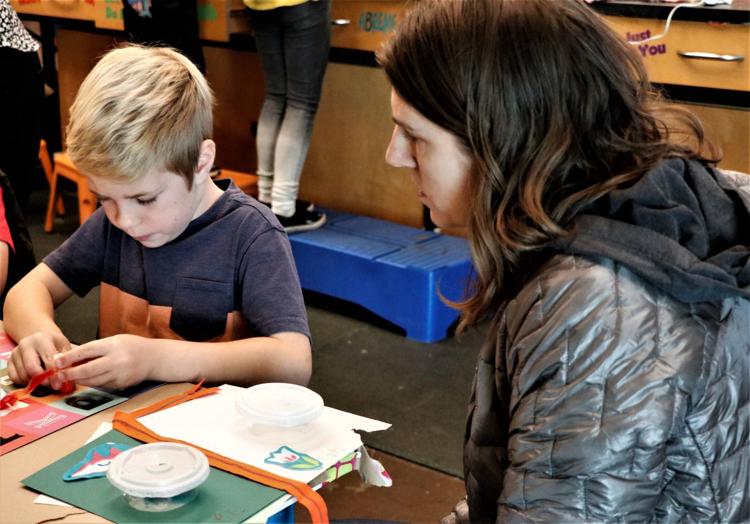 Jelly bean jungle gym day was the year's first STEM project at the museum.
"We want the children to get excited about STEM programs — science, technology, engineering and math — and to do it while they are playing," said Toepfer. "There is so much science that can be learned through playing."
Toepfer provided statistics from Karyn Purvis, a renowned child development researcher at Texas Christian University who died of cancer in 2016, that states, "Scientists have determined that it takes children approximately 400 repetitions to learn something unless it is done through play. In that case, it only takes between 10 and 20 repetitions."
The Discovery Museum has a whole year of STEM-based children's programs on tap that are filled with hands-on activities.
The Discovery STEM Scientists program is held Saturdays at 11 a.m. and 2:30 p.m. and Sundays at 2:30 p.m. and not only teaches science but also gives children the chance to learn about famous scientists and inventors.
On Friday, Jan. 17, Generation STEM Family Fun Night will be held with the help of Cal Poly students.
Later in the month, on Sunday, Jan. 26, the museum will host Nat Fast Family Arts Day, where children will learn about arts and artists.
Also scheduled are a Valentine's Day card making day in February, St. Patrick's Pot of Gold Hunting in March and an Easter Celebration in April.
In the spring or fall, the museum has 2020 Exploring Earth and Space Science Discovery Workshops planned.
"That will be a pretty big deal," said Toepfer. "We're able to put it on through a grant we received from the UC-Berkeley grant program."
There are STEM science programs almost every weekend with more jelly bean jungle gyms to be built Sunday, abacus engineering next Saturday, Jan. 11, exploding boomerangs on Saturday and Sunday, Jan. 18 and 19, and a kaleidoscope day set for Saturday, Jan. 25.
And each week features activities as part of the Discovery Explorers program in the museum's other sections that run Tuesday through Friday.
Those are activities where the museum's Discovery Navigators take children on educational adventures with exhibit-specific story time and learning activities designed to help children discover, explore and learn about the world around them.
Next week, the Discovery Boat is in the spotlight with Popsicle stick boats Tuesday, letter B boats Wednesday, binoculars Thursday and sponge racing boats Friday.
Tar pits will be explored the week of Jan. 14, the Bunk House will teach about cowboys and rodeos the week of Jan. 21, and the Science Lab has four days of fun learning experiences the week of Jan. 28.
The Santa Maria Valley Discovery Museum is located at 705 S. McClelland St. and is open six days a week, Tuesday through Saturday, from 10 a.m. until 5 p.m. and Sundays from noon to 4 p.m.
Daily admission tickets cost $7, and several annual membership plans are available.
Get local news delivered to your inbox!
Subscribe to our Daily Headlines newsletter.