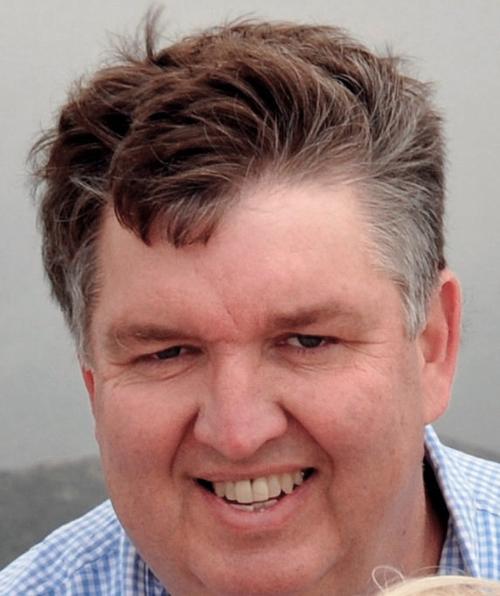 Warmer air can contain more water vapor than cooler air before becoming saturated and condensing into clouds or falling in the form of drizzle, rain, sleet, snow, graupel or hail.
So why is warmer air capable of containing more water vapor than cooler air?
To start, the air we breathe is made up of 78 percent nitrogen, 21 percent oxygen and 1 percent other gases like argon, carbon dioxide, water vapor and other trace gases.
As the temperature of the air increases, the water vapor molecules contained within are also warmed, giving them more energy, which in turn makes it less likely that they will come together and condense -- change phases from a gas to a liquid, kind of like a fast dance versus a slow one. Therefore, warmer air, with a higher number of higher-energized water molecules, can contain more water than cooler air.
As the atmosphere and oceans continue to warm due to ever-increasing levels of greenhouse gases like carbon dioxide, the air can absorb more water through evaporation with the dew point temperature is low or produce greater amounts of precipitation with the dew point temperature is high.
The dew point temperature is the temperature at which air must be cooled for it to become saturated or achieve 100-percent humidity. Dew point is merely the temperature when dew forms.
As the atmosphere warms, more severe droughts and floods will continue to develop depending on the dew point and air temperatures.
If the dew point temperatures are low and air temperatures high, which is so often the case in California during summer and fall, more of the rain that falls will evaporate before reaching the ground (virga). Consequently, this reduces soil moisture and stream flows. Not only does this provide less water for tress and other vegetation, but also allows the air to remove more moisture directly from the plants, creating bone-dry surface fuels. This condition combined with other factors have dramatically increased the severity of wildfires.
If the dew point temperatures are high, which is often the case east of the Rocky Mountains at this time of the year, severe flooding can occur.
Climate Central, an independent organization of leading scientists and journalists researching and reporting the facts about our changing climate, said that the number of days with heavy precipitation has increased in most locations in the U.S. over the past 70 years.
Last year, Hurricane Harvey produced nearly 52 inches of rain in less than 72 hours in areas of Houston, the highest amount of precipitation ever recorded from a single storm in that part of the country.
This weekend, tropical cyclone Florence may produce comparable or even greater amounts of rainfall in some locations as it slows to a crawl over South Carolina. Like a fire hydrant, this storm will pump prodigious quantities of subtropical moisture into the Carolinas. This pattern will create days of flooding and rivers in the region that may not crest until Tuesday or Wednesday.
If you think the same thing can't happen in California, think again. Toward the end of 1861 into early 1862, a series of storms produced nearly continuous rain over most of California.
Los Angeles recorded nearly 36 inches of rain while Sonora in the Sierra Nevada foothills measured more than 100 inches! The Sacramento and San Joaquin valleys became almost an inland sea stretching nearly 300 miles in length, forcing the state capital in Sacramento to move to San Francisco.
Also, the ordinarily salty waters in San Francisco and San Pablo Bay became nearly fresh with a continuous and almost unimaginably massive flow of silted water through the Golden Gate.
The Santa Ana River in Southern California became a raging torrent, laying waste to farms along its banks. Inundated were river settlements throughout California.
No one alive today witnessed this terrible series of storms, and weather data from so long ago is sparse.
However, a few weather experts believe that atmospheric rivers with high dew point temperatures stretching across the Pacific Ocean channel vast amounts of water vapor from near the equator into massive storms coming out of the Gulf of Alaska.
Atmospheric river-transported moisture from a weakening typhoon in the Western Pacific significantly enhanced the storm that struck the Central Coast with record amounts of rainfall Oct. 13-14, 2009. This condition is also sometimes called the Pineapple Express or, in meteorological circles, turning on the hose.
After Hurricane Katrina, concern about widespread flooding in parts of the nation became heightened, especially with the threat of enhancement with climate change.
* * *
Transportation is the most significant contributor of greenhouse gas emissions in California. Save money and go green by driving an electric vehicle. Whether you already drive an electric vehicle (EV) or you're thinking of acquiring one, you can learn more about EVs at www.pge.com/ev.
John Lindsey is Pacific Gas and Electric Co.'s Diablo Canyon Power Plant marine meteorologist and a media relations representative. Email him at pgeweather@pge.com or follow him on Twitter @PGE_John.
Be the first to know
Get local news delivered to your inbox!