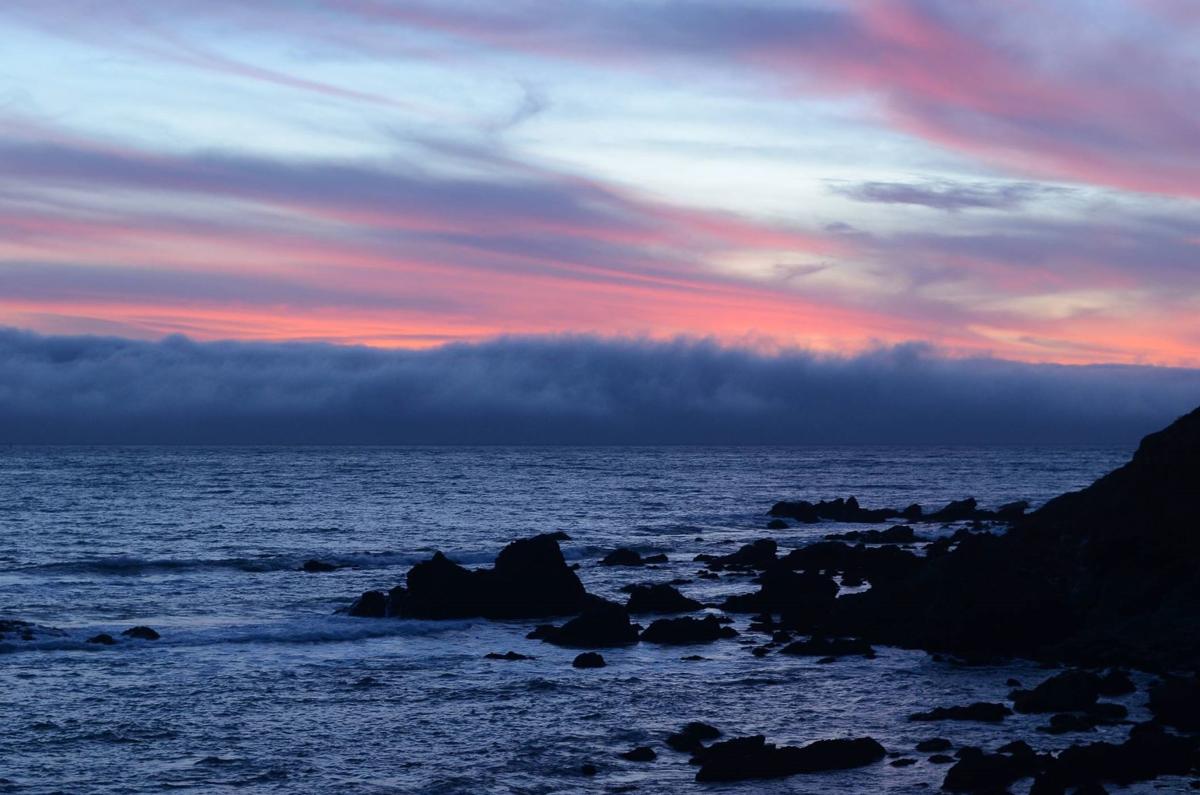 The meteorologist at the National Weather Service Los Angeles/Oxnard office nicknamed it the "Endless Upper-Level Low" and for a good reason.
Last Sunday, that 543-decameter upper-level low-pressure system dropped southward from the Pacific Northwest and produced gusty southerly winds and persistent rain throughout the day and night.
That upper-level low took a liking to the Central Coast and didn't leave our area until Friday, when it finally traveled southeastward to San Diego.
From Sunday through Thursday, it gave us well above-average amounts of rain for April.
Santa Maria typically receives 0.98 of an inch during April, while San Luis Obispo records 1.11 inches.
From this one system, Santa Maria reported 1.78 inches, and Cal Poly — home of climatology for San Luis Obispo — recorded 2.45 inches. Those amounts have double or more than April's averages.
They may go up even more, as yet another upper-level low-pressure system is forecast to reach the Central Coast by Friday and hang around till Sunday, generating more precipitation. In fact, this could be the wettest April since 2011.
That upper-level low brought seasonal rainfall totals to 70% of average in Santa Maria, which has recorded 10.7 inches, and to 66% of normal in western San Luis Obispo, according to SLOWeather.com.
That one storm brought Cachuma Lake to 79% and Gibraltar Reservoir to 100% of their capacity and took Nacimiento Lake from 51% to 55% of capacity, raising its level 4 feet in just five days.
It also finally put enough water into Twitchell Reservoir to put it on the board at 1.7%; prior to that, it held so little a percentage wasn't calculated.
Storage in other Central Coast lakes and reservoirs are 100% for Jameson Reservoir, 52% for Lopez Lake, 87% for Santa Margarita Lake, 84% for Whale Rock Reservoir and 38% for San Antonio Lake.
The lack of moisture in February drove most of California from the D0, or abnormally dry, to D1, or moderate drought, category by early March, according to the weekly U.S. Drought Monitor.
All of Santa Barbara and Ventura counties and much of San Luis Obispo County were listed at the D1 level.
The well-above-average rainfall of March and April has dropped the drought level from the D0 category throughout the Central Coast to "None" in nearly all of Santa Barbara County and the southern half of San Luis Obispo County.
The late-season rains could also help produce a beautiful display of wildflowers later this month.
What's an upper-level low?
Typically, most of the energy in upper-level systems exists roughly between 10,000 feet and the top of the troposphere, which extends upward to about 33,000 feet.
Meteorologists determine the thickness of the atmosphere by analyzing 500-millibar upper-level charts measured in decameters, abbreviated dm, that show how low or high the pressure is 3 to 4 miles above the Earth's surface.
The lower the 500-millibar line, the colder or stormier it could be. The higher the 500-millibar line, the thicker the atmosphere and the warmer it will be.
In summer, anything above 580 dm will usually result in hot temperatures; if near 600 dm, they'll be record-breaking.
Along the Central Coast, readings below 565 dm in April, can produce unsettled weather.
Like a cold front at the Earth's surface, upper-level troughs can extend for hundreds of miles across the sky.
An upper-level low, also known as a cold-core low, is like a surface cyclone, but most of its energy is located farther upward in the atmosphere.
In other words, those storms are stronger aloft than at the Earth's surface. That's one reason we didn't see any significant swells along our coastline, despite all the rain.
Upper-level lows often contain an isolated pool of cold air at their core, with temperatures at our latitude reaching 30, 40 and even 50 degrees Fahrenheit below zero.
As daylight hours become longer in April, energy from the sun heats the Earth's surface, which in turn warms the surface air and causes it to rise into the atmosphere.
That convection circulation can severely destabilize the atmosphere as the relatively warm air slams into the cold air above, which can produce severe weather like thunderstorms.
* * *
April is designated as National Safe Digging Month across the country.
With all Californians, except essential personnel, being required to stay-at-home and work-from-home until further notice due to the COVID-19 outbreak, PG&E reminds the public of the importance of calling 811 before starting projects that require digging or excavation.
John Lindsey is Pacific Gas and Electric Co.'s Diablo Canyon Power Plant marine meteorologist and a media relations representative. Email him at pgeweather@pge.com or follow him on Twitter @PGE_John.
Be the first to know
Get local news delivered to your inbox!