Collection: Five dead in shooting, fire at mobile home park in northwest Santa Maria
062119 Taylor fire 19.jpg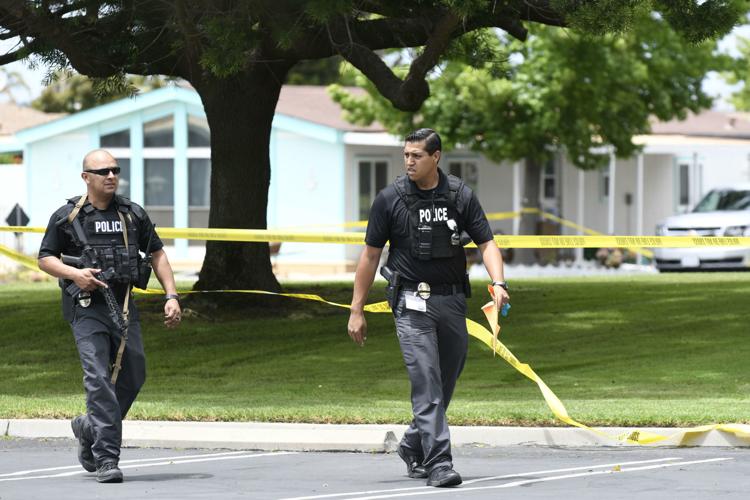 062119 Taylor fire 18.jpg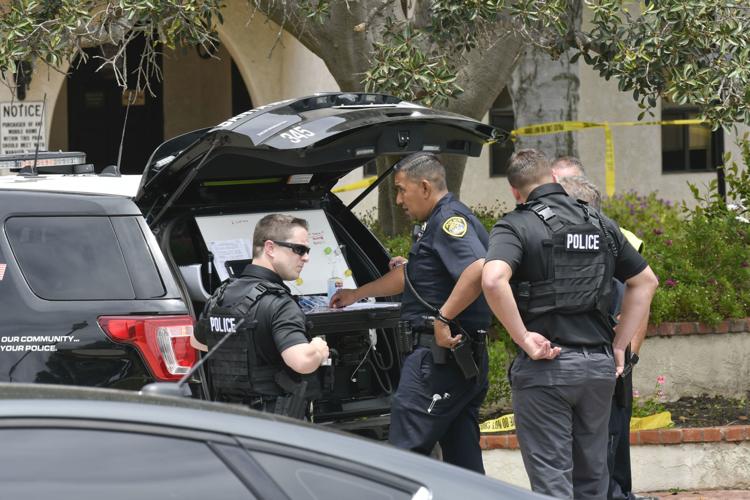 062119 Taylor fire 16.jpg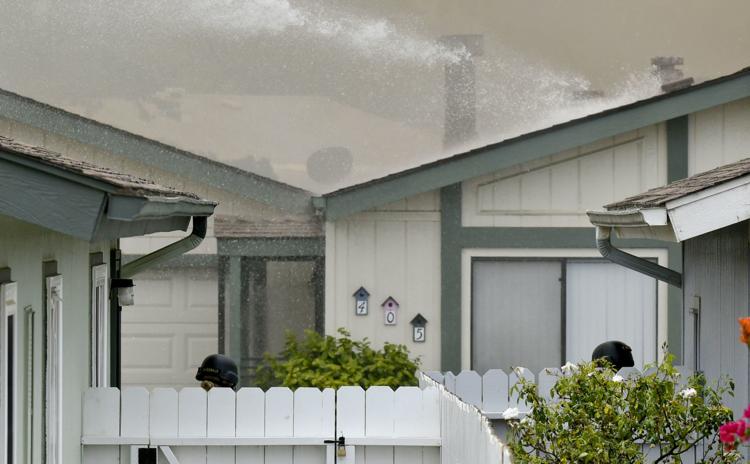 Names of two men shot, killed at Casa Grande released, 5th body found
The names of two men who were shot and killed Friday at Casa Grande Mobile Estates were released Saturday, and a fifth body was found in the rubble of the suspect's burned-out mobile home, according to Santa Maria Police officials.
Police also haven't released a motive, but several park residents said Friday the two men got into an argument with a third man on the park's pitch-and-putt golf course shortly before the shooting.
Police responding to a report of shots fired at 519 W. Taylor St. Friday around 11:30 a.m. found a dead man inside the Casa Grande clubhouse and another outside on the grass not far away, Police Chief Phil Hansen said after the incident.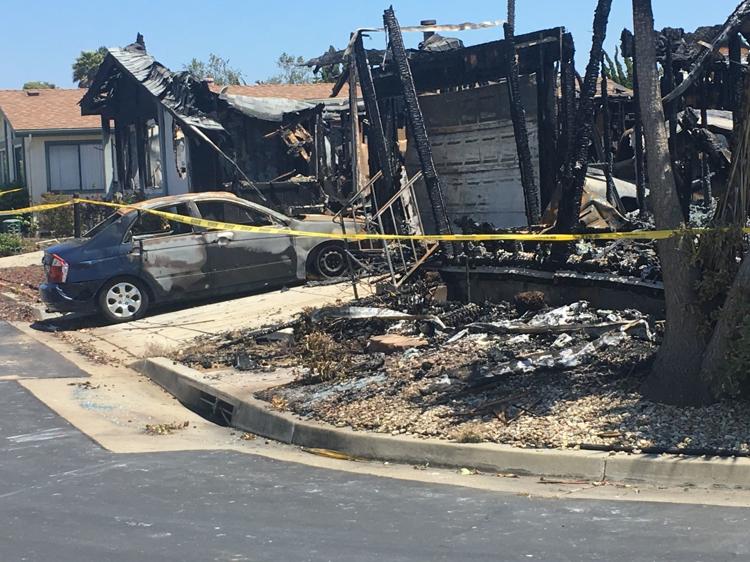 After the shooting, the suspect apparently returned to his mobile home, which moments later went up in flames following a small explosion, Hansen said.
The fire spread to the mobile home next door, destroying it as well, and damaged two homes behind those before the flames were extinguished by Santa Maria Fire Department crews, who had to wait to be escorted in by armed police.
Hansen said that after the fires were out, investigators found what they believed were two bodies in the rubble of the suspect's home.
But on Saturday, Sgt. Alfredo Ruiz said investigators had located a third body in the suspect's home, bringing the total number of dead to five.
"Identification of the suspected gunman and the two additional victims will be released once the Coroner's Office confirms their identities," Ruiz said in a release.
Casa Grande was quiet early Saturday afternoon. The manager's office was closed, and a notice on the door expressed condolences to the families of the dead.
It also said a memorial gathering will take place in the next couple of weeks, with the date and time to be announced.
Yellow crime scene tape blocking the street had been taken down, but it still surrounded the gutted remains of the two mobile homes.
Residents were coming and going in their cars, and a few gathered in twos and threes in front yards to talk about the violence.
Most did not want to speak to a reporter, but a couple said the gas service to the entire park had been shut off all day, and one said a gas company crewman told him it was because the fires had damaged gas lines.
One Casa Grande resident driving through the park said he lives not far from the suspected shooter he knew only as "Bodie."
He declined to talk about the man's personality or character and would not give his own name.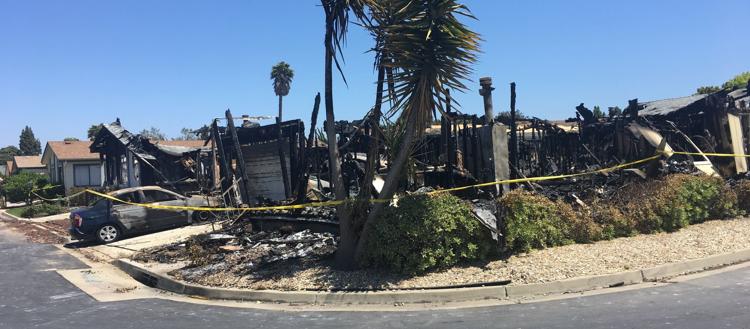 But he said he was told "by someone who should know" that the man returned to his home, shot and killed his son and then committed suicide, and he believes he heard it happen.
"I was out in my driveway," he said. "I didn't see him, but I heard three or four 'pops.' I thought it was fireworks, you know, 'cause they weren't very loud, and so I didn't pay much attention. People been shooting off fireworks all around for a week.
"I went back inside, and a minute or two later there was this … kind of … soft boom," he said. "Yeah, a soft boom. Fireworks again.
"Next thing I know, all hell breaks loose —smoke and fire, cops with guns, glass breaking and then all these 'pop-pop-pops.' It was a scary thing, I'll tell you what. I just stayed inside."
All those "pop-pop-pops" were probably ammunition that officials said was inside the suspect's home being ignited by the fire.
"All throughout the firefighting efforts, ammunition was cooking off inside [Unit] 407, so that created a safety hazard for residents, for responding officers and firefighters and whatnot," Hansen said Friday.
062219 Casa Grande shooter's home overall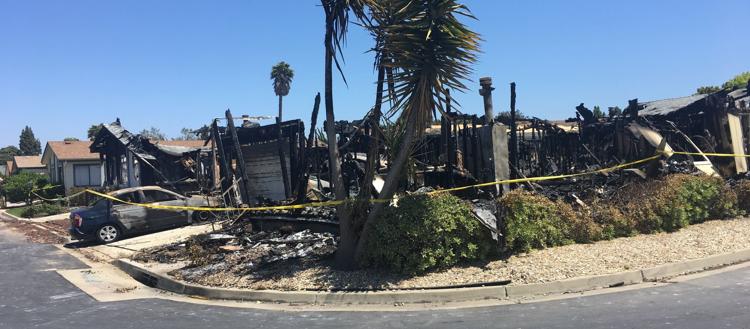 062219 Casa Grande shooters home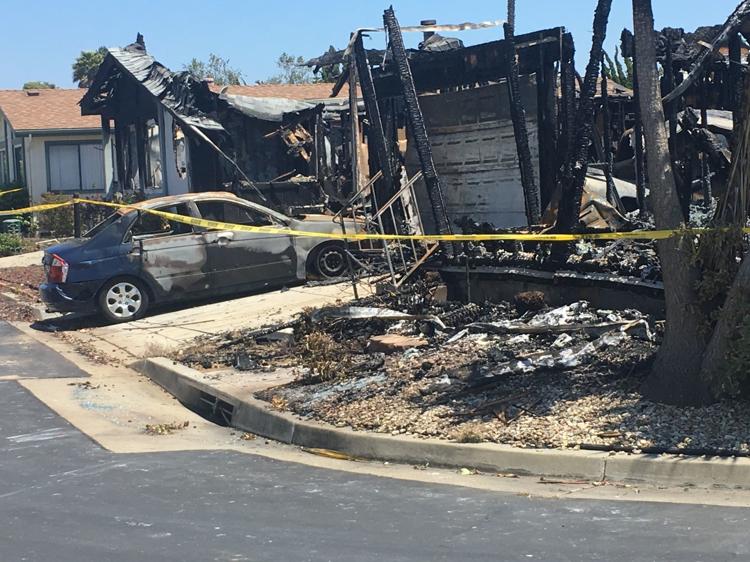 Video: House fire in mobile home park in Northwest Santa Maria
062219 Casa Grande shooters home closer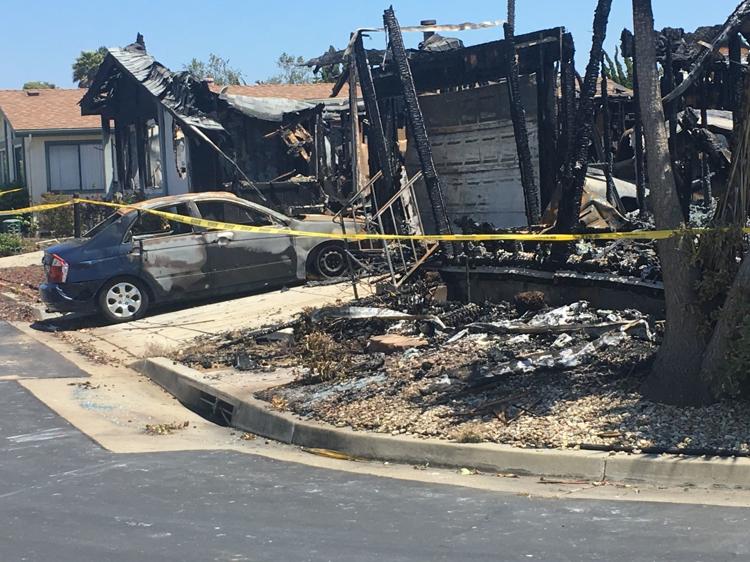 Fire reignites at mobile home park where four died Friday
Santa Maria Fire Department units have been called back to Casa Grande Mobile Estates on West Taylor Street where a fire that damaged or destroyed four homes earlier Friday is reigniting.
Police investigating a shooting that left two people dead and the subsequent fire that killed the suspect and another person asked firefighters to respond quickly after the fire reignited in the suspect's mobile home.
Police said earlier the suspect's home contained numerous rounds of ammunition that were going off as flames consumed the structure.
Santa Maria Police have identified the suspect and other decedents in Friday's shooting and house fire that left five people dead at a mobile home park in the northwest part of the city. Detectives believe Claude Adams, 64, of Santa Maria, shot and killed Kurt Bracke and Richard Hanen in the clubhouse area of the Casa Grande Mobile Estates, according to a department spokesman.
062119 Taylor fire 15.jpg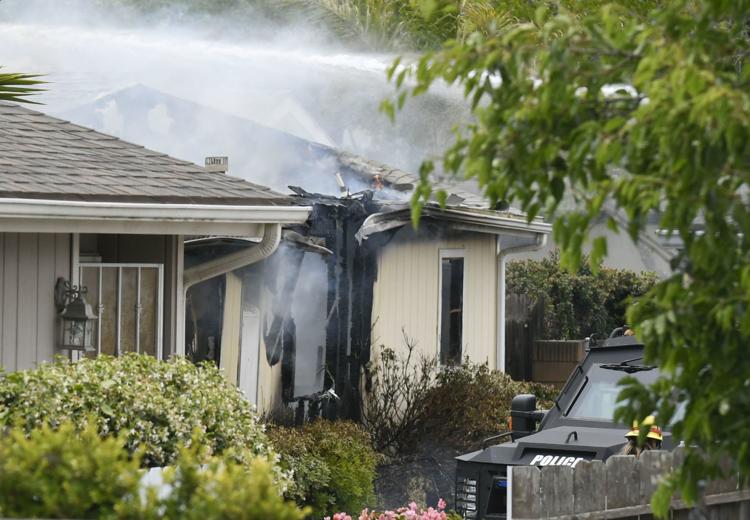 062119 Taylor fire 14.jpg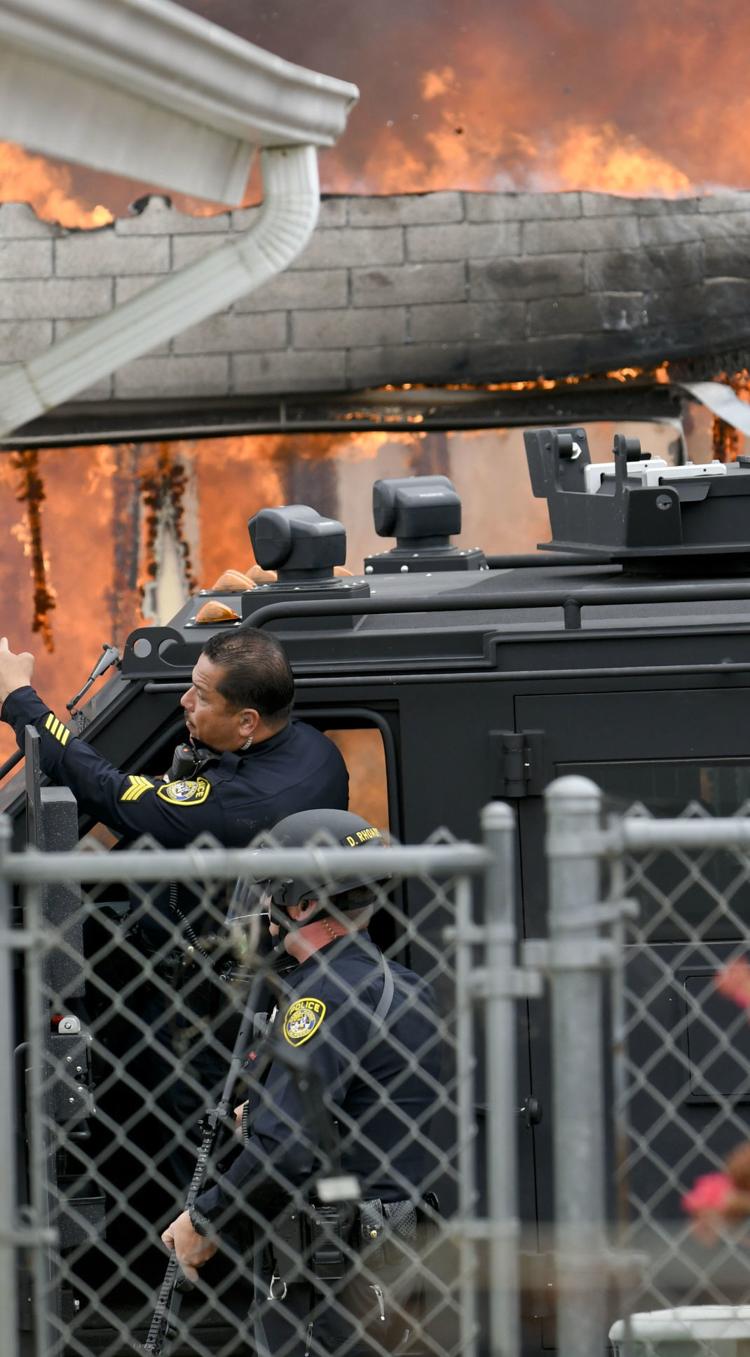 062119 Taylor fire 13.jpg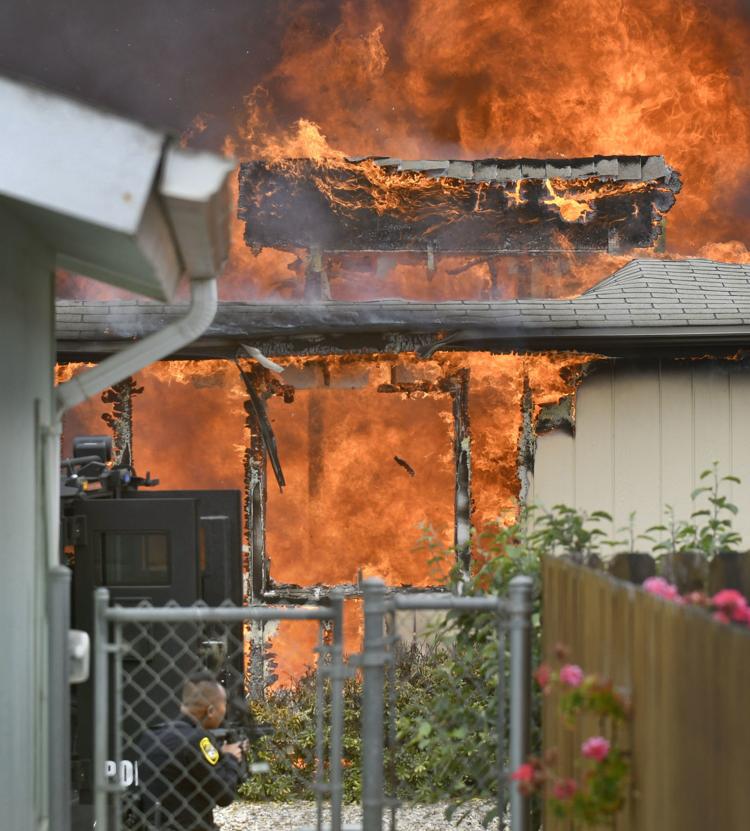 Four dead in shooting, fire at mobile home park in northwest Santa Maria
Four people were found dead Friday after Santa Maria police officers responded to reports of shots fired just after 11:30 a.m. and, moments later, Santa Maria fire crews were called to a structure fire at a mobile home community in the 500 block of West Taylor Street.
Black smoke billowed high into the sky — visible for miles — from several burning mobile homes at Casa Grande Mobile Estates, where police officers armed with assault-style rifles and wearing body armor searched for a gunman on foot while a helicopter circled overhead.
One of the bodies was found in the Casa Grande clubhouse, police said.
Another found on the grass near the clubhouse and the park's golf course, was covered with a green tarp as the investigation proceeded.
Two more bodies were later found inside the burned-out mobile home of the suspect, Santa Maria Police Chief Phil Hansen said. 
"We haven't made any identification on the remains [found] in the house," Hansen said during a press briefing. "Obviously it was a very intense fire; that complicates identification and things of that nature, so it appears that there are two deceased inside of the house."
The fire, which destroyed or damaged as many as four mobile homes, was finally knocked down around 1 p.m. 
Santa Maria Police Cmdr. Dan Cohen said the blaze and shooting are "very likely linked," but no official cause of the fire had been determined Friday afternoon.
Initially firefighters, unable to access the burning mobile homes, blocked West Taylor Street with their engines and directed traffic onto side streets, leaving a wide stretch on either side of the entrance devoid of vehicles except those parked at homes across the street. 
Casa Grande residents and guests inside the park were kept well away from the clubhouse, where a police command post was set up, and the burning mobile homes, leaving them to mill about on a grassy area nearby or talk with neighbors on their porches.
Residents who were outside the park were stopped at the entrance, sparking anger among those trying to get to their homes or relatives with medical conditions.
"We have a resident with Alzheimer's, and we just want to know what's happening with the fire," a woman visiting park residents said to police near the command post. "Is it contained?
"We may have to evacuate this person, and they're not telling us anything," she said, walking away.
Residents kept waiting at the entrance to the park were also upset when police allowed members of the media to enter.
The drama unfolds
Running down the sequence of events, Hansen said when the first police officers arrived within 2 minutes of the call, they found two men dead at the clubhouse and were told the suspect might be headed to Unit 407.
Within moments, Hansen said, the officers heard an explosion and saw smoke billowing up from that unit, which was then quickly engulfed in raging flames.
A second explosion was heard later as police converged on the burning mobile homes.
Firefighters with one engine had to cut the lock off the emergency access gate on the west side of the park to gain entry.
Two other engines were allowed to enter the park as far as the command post.
But firefighters were kept from approaching the burning mobile homes until armed officers could escort them in. 
As the homes burned, popping sounds like small arms fire could be heard throughout much of the park.
"All throughout the firefighting efforts, ammunition was cooking off inside 407, so that created a safety hazard for residents, for responding officers and firefighters and whatnot," Hansen said
"You had rounds going off on a pretty regular basis at that location," he added.
Residents were kept outside the area until police had cleared all the yards to be sure there were no additional victims, Sgt. Eligio Lara said.
Officers also had to be sure the shooter was not still at large in the park, Lara said.
Some residents who stood behind lines of orange cones that blocked off the internal streets said the shooting stemmed from an altercation between the three men on the park's pitch-and-putt golf course.
Three-year Casa Grande resident Keith Castro said there had been bad blood for some time between the alleged shooter and the two men killed at the clubhouse.
"These three guys were threatening each other for a long time," he said.
Santa Maria Police Department Sgt. Eligio Lara tells media police responded to shots fired at Casa Grande Mobile Estates and found two people dead, with a home on fire. That's all being released at this point. Fire appears to be out. #santamariatimes pic.twitter.com/x00ufmRIr6

— Mike Hodgson (@MHodgsonSYVNews) June 21, 2019
Residents of Casa Grande Mobile Estates on West Taylor watch police at command post as search is on for man who apparently shot two people, then set his home on fire. Police chopper circling area. Possible sounds of shots fired earlier. #santamariatimes pic.twitter.com/rSvM1IQwPb

— Mike Hodgson (@MHodgsonSYVNews) June 21, 2019
A body lies under a green tarp at Casa Grande Mobile Estates after a golf course altercation turned deadly, leaving two people shot and the shooter possibly dead, too, after he set fire to his house. Neighbors say it was part of an ongoing feud. #santamariatimes pic.twitter.com/W67imFDKEf

— Mike Hodgson (@MHodgsonSYVNews) June 21, 2019
062119 Taylor fire 12.jpg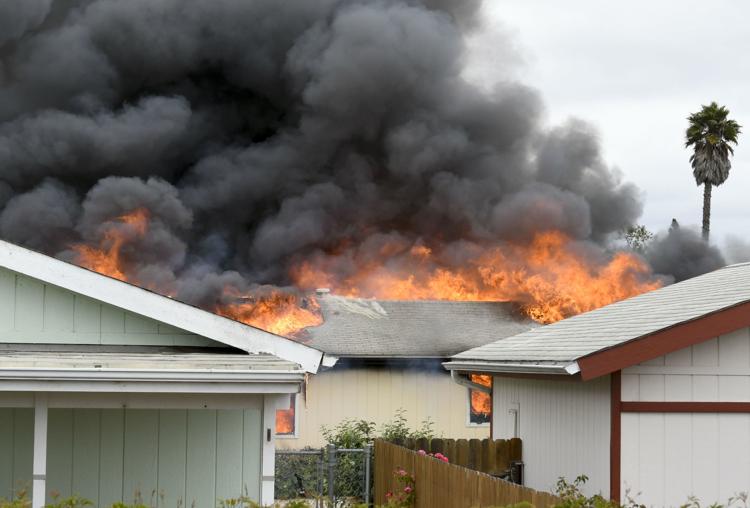 062119 Taylor fire 11.jpg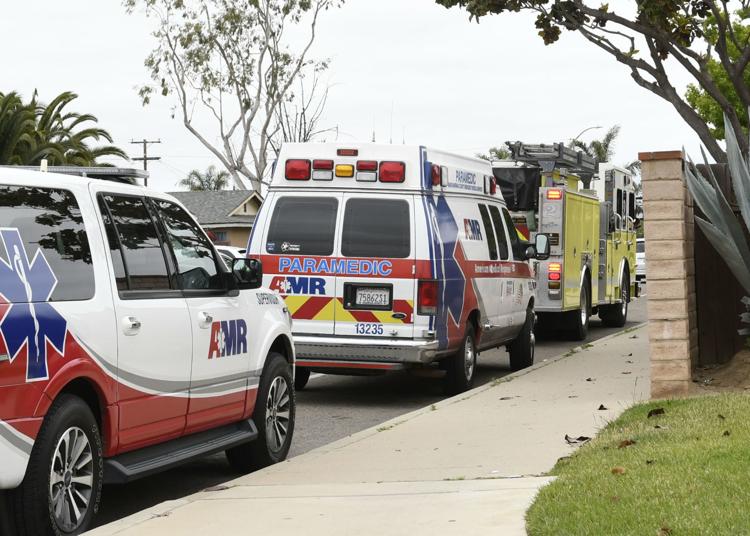 062119 Taylor fire 10.jpg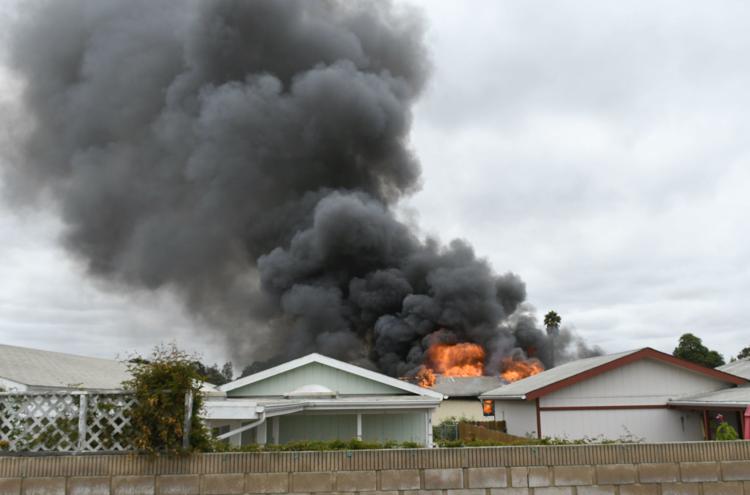 Video: Santa Maria Police Chief Phil Hansen press conference on June 21 shooting and structure fire
062119 Taylor fire 09.jpg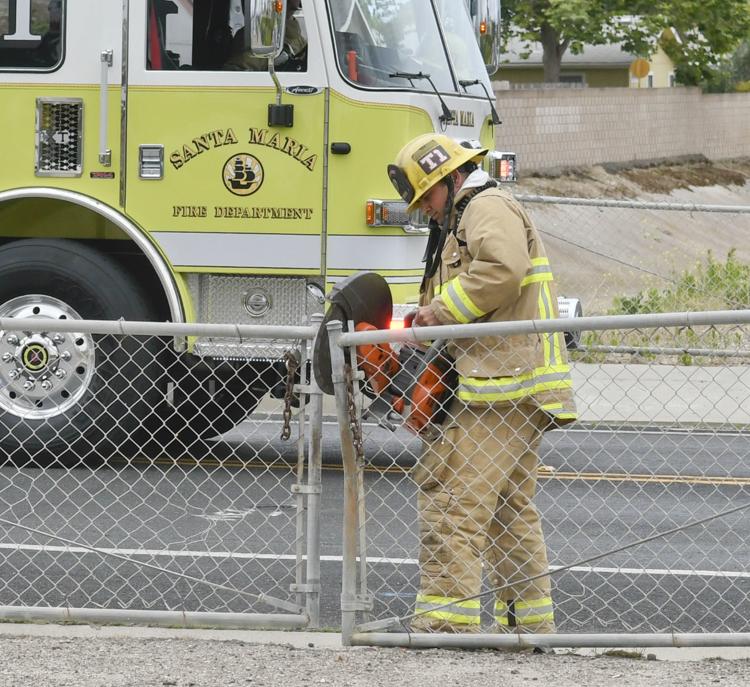 062119 Taylor fire 08.jpg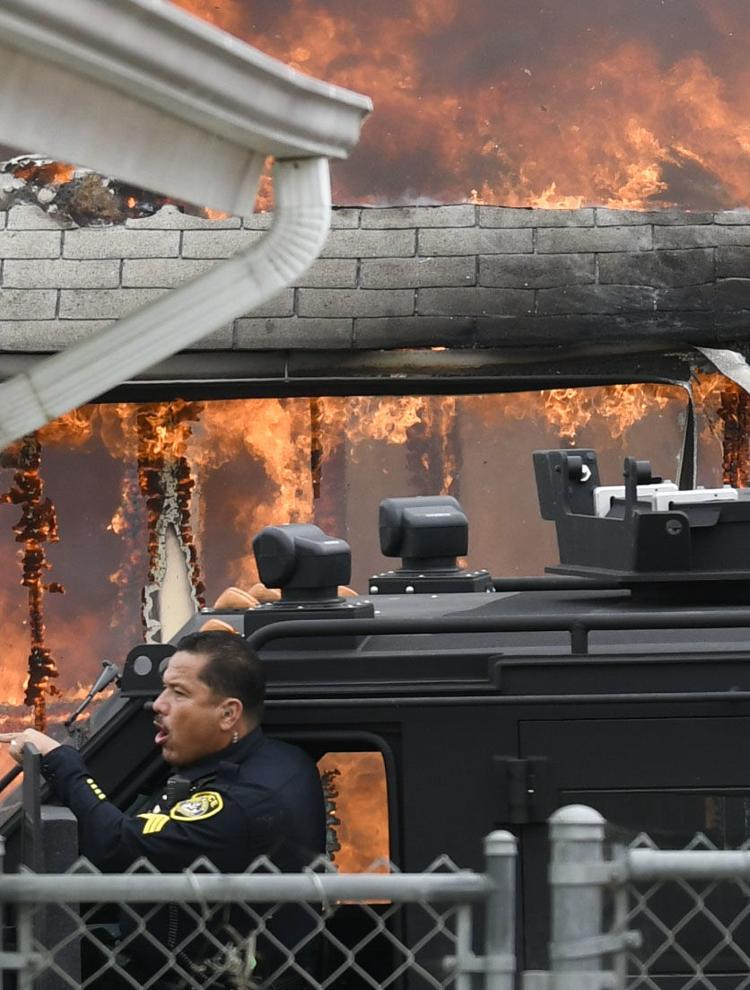 062119 Taylor fire 07.jpg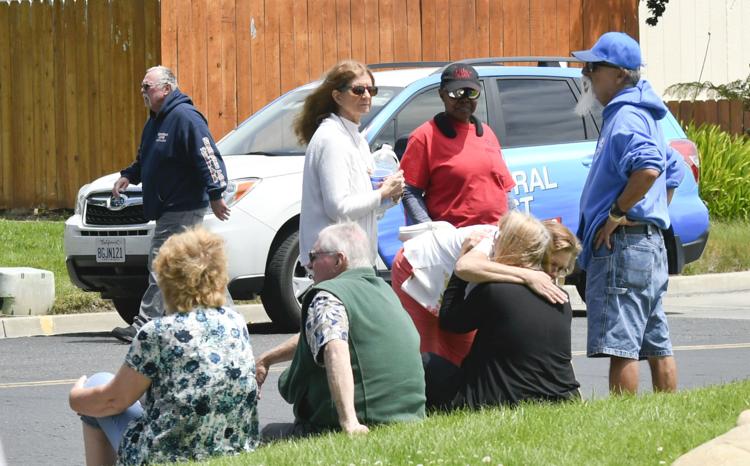 Mike Hodgson tweet -2
Residents of Casa Grande Mobile Estates on West Taylor watch police at command post as search is on for man who apparently shot two people, then set his home on fire. Police chopper circling area. Possible sounds of shots fired earlier. #santamariatimes pic.twitter.com/rSvM1IQwPb

— Mike Hodgson (@MHodgsonSYVNews) June 21, 2019
062119 Taylor fire 06.jpg
062119 Taylor fire 04.jpg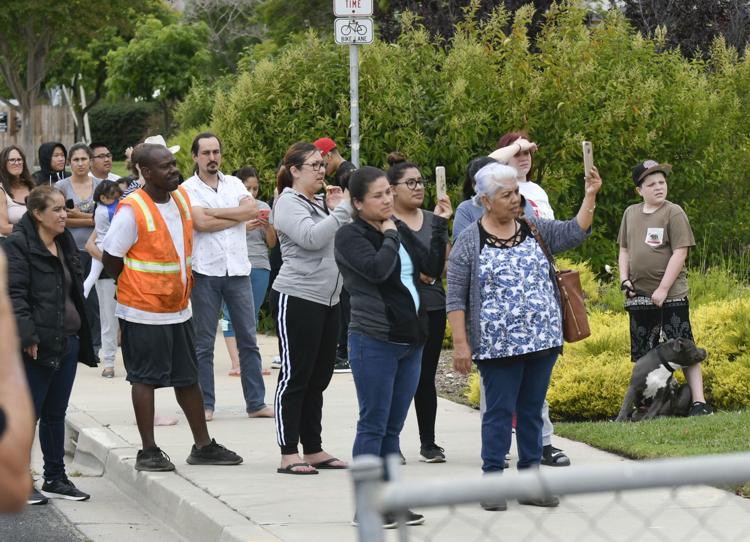 062119 Taylor fire 03.jpg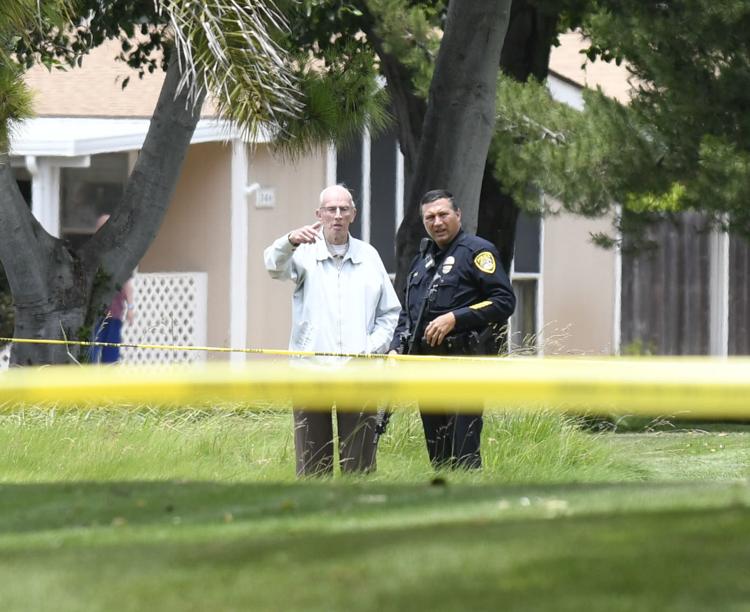 Mike Hodgson Tweet - 3
A body lies under a green tarp at Casa Grande Mobile Estates after a golf course altercation turned deadly, leaving two people shot and the shooter possibly dead, too, after he set fire to his house. Neighbors say it was part of an ongoing feud. #santamariatimes pic.twitter.com/W67imFDKEf

— Mike Hodgson (@MHodgsonSYVNews) June 21, 2019
062119 Taylor fire 02.jpg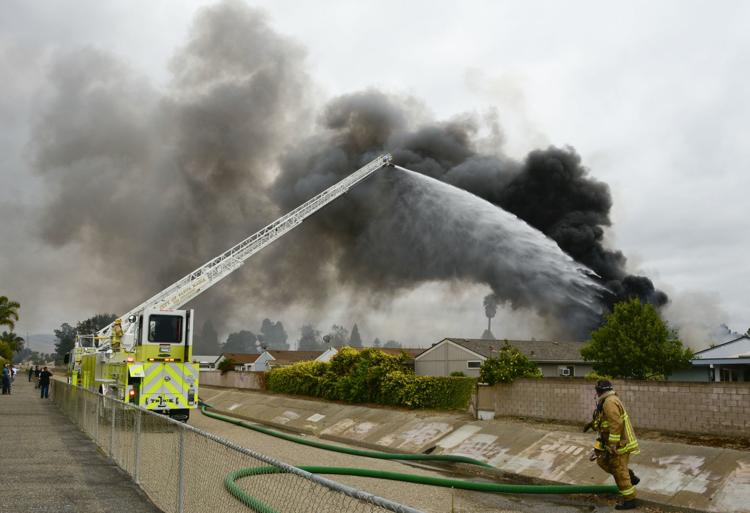 062119 Taylor fire 01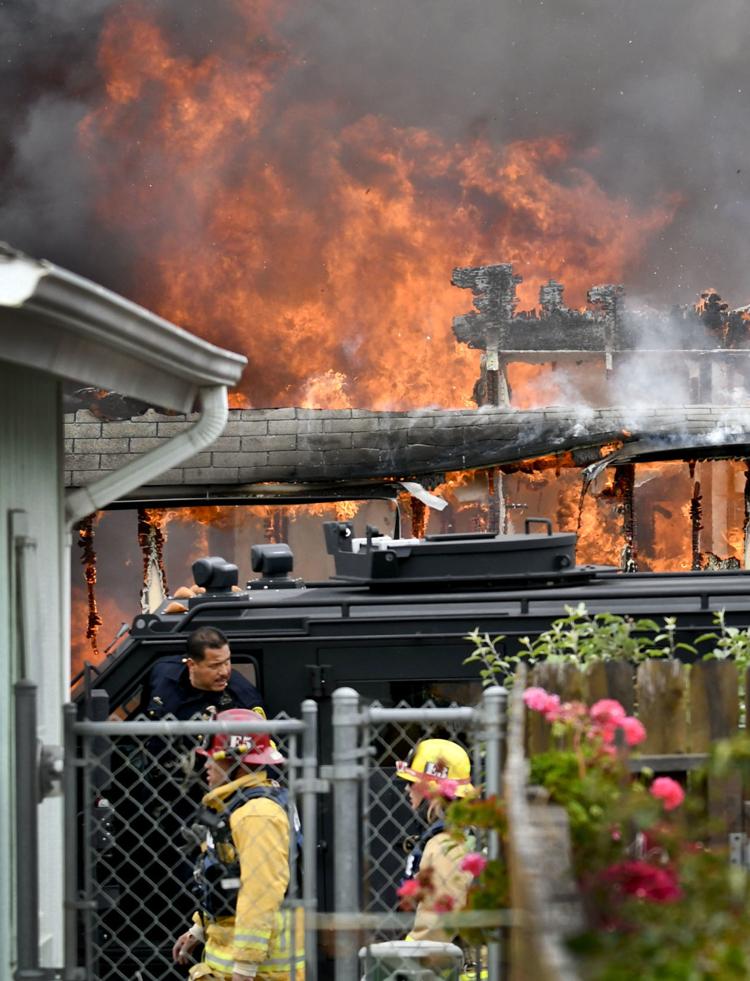 Casa Grande Mobile Estates fire - 6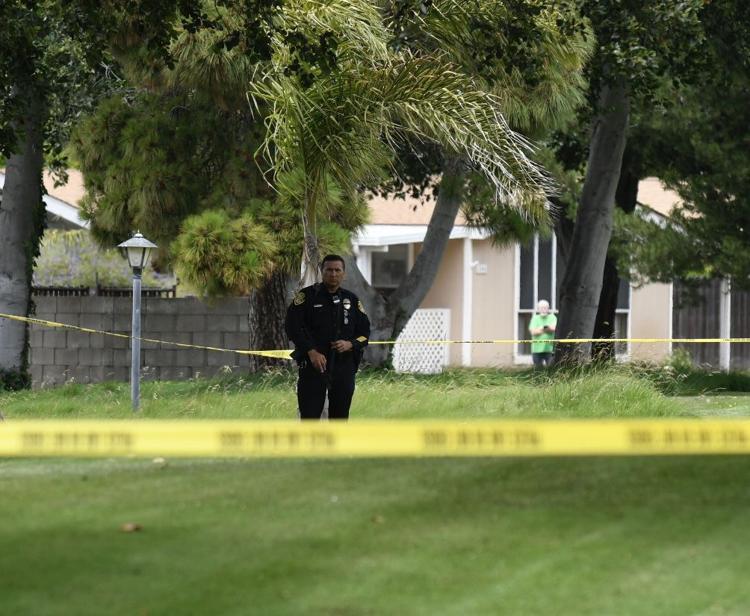 Santa Maria fire department tweet
Casa Grande Mobile Estates fire - 7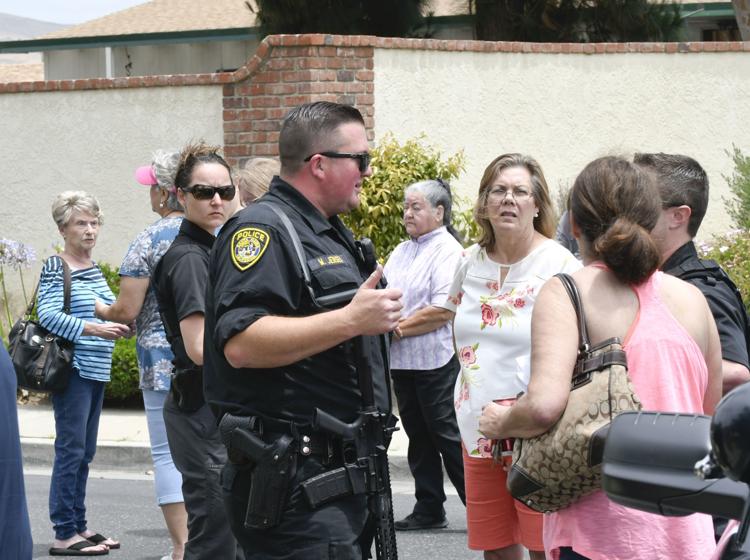 Casa Grande Mobile Estates fire - 8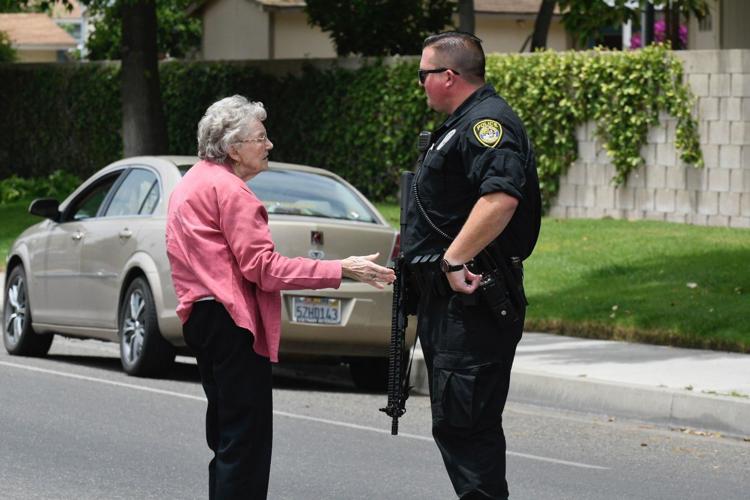 Mike Hodgson tweet -1
Santa Maria Police Department Sgt. Eligio Lara tells media police responded to shots fired at Casa Grande Mobile Estates and found two people dead, with a home on fire. That's all being released at this point. Fire appears to be out. #santamariatimes pic.twitter.com/x00ufmRIr6

— Mike Hodgson (@MHodgsonSYVNews) June 21, 2019
Casa Grande Mobile Estates fire - 4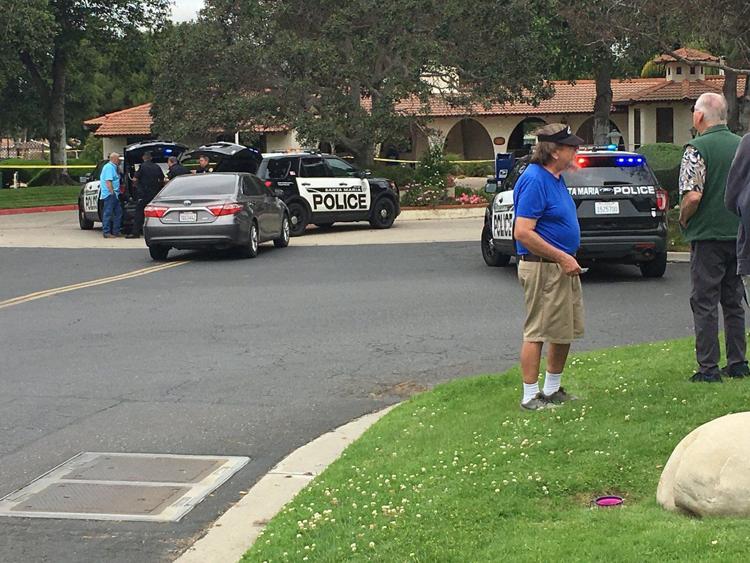 Casa Grande Mobile Estates fire - 2