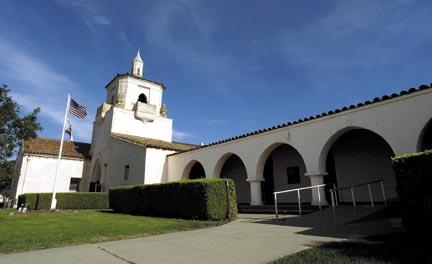 Few people realize that two of the most powerful men in Guadalupe government don/t live anywhere near the city. Even fewer realize that these two men have been fired or sued by similar cities in the last 10 years.
And perhaps even fewer people realize that City Attorney Randy Risner and City Engineer Ruben Moreno were hired with no attempt to check their work histories.
Guadalupe has no policy for checking the backgrounds of applicants for even its highest-ranking jobs, and two years after Risner and Moreno were hired, there is no plan to create an official procedure.
Like many small towns throughout California, Guadalupe hires part-time contractors for many key positions rather than having full-time employees.
Since 2003, the city has engaged the services of Risner/s law firm and Moreno/s engineering company. Both men live in Fresno, where their companies are based, and they have worked together in several small California cities over the past decade since they met in law school.
Neither man has been charged with a crime or found liable in a lawsuit, but each has been involved in controversies with other employers. And even though neither man had ever worked in the Guadalupe area before, no one called their past employers to check on them before they were hired.
So most Guadalupe officials were surprised to learn from a reporter that Moreno had recently settled a 2001 lawsuit by the city of Mendota for alleged negligence and breach of contract in his engineering work.
Most also said they didn/t know that Risner and Moreno had been fired by both Mendota and Greenfield, two California cities that, like Guadalupe, are small, agricultural and largely Latino.
Risner became Guadalupe/s city attorney on June 26, 2003. Council members Lupe Alvarez and Carlos Aguilera and then-councilman Joe Talaugon all voted to award the contract to Risner. Councilwoman Virginia Ponce abstained and then-Mayor Sam Arca was absent.
Five months later, Moreno became city engineer. On Nov. 25, 2003, Alvarez, Aguilera, Talaugon and Ponce all voted to grant Moreno the contract. Arca was again absent, according to minutes of both meetings.
Carolyn Galloway-Cooper, Guadalupe/s city administrator since February 2003, said she never interviewed any of the candidates, nor did anyone she knew verify the information on their resumes.
She did know that Moreno and Risner had been terminated in Greenfield but discounted that, she said, because city staff members are often fired when political tides shift in a small town.
Galloway-Cooper said the responsibility of background-checking applicants belongs to the City Council.
&#8220Anyone credentialedC who submits an application by the stated deadline to be hired as an independent contractor &#8220goes before the council,C she said. &#8220The council then gets a 72-hour notice of the candidatesC before the meeting at which it is scheduled to consider the hiring.
&#8220I give the council all I get,C she said, &#8220but I don/t think there/s a background-check policy.C
Alvarez, who has since become Guadalupe/s mayor, said that as far as he knows, the city has not done a background check on a city employee.
&#8220I think (the responsibility) falls on staff,C he said. &#8220Most people as elected officials have a regular job. The bulk of the responsibility should be on the city administrator.C
Other small cities in Santa Barbara County have a system in place, though it isn/t completely formalized.
In Solvang, it/s required that all department heads or anyone working without direct supervision submit to a background check, said City Manager Marlene Demery. She is responsible for either conducting the investigation herself or making sure it/s been done thoroughly.
&#8220We do a credit check, wants and warrants, we interview past employers, basically the full gamut,C she said.
With higher-level contract staff such as the city/s attorney, Solvang would verify a successful applicant/s diploma and call up past references.
&#8220When you/re down to making the final selection, there would be nothing wrong with doing a background check,C she said.
The background checks are a matter of informal procedure in Solvang.
&#8220Some things we don/t have to write down,C she said. &#8220It/s just smart.C
In Buellton, background checks for contract staff are City Manager Steve Thompson/s responsibility.
He obtains a list of references from a prospective employee, he said, and interviews staff members in any city where the applicant has worked.
&#8220I/d call the city manager or the planning director and I/d ask if they were pleased with their projects,C he said.
He/d then ask if projects under the supervision of an applicant were completed on time, on budget and without many change orders.
&#8220If I/ve got someone that/s submitting change orders every day,C said Thompson, &#8220something is wrong.C
Prospective employees are also given a cursory background check by the Sheriff/s Department, which is contracted to act as Buellton/s police force, to find out if an applicant has any outstanding warrants or felonies, Thompson said.
As in Solvang, the city manager/s role in investigating prospective employees is not explicitly spelled out in the city/s municipal code.
&#8220There may be some general language that the city manager is responsible for this or that, but I just take it as part of my job,C he said. &#8220I think it/s just implied.C
Galloway-Cooper said she is prevented from undertaking such actions because of Guadalupe/s government structure. As a city administrator, as opposed to a city manager, she requires council direction for anything other than routine operational duties.
&#8220If the council doesn/t direct me to do something outside of those day-to-day operations, I can/t do it,C she said.
Because council never directed her to undertake such checks, she was neither obliged nor allowed to do so, she said.
Solvang stopped contracting out for engineering services in 2002 and now pays its staff engineer between ,81,600 and ,102,000 a year, Demery said. Solvang still contracts its attorney services to Municipal Advocates Group of Atascadero and pays its contract attorney about ,90,000 a year, she said.
In the approximately two fiscal years since they were hired, Guadalupe has paid Risner/s firm about ,222,000 and Moreno/s about ,665,000, according to city payment records.
By comparison, Buellton pays its contract engineering firm, MNS Engineers of Santa Barbara, between ,80,000 and ,100,000 for a standard year of work, Thompson said. He estimated that in a year with many city projects, the most they/d pay is ,260,000.
Buellton/s city attorney makes about ,100,000 a year, he added.
After considering the matter, Guadalupe/s mayor Alvarez said that the city should have a more rigid policy by which backgrounds are checked.
&#8220There should be mandatory background checks on city contract staff, city employees and city council members, mayor included,C he said.
However, neither he nor any other council member has brought up the issue for council consideration.
Alvarez also said he had heard about the lawsuit against Moreno in Mendota, after he was hired in Guadalupe, but never the specifics.
&#8220Someone brought up something in public comment,C said Alvarez. &#8220I asked about it, and he (Moreno) said there were two sides to it. He said it was settled because of his insurance company.C
As a business owner, Alvarez added, he could sympathize.
&#8220There/s times it/s just cheaper to settle,C he said.
Mendota terminated Moreno/s employment contract in January 2001 and sued him in June 2001, claiming breach of contract and negligence in the design and construction of a sewage treatment plant.
Moreno eventually settled the lawsuit for ,525,000 in May 2004, according to the settlement agreement.
&#8220The allegations of the complaint are completely without merit,C said Moreno, who also said he was forced by his insurance company to settle the lawsuit even though he was against the idea.
Risner said he was never given a reason for being fired in Mendota, but he said it had nothing to do with his job performance and everything to do with politics.
&#8220It was a personal thing,C Risner said. One of the Mendota council members &#8220liked to control people and he expected them to do what he said. We can/t do that as professionals.C
Guadalupe council member Aguilera said he/d never researched Moreno/s or Risner/s backgrounds either, although information about Moreno/s lawsuit came to his attention after the city had hired him. But since the information came from Arca, he didn/t take it seriously.
At that time, Guadalupe was deeply divided politically, and Arca was under fire because of a May 2003 report from the Santa Barbara County grand jury that questioned his use of a city-supplied cell phone and his handling of a ,70,800 communications grant.
Arca, who was mayor at the time of the hirings but left the council after being defeated for re-election in 2004, said the responsibility to check backgrounds falls on the city administrator. However, he said, the City Council must also shoulder some of the weight.
&#8220Every member of council has the right and responsibility to perform some type of due diligence and not just sit there and let things happen,C he said.
Talaugon, who did not seek re-election to the council in 2004, said he has &#8220no comment for things in the past.C
Ponce said she was unaware whether the city had any policy for checking references or verifying information on resumes.
&#8220It has never been a practice (for council members) to call past employers,C she said.
Ponce also said she has no indication that there is any sort of problem with Risner/s or Moreno/s performance in Guadalupe right now.
&#8220I/m interested in Guadalupe here and today,C she said. &#8220Lawsuits don/t mean much to me unless I thought they were doing the same thing here. If they are and they have a track record, shame on us.C
Stan Oklobdzija can be reached at 739-2159 or at soklobdzija@santamariatimes.com.
December 18, 2005
Get local news delivered to your inbox!
Subscribe to our Daily Headlines newsletter.