Nicole Pitman could hardly believe it.
Nestled on the carpet of Pacific Christian School's library Thursday morning, two dozen second-graders from Staci Patterson's classroom sat transfixed as Cee "Nana" Teixeira thumbed through the colorful pages of "The Toad's Code," written by Cee's late grandson (and Pitman's former boyfriend), Ryan Teixeira.
"It's so exciting," said Pitman, the Cal Poly graphic communications major who illustrated the children's book. "For it to be something that Ryan and I did together is a really cool experience. It's something long-lasting and that others can enjoy."
Ryan Teixeira, an Arroyo Grande High School grad and baseball standout, died March 2017 after a two-year bout with two forms of cancer. After overcoming a rare form of cancer — Ewing sarcoma, which manifests in one in 1 million people according to the National Cancer Institute — in 2015, Teixeira was diagnosed with an aggressive form of blood cancer — acute myeloid leukemia — eight months after ending treatment.
"This is something Ryan was inspired to do," said Holly Texeira, his mother and president of the 17 Strong Foundation, the nonprofit established in his memory. "We followed through with it because Nicole chose it as her senior project." 
Selecting it as her Cal Poly senior project, Pitman said she spent time researching the bookmaking and publishing process. Though the design, pagination and printing of the book were completed this year, the project has been in the works for longer than that.
You have free articles remaining.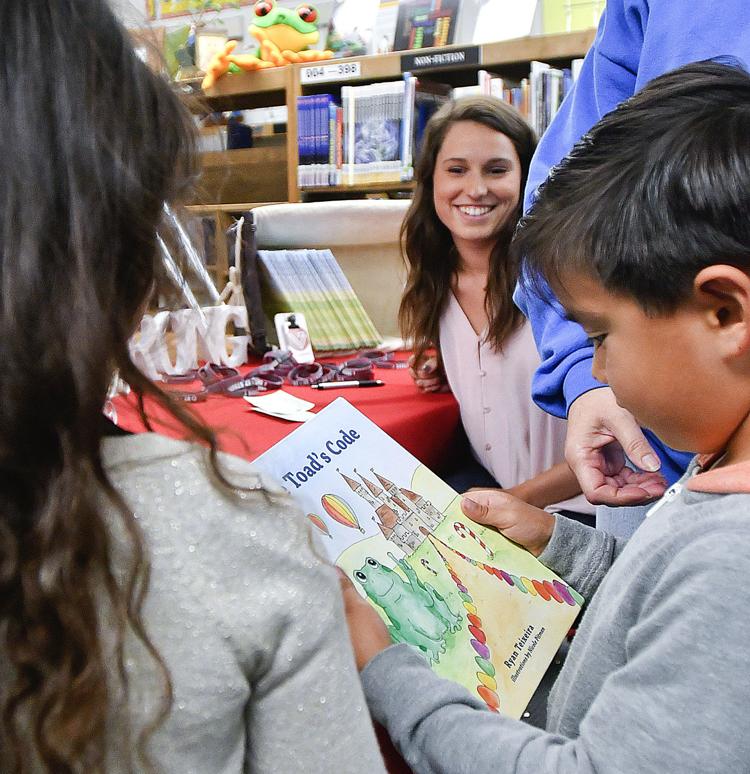 Pitman said the idea of making a book came from her mother, Debbi, who suggested she and Ryan work on it during their regular hospital visits. An hour after throwing the idea out, Pitman said she received a call from Ryan. The book was done.
"While we stood with him, I started some of the initial drawings," she said. "Coming back weekend after weekend, I started to sketch it out. He kind of approved the storyboard."
The book takes readers on a journey to "the funnest world of fun, where anything can be done." Guarded by a "mean old Toad at the start of the road," people are only let into the "funnest world of fun" by cracking the Toad's code.
"For some it comes easy," Cee Teixeira read to the students, "for others it's tough. It's all in the words, but don't let him bluff." 
An alliterative chorus of double-consonant and double-vowel sounds (the Toad likes bees and trees, animals that go "ruff" and "moo") is the key to entering the "funnest world of fun." If students weren't able to crack the Toad's code, the book tells them not to worry — the "funnest world of fun" is actually just their imagination. 
"It's extraordinarily special because Ryan was so full of life and love for kids," Cee Teixeira said. "Being able to share that through his book keeps him very much alive."
"It's overwhelming," added Holly Teixeira. "It's so amazing to see such wonderful talent ... in book form. It's emotional for me."
Mathew Burciaga covers education in Santa Maria and the surrounding area for Lee Central Coast Newspapers. Follow him on Twitter @math_burciaga