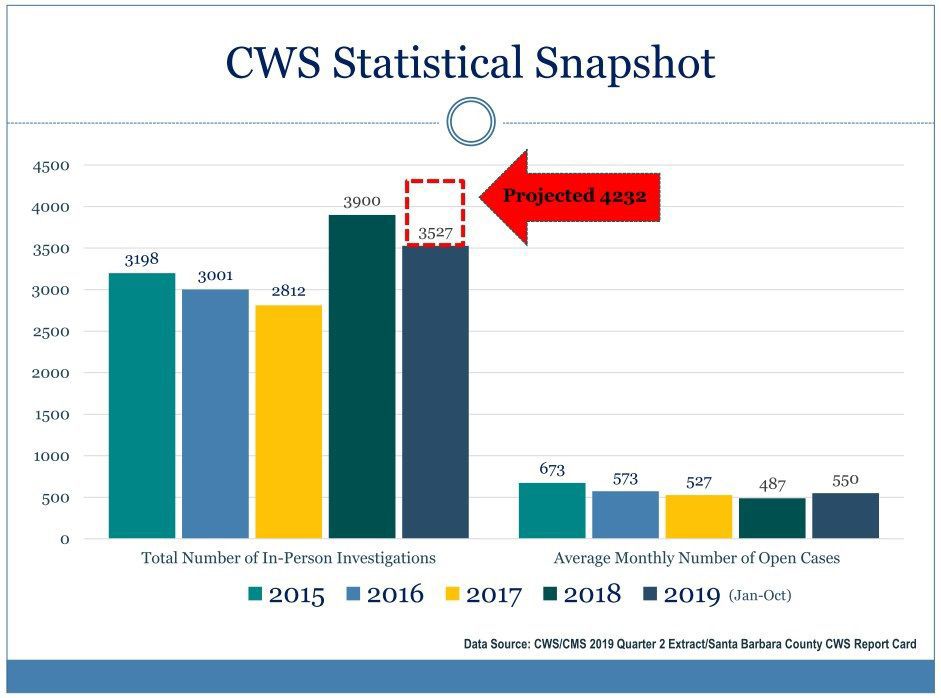 Santa Barbara County's Child Welfare Services plans to focus its efforts on Lompoc in coming months, as that community has had the greatest increase in child abuse reports, according to a presentation to the Board of Supervisors.
"Lompoc seems to be the area of greatest increase, so that's why we're focusing there," Amy Krueger, deputy director of the County Department of Social Services, told supervisors Tuesday.
She also said Lompoc had the greatest increase in the number of children being placed in foster care as a result of general neglect, substance abuse and mental health issues in their homes.
Krueger's remarks were included in the 2019 annual update on Child Welfare Services efforts to improve the lives of children in the county and the progress the agency has made in the past year.
The report noted the agency has completed many of the tasks it has assigned itself as well as those needed to meet state mandates, and it has made strides in improving the system as well as outcomes for children.
Supervisors were impressed by the efforts and results.
"This is an extraordinary program that you run, and you're building capacity at all levels," 3rd District Supervisor Joan Hartmann told Krueger, adding, "It's really emotionally challenging."
Part of the report looked at burnout among child welfare workers, including the causes and what steps are being taken to reduce the stressors, maintain employees' health and retain them longer.
The agency is employing two strategies: One is addressing secondary traumatic stress, also known as compassion fatigue, that comes from working with traumatized clients. The second is an increasing emphasis on recruitment and retention efforts.
Staff has been involved in RAFT, or Restore and Flourish Together, sessions aimed at understanding the effects of secondary trauma, learning to manage responses to difficult situations, becoming aware of personal vulnerabilities, building resiliency skills and improving the ability to engage families and the resulting outcomes.
"What's really significant to me … is the progress that you've made," 1st District Supervisor Das Williams told Krueger.
The report included a snapshot of agency statistics for the years 2015 through 2019 that showed an increase in the overall number of child welfare referrals in 2018 and 2019, but Krueger noted much of that was the result of changes in the screening process.
While the number of children in foster care showed an increase countywide, there was a decline in the number of open cases.
However, a chart based on the California Children and Family Services Review standards showed Child Welfare Services had met or exceeded all but one of seven measurements and met or exceeded all three of the state standards.
The federal standard calls for 40.5% of children being discharged to permanent foster care within 12 months. In Santa Barbara County, a total of 35.4% were in permanent foster care after 12 months.
Krueger said Child Welfare Services is working to meet that standard as well.
Get local news delivered to your inbox!
Subscribe to our Daily Headlines newsletter.