Beaches in Santa Barbara and San Luis Obispo counties will remain open.
The news was part of a clarification from the governor's office Thursday regarding a memo provided Wednesday to the California Police Chiefs Association stating that all state beaches would be closed effective Friday, May 1.
The closure will apply only to Orange County beaches, Newsom said Thursday.
The memo, released after the governor criticized overcrowding at beaches in Ventura and Orange counties last weekend, caused confusion among residents and local officials throughout the state, prompting officials including Central Coast Assemblyman Jordan Cunningham and San Luis Obispo County Sheriff Ian Parkinson to protest the alleged order. 
Jackie Ruiz, Santa Barbara County Public Health Department spokeswoman, said Thursday there are no changes to the guidelines for use of public beaches in Santa Barbara County at this time.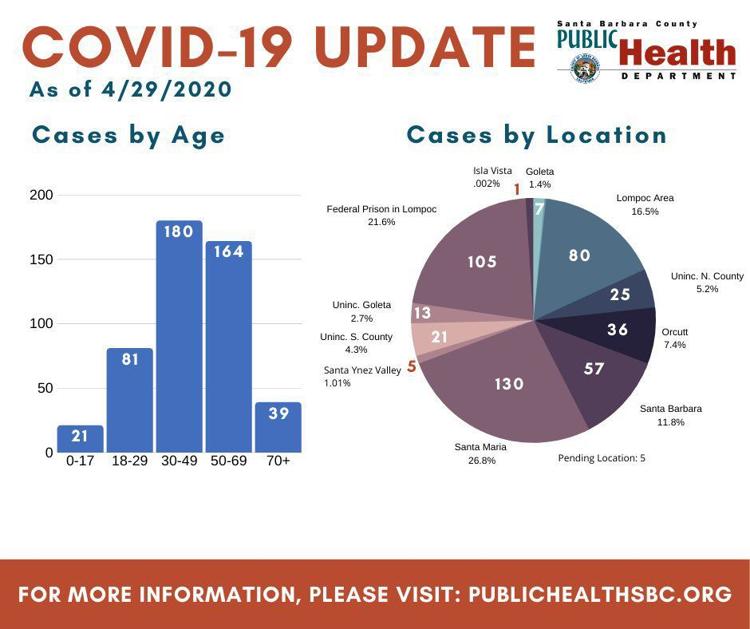 While Santa Barbara County officials have noted successful compliance with physical distancing orders at local beaches and parks, residents are still warned that overcrowding could lead to eventual closures, 2nd District Supervisor Gregg Hart said earlier this week.
"If you go to a beach or a park or a trailhead and there are already too many people there, go somewhere else," Hart said.
The weekend of April 24, officers from the Sheriff's Office were stationed at county beaches from Gaviota to Rincon and at county trailheads in anticipation of crowds drawn by warm weather. 
A combination of fire personnel and parks department staff were also present along the Santa Barbara waterfront, and deputies surveying beaches reminded residents of social distancing guidelines, according to Hart. 
"There was a lot of collaborative work done by all local agencies across the South Coast to anticipate and control crowds at local beaches. There will be even more enforcement this coming weekend," Hart said.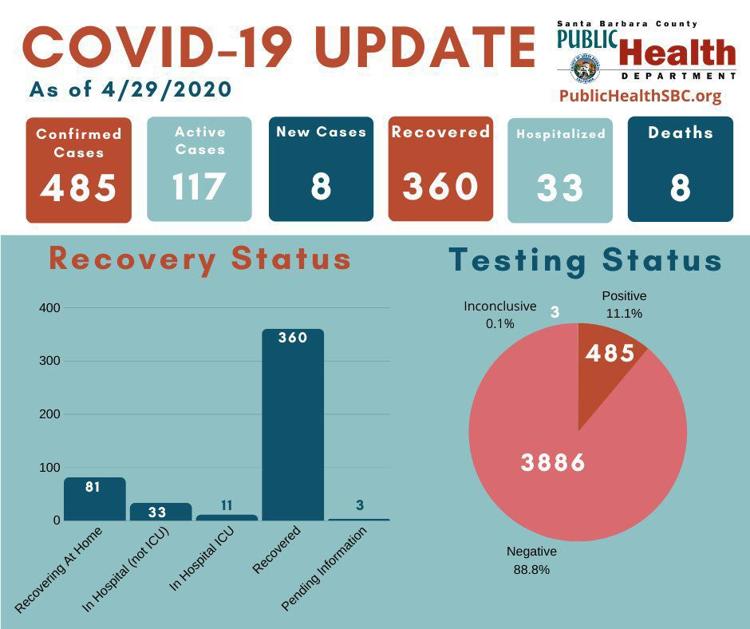 While Santa Barbara County beaches and parks remain open, neighboring San Luis Obispo County has closed piers and parking lots at Avila, Pismo and Morro beaches, as well as certain trails at Bishop's Peak and Cerro San Luis. 
California state parks remain closed, with the Pacific Southwest Region of the U.S. Forest Service announcing extended closures of Los Padres National Forest through May 15. 
COVID-19 cases
Santa Barbara County confirmed 11 additional COVID-19 cases Thursday for a total of 496, of which 120 are active. 
Of the 11 new cases, one is an individual in the unincorporated South County area, four are in Lompoc, one is an inmate at the Federal Penitentiary in Lompoc and five are in Santa Maria, according to county data.
City of Santa Maria spokesman Mark van de Kamp also announced Thursday that a city employee in the Department of Public Works has been confirmed with the virus after being tested on April 27. 
"The city of Santa Maria is confirming that one of its employees is recovering at home after testing positive for COVID-19. Out of caution, two other employees who may have come into contact with him also were sent home to isolate. One was tested and the results came back negative this morning," van de Kamp said.
The employee does not have any underlying health conditions, and has been instructed to self-quarantine for 14 days, according to van de Kamp. 
Of the 120 active cases in the county, 75 people are recovering at home, 33 are recovering in hospitals with 12 under intensive care, and the Public Health Department is awaiting updates on four. 
Eight deaths have been reported so far. 
San Luis Obispo County confirmed three additional COVID-19 cases Thursday, all in the city of Paso Robles, for a total of 184.
Of the 40 active cases in the county, 32 individuals are recovering at home and seven have been hospitalized, with two under intensive care. 
Infographic: San Luis Obispo County Coronavirus Cases
Laura Place covers city government for the Santa Maria Times.
Concerned about COVID-19?
Sign up now to get the most recent coronavirus headlines and other important local and national news sent to your email inbox daily.