Central Coast amateur radio operators gathered Saturday and Sunday at impromptu broadcast stations varying from a football field to the base of a 400-foot-tall antenna.
Their purpose: to call into the void for 24-straight hours.
Their goal: to contact as many other operators as possible playing along in some 1,500 American Radio Relay League Field Day venues across North America.
The annual exercise provided ham radio operators the opportunity to test the radio system often put into play during major national disasters.
More than 2 million operators are licensed worldwide, with nearly half those located in the Americas, according to the American Radio Relay League.
"We have all these ancient resources available," said John Kendall, president of Santa Ynez Valley Amateur Radio Repeater Group. "You say that it'll never happen, but after major events like earthquakes, hurricanes, some of these massive fires, cell towers and landlines can become overwhelmed or completely incapacitated."
With a radio, antenna, battery and microphone, an amateur radio operator quickly can provide communication services.
Licensed amateur radio operators, often referred to as ham radio operators, can reach out to anyone else on the air within the same community or half a world away.
"After Northridge earthquake, the phone lines were still working, but you couldn't get through because the circuits were all busy," said Bob Harrison, a longtime member of Lompoc Valley-based Satellite Amateur Radio Club.
He recalled a woman trying to get in touch with a hospital down south to check on the status of a relative.
Phones weren't doing the trick, but radio communications linked her to her loved one.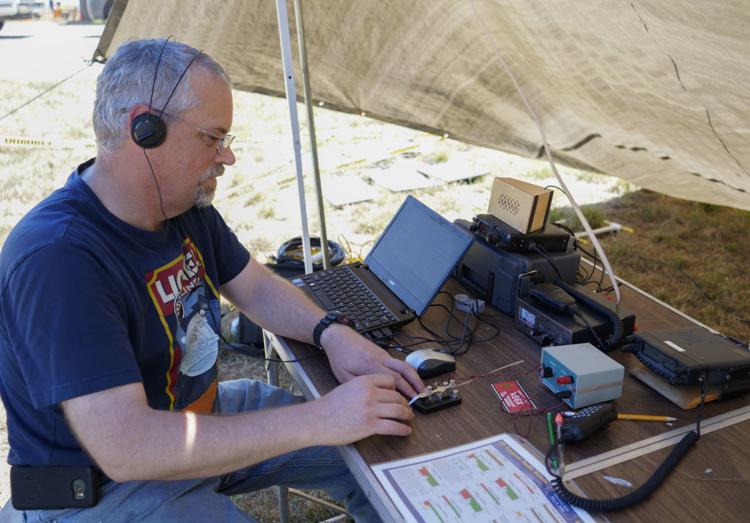 "When we ask people what they'd do in an emergency if their cell pone doesn't work, you get this deer-in-headlights look," Kendall said. "People think that can't happen, but it can, and it does."
Ham radio operators were deployed to Puerto Rico to provide communication services after all channels were broken down by Hurricane Maria in 2017.
Closer to home, Kendall said, amateur radio operators assisted with U.S. Forest Service communications during the 1993 Marre fire on Figueroa Mountain.
"The ham radio isn't just talking on radio," said Ryan Elliott, emergency coordinator for Santa Ynez Valley/American Radio Emergency Service. "Nowadays, it's figuring out how to link computers throughout the world via ham radio, seeing how far you can get your signal from your house with as little power as possible. There are things in ham radio beyond just talking."
Amateur radio operators use a variety of frequencies — FM, AM, sideband, the internet and beyond — to connect voice, text, data, even video over the air.
They connect with other radio users on the other side of the world, even at the International Space Station.
"Amateur radio is the oldest form of social networking," Kendall said. "We can talk to people all over the world while people in the same room with their cell phones and landlines and satellites can't."
Elliott discovered amateur radio while attending Cal Poly. He passed his first licensing test in 1999 and now has his own radio setup available for his entire family in case of an emergency.
He also uses it to reach out to other operators around the world.
"In an emergency, you might not really be able to depend on the cellphone system," Elliott said. "In storms this past winter, cell [service] went down at our house, we had no power, there was no way to communicate.
"That's why we keep up a landline — those have traditionally had their own power, but with new systems or in larger disasters they can also go down."
In case of emergency, his wife at home in Santa Ynez Valley would still be able to contact him at work in Goleta.
In March, the Solvang City Council formalized its long-time agreement with Santa Ynez Valley Amateur Radio Repeater Group to maintain a ham radio antenna and associated equipment at the city's Chalk Hill Reservoir 2 site.
The equipment had been in place for decades, but the latest agreement, including a low-cost lease, formalized the partnership and Santa Ynez Valley Amateur Radio Repeater Group responsibilities.
The organization also maintains radio equipment at Figueroa Mountain Fire Station.
"It's a very interesting hobby with the potential to also serve the community," Kendall said. "It's like my dad used to say about fishing: 'The fishing's always good, the catching can vary.' The radio is always good, but whether conditions are right to talk to someone else varies."