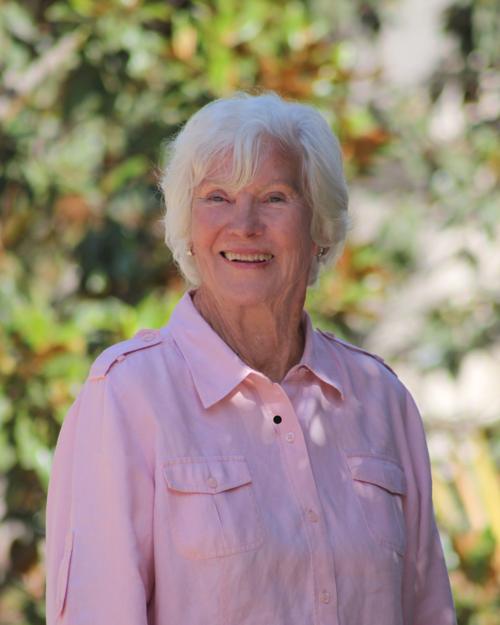 Marylinn Green's path to community service is humble and touching. The Montana native moved around frequently during the 1960s and 1970s with her late husband Jim, who worked as an engineer with the manufacturing company Rockwell.
Green received her degree in medicine and worked as a medical technologist throughout the years, and the couple eventually settled down in Santa Maria in 1981.
It was after her husband's passing in 1991 that Green began giving more of her time to the Santa Maria community. She volunteered at Marian Regional Medical Center, and started wallpapering at several residential properties.
It doesn't come as a surprise to family and friends that Green was able to find positive outlets even after losing her spouse. She is known for her optimistic energy and genuine caring for others. Green is the one who can always be seen jumping right into a task and giving it her all, without expecting any acknowledgement in return.
She also has a habit of keeping herself occupied at all times. Although Green is retired, she stays on the go, whether it's volunteering at a local golf tournament or going to lunch with friends.
"I'm not a knitter," Green jokes, when speaking about her busy schedule. "I have to do something other than feed the dog!"
While Green is too modest to go into details about her work in the community, her contributions speak for themselves. She has given her time to several organizations in Santa Maria Valley, including the Pacific Conservatory Theatre (PCPA), Marian Regional Medical Center and the Santa Barbara Foundation. She served as a member of the board of directors at the Santa Maria Valley YMCA and volunteered as an usher at the Cal Poly Performing Arts Center.
She volunteered with Friends of Waller Park, performing maintenance to keep the park beautiful, and with Relay for Life, providing food for other volunteers and helping raise funds for cancer research. Green believes everyone should have access to basic needs including food, healthcare, and shelter, and is hands-on in ensuring those needs are met in her community.
"Marylinn is the epitome of community service," said Shannon Seifert, CEO of Santa Maria Valley YMCA. "Her humble ways bring tears to the eyes of those of us who get to work alongside her. No job is [ever] 'beneath her.'"
Green's knack for rolling up her sleeves and taking on any task to help others, is what makes her so deserving of the Celebrate Philanthropy award. It's one of a few awards she's been nominated for — including the YMCA's Honoree of the Year — that she initially refused to accept.
"I know some of the other people who have been nominated [for Celebrate Philanthropy]," she said. "I knew of it, but I'm shocked and pleased to be recognized."
Green is excited about the upcoming ceremony, but in true fashion, she looks forward to being surrounded by the people she loves, more than the award itself. She is expecting to accept her award with her son by her side because, as she says, it is a "family thing."
Green's acceptance speech will likely be short and sweet, as she is prone to quickly shift away from public recognition. In her eyes, giving her time to others is just something she enjoys.
"I never think of myself being anything out of the ordinary," Green said. "I just love doing what I do, and I love giving back to my community."
Get local news delivered to your inbox!
Subscribe to our Daily Headlines newsletter.