The Cave fire that erupted Nov. 25 was a textbook example of Santa Barbara County wildfires, encompassing virtually all the elements that, in one combination or another, have characterized the South Coast's most significant blazes.
The elements: late-season ignition, point of origin near roads atop the mountain range, extended dry spell, high temperatures, low humidity, powerful Santa Lucia winds, thick vegetation, explosive spread, hundreds of homes threatened, thousands evacuated, steep and rugged terrain, bulldozers ineffective, heroic hand-crew efforts, heavy aerial assault, strong mutual-aid response, shrewd firefighting tactics.
However, while its ignition and spread followed a classic South Coast wildfire pattern, the Cave fire did not end in typical fashion.
Coming late in the fire season, after 180 days with no precipitation and weeks of above-normal temperatures, the Cave fire ignited in Los Padres National Forest amid vegetation thick from last winter's rains yet critically dry from the extended summerlike heat.
The relative humidity was low at around 15%, and although forecasters said cooler weather and possibly rain were on the horizon, temperatures were still high the Monday it started.
The wind velocity was a sustained 35 mph over San Marcos Pass, not far from the fire's point of origin at Highway 154 and Painted Cave Road, and gusts were clocked at 55 mph in the urban coastal areas.
As firefighters from the U.S. Forest Service and Santa Barbara County Fire Department attacked the flames, the call for help went out to other agencies.
As they have for each of the county's previous significant wildfires, resources began pouring in from north, south and east.
Eventually, nearly 1,000 firefighters — more than 600 of them from outside agencies — would be battling the blaze.
"It's burning under some of the most difficult conditions anywhere in the world," Jim Harris, fire chief for Los Padres National Forest, said as the flames raged on the mountainside.
Because of the extremely steep and rugged terrain, bulldozers couldn't cut large swaths of fire line, so there were no fuel breaks to slow the flames' forward progress or provide access for hand crews, fire engines and water tenders.
That left most of the battle during daylight hours to aerial tankers dropping retardant and helicopters dumping water.
At night, a trio of helicopters with advanced equipment and pilots experienced in nighttime operations made water drops to assist the hand crews that fought the flames both day and night.
Wearing protective gear and carrying their equipment on their backs, hand crews had to scramble hundreds of feet up steep slopes covered with loose rocks and push through thick chaparral and poison oak to reach their assigned positions.
Arriving exhausted, they still cut fire lines as fast as they could in the face of searing flames.
Threat at the urban interface
Driven downhill by winds that picked up speed — and heat — as they sluiced through the canyons, the fire exploded to 3,100 acres in seven hours, raging toward hillside homes, churches, businesses, parks, a nature preserve and agricultural operations on the northern edges of Santa Barbara and Goleta.
County Fire officials said 2,410 structures were threatened by the rapidly spreading flames.
Mandatory evacuations were ordered that night for the areas north of Cathedral Oaks Road in Goleta and north of Foothill Road in Santa Barbara. Evacuation warnings were issued for adjacent areas.
The American Red Cross opened an evacuation shelter in the Goleta Valley Community Center for some of the more than 5,400 bewildered residents who fled their homes, leaving everything behind.
Highway 154 was closed at the roundabout with Highway 246 in Santa Ynez, and only residents with ID were allowed to pass. No civilians were allowed past Paradise Road near the summit.
On the Santa Barbara side, the highway was closed at Cathedral Oaks Road to all but residents with ID, and even they were not allowed past Painted Cave Road.
Despite the number of structures in harm's way, by Tuesday afternoon only one outbuilding was lost; in spite of the harsh conditions, no injuries were reported; and despite the force of the Santa Lucia winds, the once explosive rate of spread had been slowed.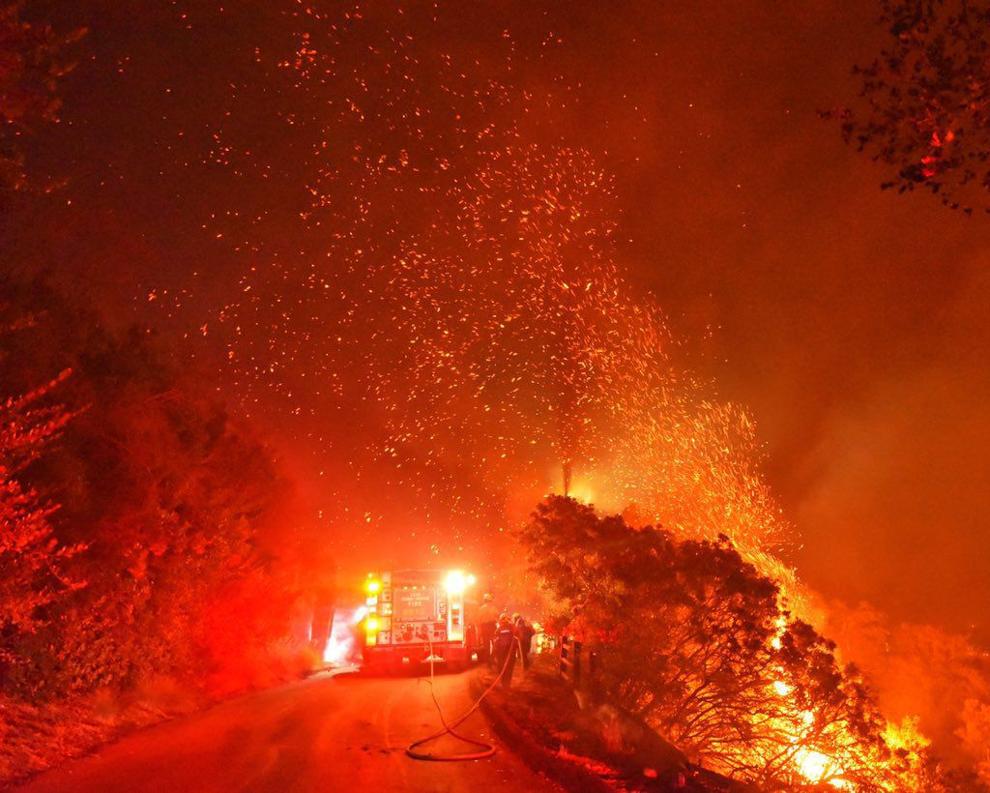 Although the fire had roared toward Goleta and Santa Barbara, firefighters held it back by attacking key points, including the San Antonio Creek Road area, County Fire spokesman Mike Eliason said.
By noon Tuesday, the fire had only expanded to about 4,330 acres, but it was just 10% contained.
A change in the weather was on the way, however.
By Tuesday afternoon, the wind that had pushed the flames dropped to almost nothing, the temperature suddenly plunged more than 20 degrees in places and a blanket of clouds lifted the relative humidity.
As the cold front approached, firefighters prayed for rain — but not too much.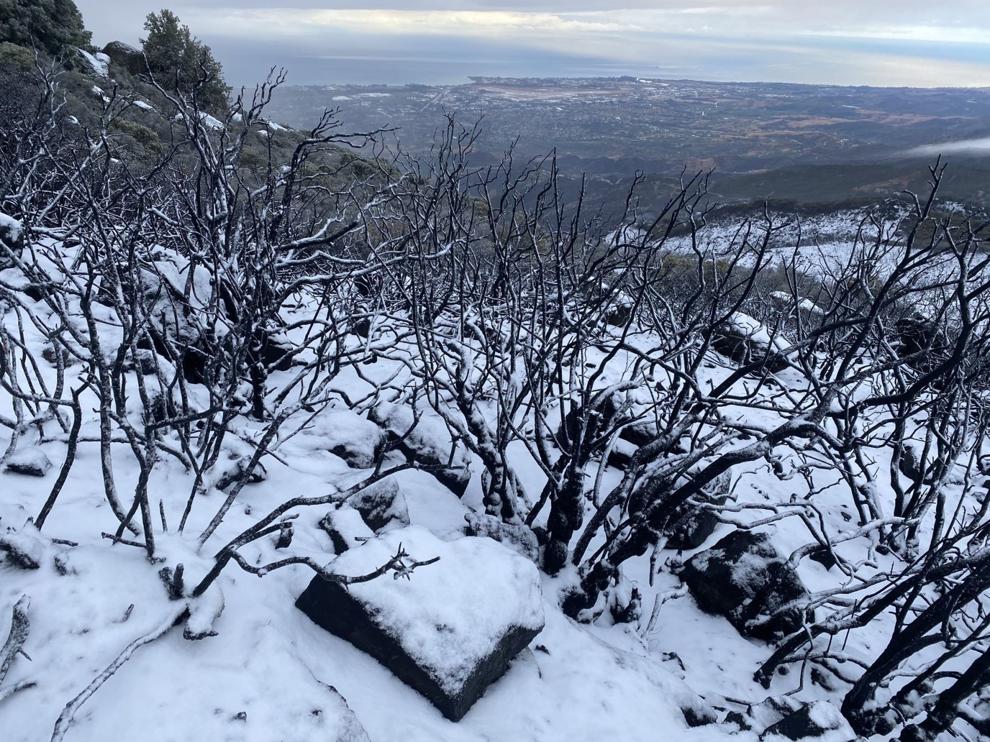 "We want a steady rain," Eliason said. "But we don't want intense rain."
With the slopes denuded of vegetation and soil disturbed by firefighting efforts, a heavy rain could bring uncontrolled runoff that would erode topsoil, fill streams with sediment, clog culverts, flood neighborhoods, destroy houses and threaten lives.
So Tuesday, with the fire only 20% contained at 4,367 acres, debris flow evacuation warnings were issued to residents below the burn area.
That evening, a heavy mist rolled in, turned to drizzle, then became the steady rainfall firefighters had hoped for.
Over the course of the night, just over an inch of rain fell on the southern slopes of the Santa Ynez Mountains.
"The rain really helped us out," Eliason said Nov. 27. "There's no real active fire, just a lot of smoldering spots."
With the mountains soaked and more rain and even snow on the way, hundreds of firefighters from the fire departments of Ventura, Los Angeles, Kern, San Bernardino and Orange counties were sent home to spend Thanksgiving with their families.
While Santa Barbara County's fire marshal Rob Hazard doesn't believe wildfires are becoming more unpredictable in their behavior, he does acknowledge conditions are changing making them bigger, longer lasting, and being more difficult to contain.
"Firenado" sounds like the title for a campy science-fiction flick, but it's a real phenomenon that firefighters say they're seeing more often as wildfires worldwide become more intense.
Residents who lived in Mission Hills during the 2017 Rucker fire share their experiences from what was a frighteningly close call that highlighted local wildfire dangers and risks.
Chaparral is the fuel that makes Santa Barbara County wildfires so dangerous and difficult to control. It most areas of the county, it makes up one arm of wildfire's triangle of ingredients — fuels, weather and topography.
With about 14,000 homes in the communities of Vandenberg Village, Mission Hills and Mesa Oaks located on and around the reserve, and with wildfires becoming increasingly stronger and more dangerous, protecting the region from wildland blazes has become a renewed priority for the Santa Barbara County Fire Department.
Biologists, botanists, ecologists and fire scientists generally embrace the concept that fire is a necessary part of the natural life cycle of…
Sundowners blow over, and through, the Santa Ynez Mountains onto the coastal plains around Santa Barbara. The bane of firefighters, they heat the air by compression as they push it downward against the land below, squeezing out its moisture and helping wildfires ignite and spread