A soon-to-be-introduced federal bill would designate a quarter of a million Central Coast acres as wilderness and establish a new 400-mile trail that would pass through Santa Barbara and San Luis Obispo counties.
Rep. Salud Carbajal, D-Santa Barbara, announced his plan to introduce the new legislation Saturday afternoon before leading about 45 people on a hike in the Los Padres National Forest.
The event drew members of the Central Coast Wild Heritage Coalition, Los Padres ForestWatch, CalWild, Wilderness Society, Keep Sespe Wild, Condor Trail Association, Los Padres Chapter of the Sierra Club and Vets Voice Foundation.
Carbajal, who represents the 24th Congressional District, told the group the Central Coast Heritage Protection Act would strengthen protections for public lands on the Central Coast.
"As the (Trump) administration proposes oil and gas drilling on federal public lands and national monuments along the Central Coast, I believe it is more important than ever that we act to permanently protect our open spaces that provide invaluable local watersheds and recreational outdoor activities in our communities," Carbajal said.
Carbajal told the group gathered at the Fremont Ridge Trailhead the legislation would establish the 400-mile-long Condor National Recreation Trail that would extend from Los Angeles into Monterey County.
More importantly, he said, the legislation would designate nearly 250,000 acres of public land in Los Padres National Forest and the Carrizo Plain National Monument as wilderness area, the highest form of protection the government can afford public lands.
A wilderness designation prohibits roads, motorized and other vehicles, including bicycles, as well as permanent structures and logging and mining operations.
Although scientific research is allowed in wilderness areas, activities that would alter existing ecosystems and the character of the area are prohibited, because a goal of the Wilderness Act of 1964 is to allow ecosystems to change naturally over time without human manipulation.
However, some previously existing operations, like mining, cattle grazing and water uses, are grandfathered in and can continue to a certain degree as long as they don't have a significant impact on the overall area.
Criteria for being designated wilderness include that the land be a minimum of 5,000 acres, exhibit a minimal human imprint, have educational, scientific or historical value and contain opportunities for unconfined recreation.
Taking a hike
Carbajal's hike along the Fremont Ridge Trail might be an example of unconfined recreation, and it was also educational for the group that ranged from youth to seniors and included a couple of dogs.
At periodic stops along the route, Los Padres ForestWatch Conservation Director Bryant Baker gave hikers the names and characteristics of the many plants that lined the trail.
The first stop included ferns, madrone — sometimes called the cooler plant because of its ability to lower air temperature around it — and miner's lettuce.
"It's really good," Baker said as he munched on a few leaves of miner's lettuce he plucked from an embankment. "I really like this stuff. It tastes like spinach. This is a good time to eat it."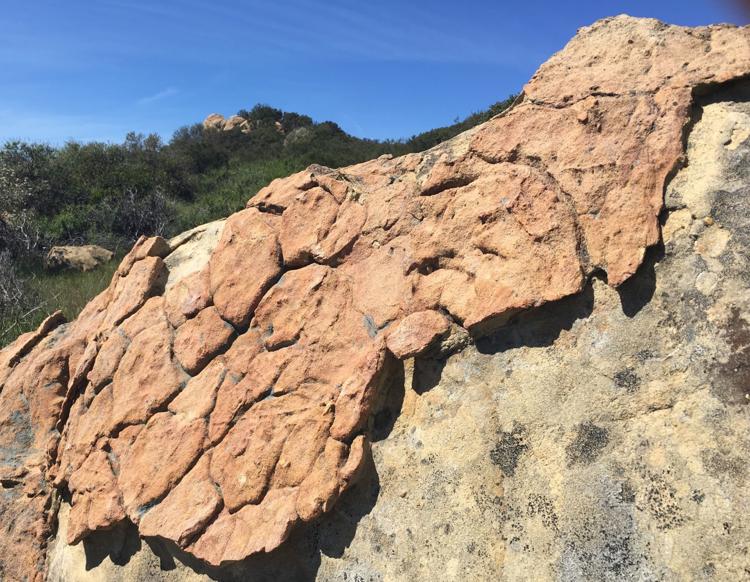 Moving down the trail, he pointed out oak woodland in a ravine and tall pines atop a hill that were planted, not adapted to the environment and dying as a result of the drought that gripped the county for the last six years.
There were bush poppies, chemise, mountain mahogany — "a really nice little native plant" — as well as black sage, greasewood and buckbrush.
Baker made sure to point out poison oak and purple nightshade.
"I just want to make sure everyone knows what it looks like," he said of the poison oak growing in a shaded area alongside the trail.
The purple nightshade — small purple flowers with yellow centers — was growing just a few steps away.
"They're very, very poisonous," he said. "And they're native."
On the opposite side of the trail, Baker pointed out a large manzanita and the small reddish berries at the tips of its branches.
"They call these 'bear berries' because the bears really like to eat them," he said, pulling a couple off. "They have a lot of tannins in them, so they'll make you very thirsty."
Carbajal volunteered to try one.
"Oh, my gosh. It's salty and bitter," he said, then added, "It would be really good with salt."
Carbajal was also a guinea pig for Baker's demonstration of a natural way to clean the hands.
Pulling a handful of blossoms from a ceanothus, he placed the crushed flowers in Carbajal's hands, then added water. The result was a creamy coating filled with chunks of flower. But it worked.
"There you go — native plant soap," Baker said.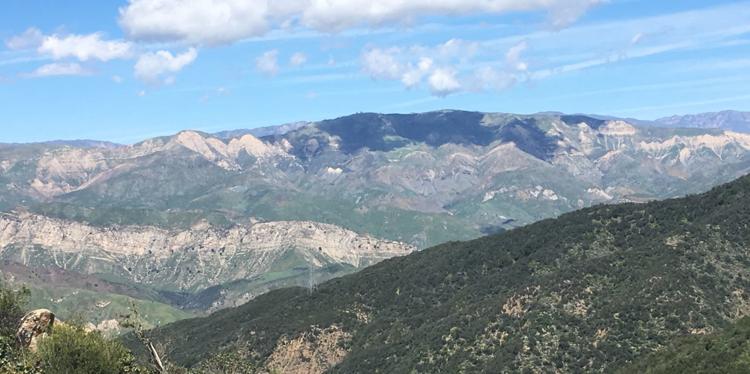 He also pointed out nonnative, invasive plants, like the foxtail brome and filaree.
"The problem with invasive plants is that they take up the space that should be occupied by native plants," Baker explained. "The reason native plants are important is they've evolved here with the butterflies and all the little pollinators that rely on them."
Nearing the turnaround point of the hike, a sweeping vista opened on the right of steep mountains dappled with the shadows of drifting clouds and towering above meadows, ravines and a wide valley.
Baker pointed to the highest ridge, where the clouds seemed to skim the peaks, and asked if anyone knew its name.
"It's Little Pine Mountain," he said. "The land just on the other side of that would become wilderness under the bill."