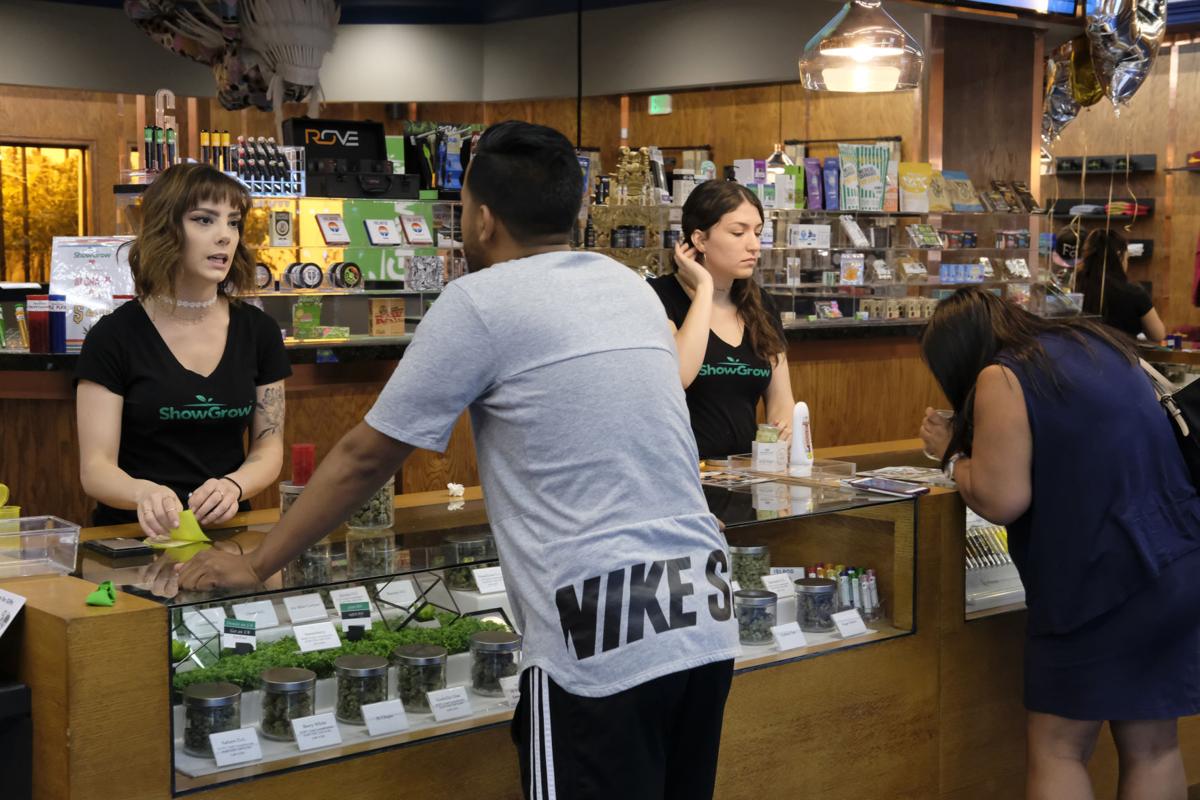 The Lompoc City Council took a step Tuesday night toward a new set of city ordinances that is expected to have some in the community seeing green — in more ways than one.
An ad hoc committee that was formed six months ago to explore marijuana-related issues and potential regulations for the city presented its findings during Tuesday's regular meeting of the City Council. Councilwoman Jenelle Osborne, who teamed with Councilman Victor Vega to form the ad hoc committee, led the presentation, which concluded with Osborne stating that the committee recommended that the council direct city staff to develop ordinances that embrace marijuana cultivation and use, both commercially and recreationally, with "minimum oversight."
Because the topic was a presentation-only item on Tuesday's agenda, no official vote was taken by the council. But Councilmen Dirk Starbuck and Jim Mosby each backed Osborne's request to have the issue brought back for discussion at a future meeting.
Lompoc City Attorney Joe Pannone said that he would attempt to have a new draft ordinance prepared by the council's next regular meeting July 18. If that proves unsuccessful, he said he'd have it ready for discussion and possible early adoption at the following meeting, scheduled for Aug. 1.
The recommendation by the ad hoc committee, which held four meetings between January and May, was celebrated by some.
Joe Garcia, who founded the community group Lompoc Valley Cannabis Coalition for Safe Access, had attended each of the ad hoc meetings and had addressed the council several times, including Tuesday night, to implore it to embrace pro-marijuana legislation. He said Wednesday that he felt this latest move could reap major benefits for the city.
"This new course to legalize cannabis, (which) is coming on the heels of the Flower Festival, has the power to make Lompoc the Valley of Flowers once again," he said, referring to the five-day festival that began Wednesday.
"I am highly encouraged and optimistic that the City Council will pass the new ordinance," he added. "If so, I expect to see a boost to Lompoc's economy, potential new fee and tax revenue, the creation of new jobs with higher salaries, and even a boost in tourism. The possibilities are endless."
That financial aspect has been one of the main driving points for many of the residents who have spoken in favor of marijuana access at the council and ad hoc meetings, particularly as the city deals with a budget crisis.
On Tuesday, as Osborne delivered the ad hoc committee's full recommendation, she suggested that the city use marijuana ordinances in Los Angeles, Shasta Lake and Santa Rosa as potential guidelines. Those were chosen, she said, because they include tax and fee schedules that could be emulated, as well as other possible considerations, like the Los Angeles ordinance giving preferences for employing local residents and issuing permits to locally based entities.
Still, she said that people should not just expect an immediate economic boon.
"This wouldn't solve our budget issues," she said. "It wouldn't guarantee the millions of dollars that many communities currently are seeing, given the growth of this industry in many communities around us. But it is a revenue stream we should not ignore and we should examine."
Tuesday's recommendation was a stark contrast from the ordinance proposed by city staff Dec. 20, 2016, just six weeks after state voters — and more than 57 percent of Lompoc voters — passed Proposition 64 to essentially legalize recreational marijuana use and cultivation.
That proposed ordinance, which was backed by the Lompoc Police and Fire chiefs, included aspects that the majority of the council members believed were overly restrictive, which led to the formation of the ad hoc committee.
Among the restrictions included in that December 2016 presentation were requirements that all growing must be done indoors; building, electrical and plumbing permits would be required if alterations are necessary for existing structures; and that permits from the police and fire departments would be mandatory. That proposed ordinance also required that there be no evidence of growing activities from public right-of-ways.
Osborne specifically addressed some of those while she delivered the ad hoc committee's recommendation.
"Regarding personal cultivation, both indoor and outdoor should be allowed with minimum oversight, a basic permit that allows for two to three plants outdoors, and no inspection for indoor grows should be considered," she said.
Over the course of the ad hoc committee's four meetings, the only person who spoke against the city adopting lax marijuana regulations was Lompoc Police Chief Pat Walsh. Osborne said Tuesday that Walsh's concerns, as well as those expressed by officials in the Lompoc Fire Department, were taken into consideration.
"We are aware of their concerns and we do want to address them, but I think there is the possibility to provide legislation that allows for" commercial and recreational marijuana use, she said.
Garcia, who has become a de facto spokesperson for the local marijuana legalization effort, said he was excited to see where the city goes from here.
"This is a great opportunity for Lompoc and its citizens," he said. "Lompoc truly has the opportunity to become the new capital of cannabis on the Central Coast."
Willis Jacobson covers the city of Lompoc for Lee Central Coast Newspapers. Follow him on Twitter @WJacobsonLR.
Get local news delivered to your inbox!
Subscribe to our Daily Headlines newsletter.