"I don't know who 'these' people [were]; I'm not sure what that entailed," he said Tuesday morning, recalling the conversation. "But these people did get organized and these people did get it done."
McDonald made the comments while standing on the soon-to-be-replaced natural grass at Huyck Stadium, and he wasn't the only speaker in a celebratory mood.
Several local school and civic leaders, as well as representatives of various organizations that contributed to the fundraising effort, gathered at the stadium for a groundbreaking ceremony that was followed by actual construction work. Project leaders are targeting May 2020 for completion of what is expected to be the most extensive makeover in the 56-year history of the stadium.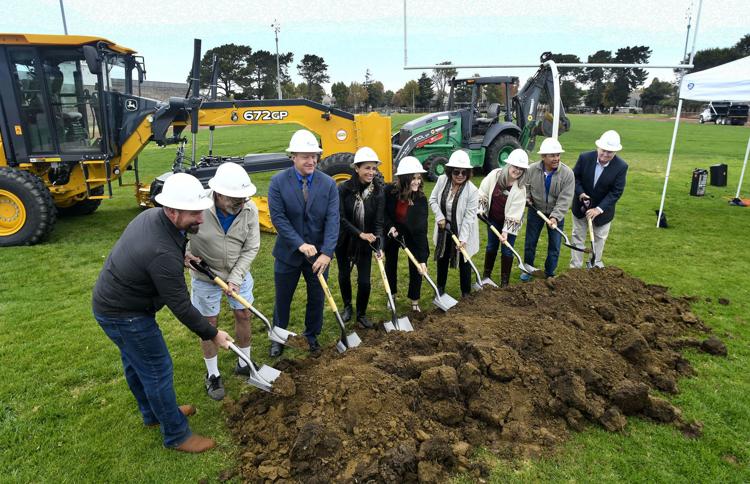 Costa, who initially proposed the project and served on the Campaign for the Lompoc Community Track and Field fundraising committee, called the groundbreaking an "important moment in Lompoc's history."
The first phase of the project will consist of converting the natural grass field at the stadium to synthetic turf, switching the track from its loose red clay — which was in poor condition Tuesday after more than a week of steady rain — to a synthetic polyurethane "all-weather" surface, and reconfiguring the track to the modern accepted standard of 400 meters with nine lanes.
The project also calls for the construction of a community exercise zone with outdoor exercise equipment, new filtered water drinking fountains, security cameras and lighting upgrades.
The renovations could cost as much as $3.8 million, with LUSD and the private Campaign for the Lompoc Community Track and Field splitting the costs.
You have free articles remaining.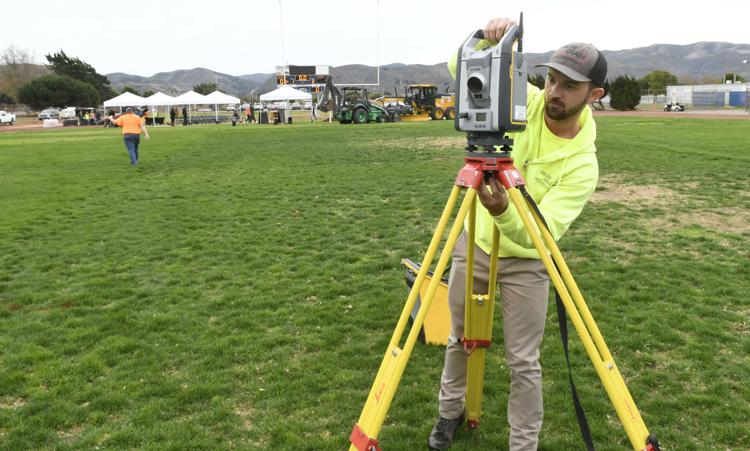 Costa noted Tuesday that the campaign had raised $1.6 million, with $300,000 of that coming from people and organizations in Lompoc.
"We are proud of our community and we are proud of our achievement," she said.
Ginger Salazar, a Lompoc High School alumna and campaign fundraising volunteer, also thanked those outside of Lompoc who contributed $1.3 million. Much of that, she said, came from organizations, foundations and private donors in South County, as well as a $450,000 donation from the Santa Ynez Band of Chumash Indians.
"While we may have different ZIP codes, we are all part of one larger community," she said.
That sentiment was shared by leaders of the athletic departments at Lompoc and Cabrillo high schools. Although the stadium is located at Lompoc High School, the schools share the venue for some sports, including football.
At its Tuesday night meeting, the Lompoc Unified School District board of education voted 5-0 to approve an agreement with Byrom-Davey, Inc., to serve as the lead contractor for the first phase of what is set to be the most significant upgrade in the history of 56-year-old Huyck Stadium.
"We are united in this," West said of his relationship with Terrones.
"I don't care if it's at Lompoc High School or [considered] 'Lompoc's Stadium,'" he added. "It's not about that. This is what's best for kids, and I'm so about that."
While construction continues throughout the 2020 high school spring sports season, the Lompoc High track and field teams will practice on other fields on campus and around the city, Terrones said. The team will not host any meets next spring.
After more than two years of fundraising, a planned multimillion-dollar renovation of Lompoc's Huyck Stadium is closing in on becoming a reality. Leaders within Lompoc Unified School District and the outside Campaign for the Lompoc Community Track and Sports Field, which are jointly funding the planned $3.3 million project, announced this month that they have reached their fundraising goal for the first phase of work and are looking to begin construction as early as this November.
Lompoc Mayor Jenelle Osborne, who attended the ceremony with City Manager Jim Throop, said the city is planning to take an active role in helping with after-hours security at the stadium once the renovation is complete. She also noted Lompoc's recreation division will have discussions with LUSD leaders about a possible use of the site for city recreation programs. 
"I'm looking forward to it myself, because I don't live too far from here," Osborne said of the project. "If it's after dark, I often choose to not get my exercise in because not all of my path is well-lit. So, I think [this project] is an opportunity to embrace getting healthy and having a safe environment to do it, but also to support the youth in our community with opportunities that they otherwise might not have."
Willis Jacobson covers the city of Lompoc for Lee Central Coast Newspapers. Follow him on Twitter @WJacobsonLR.