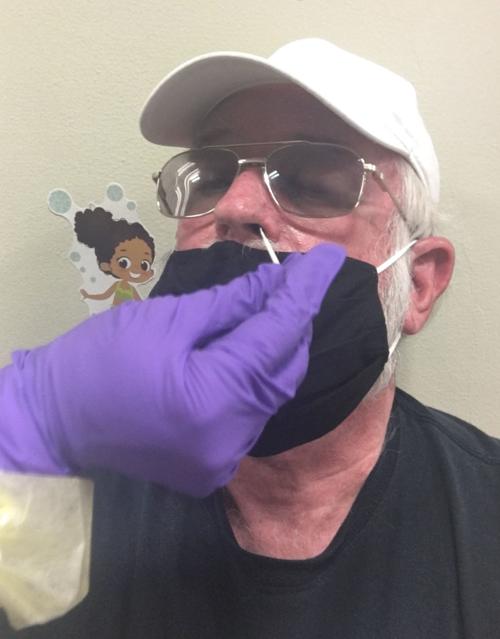 Most people in Santa Barbara County have not been tested for COVID-19. In fact, most county residents don't even know anyone who's been tested.
That's not surprising. As of July 1, just over 9% of the county's residents had been tested. So a lot of people have wondered what the tests are like.
I hadn't gotten tested through the community coronavirus testing program — even though I'm in two of the high-risk categories. I wasn't convinced being tested had much value if I had no symptoms.
After all, I could get tested one day, become exposed and infected the next day, and still get a "negative" result three or four days later. But I decided to do it.
The appointment
As it turned out, making the test appointment and getting the results online was more frustrating and took longer than the actual testing procedure.
I naively expected to see a chart with available times where I could enter my name and be done. I should have known better.
First, I had to create an account with Logistics Health Inc., then answer a series of questions about my health status, race, gender and whether I have health insurance, which answering "yes" to triggered a whole new set of questions until, at last, I was given a verification number and was congratulated on creating an account. With exclamation points.
Anyone who navigated through that process should be congratulated. With exclamation points.
Then I could actually make the appointment, which required answering more questions. But eventually, I could pick a day and a range of times. Somewhere in the process I was given a patient ID number.
And I was congratulated on making an appointment. With exclamation points.
The test
Arriving at the Santa Maria Fairpark gate, I encountered a security guard who was obviously well-prepared and efficient. He had questions:
"Do you have an appointment?"
"Yes."
"Are you sure it's today and not tomorrow?"
"Yes."
"Do you have your patient ID number with you?"
"Yes."
"Do you have a mask?"
"Yes."
He directed me to the Convention Center, reminded me to wear my mask, and told me to get in line and wait to be called.
A couple was ahead of me. Blue lines indicated 6-foot intervals. Three people soon lined up behind me.
After less than 5 minutes, the couple in front of me was called in, and a young man in a mask and gloves came out with a clipboard to ask for my patient ID number, date of birth, phone number, last and first names.
A couple minutes later, a young woman in a mask, lab coat and gloves came out, invited me in and told me to stand behind a blue line.
From behind a large clear shield about six feet away, she verified my information while a man nearby wearing scrubs, gloves and a mask attached my information to a vial.
I asked if I could take a selfie of myself getting swabbed because I've documented all my recent medical procedures.
He said "no," the county was in charge of the testing and didn't want any media inside. I'd have to submit an official request to do that.
"So I could shoot photos of myself when I had a heart attack, and I could take photos of my cancer surgeries, and the radiation treatments, and the radiation machines, but I can't take a photo of my nose getting swabbed — even if no one else is in the picture."
"I'm sorry," he said. "I'm just the messenger."
He escorted me inside toward a single chair set against a wall. Beyond that was a table attended by a woman in a mask and scrubs.
As we walked, he said, "I'm not going to stop you. If you take it upon yourself to do that, I won't stop you."
He handed the vial to the medical technician, told me to take the seat and left. I pulled out my cellphone and opened the camera app, switching it to selfie mode.
As the swab hovered in front of my face , the med tech told me to pull my mask down to just below my nose. I pulled it down, the swab went in and around and around it went.
It felt like it had been dipped in cleanser and was scrubbing the surface of my brain. It rotated two or four times, then it was over.
"All done," she said, handing me some information sheets. Twenty or 30 steps later I was back in the sunshine.
The results
Four days later, I got a text telling me my test result was available on the LHI website.
I went to the site to log in and — surprise! It didn't like my password. After multiple attempts with multiple user names and passwords, I gave up and clicked on "I forgot my user name or password."
I was finally sent an access code that allowed me to reach a results page, where I clicked to reach another page where I could check a box to download the results.
Eventually, a letter appeared on my desktop and I read the verdict: "Your COVID-19 test result is Negative."
I just hoped I hadn't contracted the disease in the meantime.
Concerned about COVID-19?
Sign up now to get the most recent coronavirus headlines and other important local and national news sent to your email inbox daily.