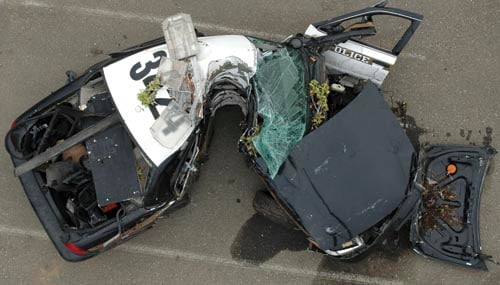 A Santa Maria police officer was hospitalized in stable condition Monday, a day after crashing his patrol car while responding to a foot chase involving another officer, according to police.
Officer Damon Badenell, a Santa Maria resident who has been on the force for three years, was awake and sitting up in the intensive-care unit at Santa Barbara Cottage Hospital, according to police Lt. Rico Flores, head of the Police Department's traffic operations.
Badenell, who suffered several broken bones and non-life-threatening injuries, was expected to remain in the hospital for about a week, Flores said.
Badenell was northbound on Broadway, just north of Main Street, at about 4:30 a.m. Sunday when he lost control of his patrol car, Flores said.
"We don't know why he lost control," Flores said. "That's still under investigation."
Badenell, who is in his early 30s, was responding as backup to the pursuit of a burglary suspect, Flores said.
The patrol car struck the center median and two trees, Flores said, adding that he had no information on how fast Badenell was traveling at the time of the single-vehicle crash. 
The accident, which bent the patrol car nearly in half and totalled it, is being investigated by the California Highway Patrol.
Officer Rob Wallace of the Santa Maria CHP station said the officer investigating the crash has yet to complete his report on the incident, which is expected to be done in 10 business days.
Be the first to know
Get local news delivered to your inbox!