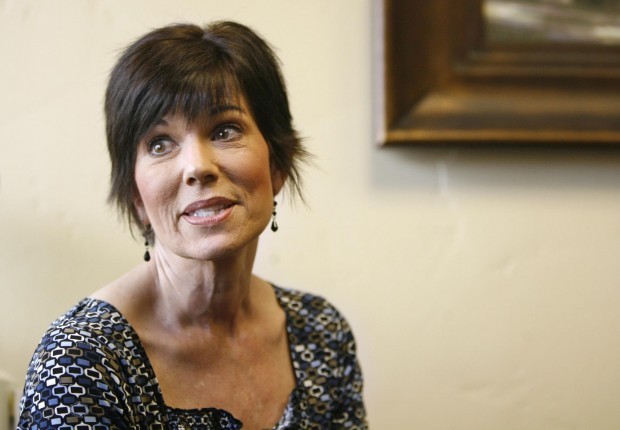 Three years ago, Anne Senior was an active mother of four too busy to take a lump in her breast seriously. She'd discovered small masses before that turned out to be nothing.
Roughly a year later, when the fear of not knowing what was happening to her body overcame the fear of knowing, the Santa Maria woman went to Marian Medical Center and was diagnosed with Stage 4 breast cancer that had spread into the bones in her back and spine.
It wasn't a death sentence, but the disease had advanced to a point where it was threatening to paralyze her.
Today, after surgery to remove the cancerous bone in her neck and back, she is recovering from her cancer thanks to a new treatment being tested through a clinical trial at Marian.
The drug T-DM1 is being hailed in its early trials as a "Super Herceptin," an improved form of Herceptin, the targeted therapy that became one of the standard treatments for Her-2-neu-positive cancer about 10 years ago.
Herceptin has been an effective treatment for approximately 30 percent of breast cancer patients, which is the proportion of women with diagnosed as Her-2-neu-positive, but the medication and other treatments either don't work in many patients or eventually become ineffective.
"My situation was pretty serious. I was pretty sick," she said, hesitant to explain the cancer had progressed enough that it caused her constant pain.
Senior went from busy mom — helping son Drew through his senior year at Righetti High School and assisting daughter Gina with the birth of her daughter — to needing help herself to do routine daily activities.
She had thought her pain was lingering from a pulled muscle while helping Gina during her delivery. Her husband Roy said when they finally had it checked out, the diagnosis went from muscle injury to possible thyroid condition to cancer within a span of a hospital visit.
"The first diagnosis I felt helpless," said Senior, her large brown eyes tearing from the memory.
For much of 2009, she was close to helpless. The cancer had already riddled Senior, a short, slightly built woman who couldn't afford to lose much weight. And the surgery to remove her cancerous bone left her in a back and neck brace that immobilized her.
She had a couple of strikes against her when it came to participating in the clinical trial.
First, her bone cancer left high levels of calcium in her blood stream, which would have disqualified her. And she was set to begin a traditional chemotherapy regimen on Dec. 1, 2009, also which would have eliminated her.
Alison Fernandez, a registered nurse at Marian who is the UCLA clinical research coordinator and was working at getting Senior into the T-DM1 trial, said her last blood test before she was set to begin chemo showed the high levels of calcium in her blood stream had been eliminated.
So instead of starting regular chemo treatments, she had her first T-DM1 treatment the next day, Dec. 2, 2009.
The treatments have given her new life and it did it without the side effects common to cancer treatment — hair loss, intense nausea, weakness and weight loss.
You have free articles remaining.
The trial is a collaboration between UCLA Medical Center, Marian Medical Center and Central Coast Medical Oncology. Marian is the only facility in Santa Barbara or San Luis Obispo counties and one of only 13 in the state able to offer the trial, according to Clinicaltrials.gov.
Santa Maria oncology physician Dr. Brian DiCarlo is the principal investigator in the trial, which featured two women from Nipomo, one from Arroyo Grande and Senior. Just more than 1,000 women are participating in the international trial.
Fernandez said Marian Medical Center is included in 18 UCLA clinical trials and a few others not associated with the university medical center. She said the trials provide local cancer patients with treatment not available many other places in the world, not to mention the state.
"The closest one is Thousand Oaks; Stanford (University) doesn't have this," Fernandez said. "The faster we get people on this study the faster it will close and the faster this drug will get out there and be available for everybody."
DiCarlo said the new medicine being tested specifically targets cancer cells and is not broken down in the bloodstream like most other chemotherapy treatments. That means fewer debilitating side effects. It also means patients can be treated for longer periods of time, DiCarlo said.
"When you get to Stage 4 cancer, we haven't been able to eradicated that," DiCarlo said. "You can't do that with typical chemotherapy because there's only so much chemo a person can take."
Senior has been in treatment for approximately 14 months and receives the drug once every three weeks.
When she was chosen for the trial she was recovering from her surgery, but was still so sick she couldn't keep anything in her stomach for very long, according to her husband Roy. He said her health has been steadily improving ever since she started the trial.
"We went from wheelchair to walker to this," Roy said pointing to his wife, who now walks just about everywhere, even though she struggles with stamina. "The metamorphosis has been amazing. She looks so good because of the trial."
Senior had a little nausea with T-DM1, but she never lost her thick brown hair, an image-crippling side effect for women on traditional chemotherapy. Her cancer has not been eradicated, but it isn't spreading, DiCarlo said.
"This is my new normal. I absolutely can't complain," she added, still weak but able to walk and do most of the things she could do before her illness.
Senior said she owes her rosy glow and healthy appearance to a lot of "paint and spackle," but said she is learning to live with her condition and the ongoing treatments. And those treatments could last as long as her cancer remains.
"That's the beauty of this drug," Fernandez said. "If you have seen anybody who had been on chemotherapy for a year — which would be impossible because of the toxicity of the drugs — they'd look awful."
While the clinical trial has given Senior a new lease on life, she said it probably shouldn't have taken such a drastic step to maintain her health.
"I don't want my story to be 'cancer.' I want it to be how I traveled down this road," she said, tearing up when considering how rough the road got before smoothing out. "People need to be aware of the advances in screenings and ways to prevent cancer. If you look at me and my story, there's hope."
Not all cancer patients qualify for clinical trials. Senior was chosen because she was Stage 4 when she was diagnosed and had never had previous chemotherapy treatments.
Anyone interested in more information about the clinical trials at Marian Medical Center can contact Fernandez at 739-3724.