When a structure fire broke out July 6, 2018, on North Fairview Avenue in the hills at the edge of Goleta, the flames, later dubbed the Holiday fire, spread explosively through the neighborhood.
Driven by hot Santa Lucia winds rushing down the Santa Ynez Mountains, the fire began gobbling up other homes as panicked residents fled and traffic on the narrow residential roads became chaotic.
When it was finally fully contained five days later, however, the fire had been held to just 113 acres.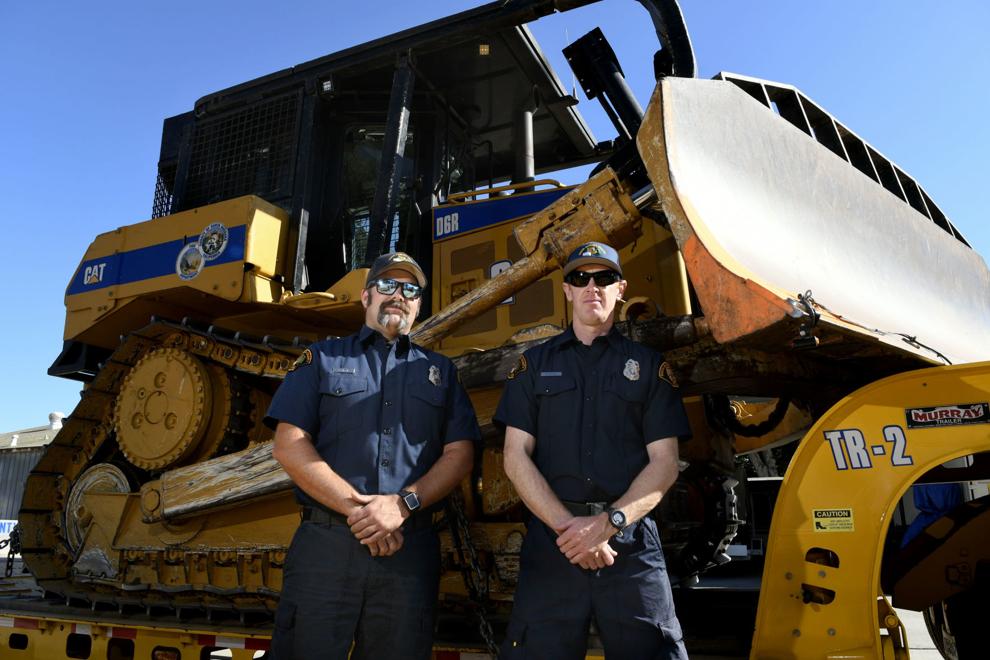 Only 10 homes and 14 outbuildings were destroyed, while three homes sustained damage.
Given the fast downslope winds, low humidity and high temperatures that night plus the relatively dense clusters of homes, it could have been much worse.
But anticipating the weather conditions, Santa Barbara County Fire Department had staged additional resources not far away on Cathedral Oaks Road, and at the first alarm, they began pouring into the neighborhood.
Prestaging engines and crews in or near high-risk areas is a short-term tactic based on weather forecasts and other factors — like an influx of visitors for a Fourth of July holiday.
But agencies also prepare for potential wildfires on a seasonal basis.
Although "fire season" is now considered year-round in Santa Barbara County and throughout most of California, the danger level increases when a mild spring warms into a hot summer and then bakes into a blazing fall.
"Our engines, hand crews, hotshots and bulldozers are here year-round," said Jim Harris, fire chief for Los Padres National Forest. "But seasonally, they're boosted."
Like the U.S. Forest Service, the County Fire Department also increases staffing and the number of engines, bulldozers and other resources it has available as that annual heating and drying cycle begins.
Using a long-term tactic, both the Forest Service and County Fire prepare for wildfires by modifying fuel conditions to keep flames from spreading out of control.
"There are three elements to wildfire — fuel, topography and weather," Santa Barbara County Fire Marshal Rob Hazard explained. "We can't control the weather. We can't change the topography. But we can modify the fuels.
"It's all about reducing the intensity of the fire," he added.
Modifying the fuels means clearing out brush and excessive undergrowth, thinning chaparral and removing such forest debris as fallen trees and limbs.
While goats have been used by cities and special districts for mowing down weeds in relatively small, focused areas, fire officials say they haven't proven effective, efficient or economical for the large-scale projects required for wildfire management.
Prescribed or controlled burns are one of the easiest ways of getting rid of wildfire fuels.
In Los Padres National Forest, prescribed fire primarily means cutting and piling up dead trees, limbs, slash and debris and burning those piles.
A similar system has been employed by County Fire, but the agency also burns off light fuels like grasses, particularly on private grazing land in cooperation with ranchers.
County Fire has wanted to do more prescribed burning but until 2016 was hampered by regulations requiring extensive and expensive environmental assessments as well as a lack of funding.
But that year, the state began lifting California Environmental Quality Act requirements on fuel-reduction projects, including three high-priority South Coast projects that were shovel-ready, Hazard said.
However, areas of the North County also were high on County Fire's priority list.
"Burton Mesa has been on our radar for 30 years," Hazard noted.
So the county applied for and this year received a $2.23 million grant — which is boosted by $222,000 in matching county funds — that will be used to create fuel breaks around Burton Mesa communities and along ridgelines separating the Los Alamos and Lompoc Valleys.
Funds also will be used to conduct prescribed burns on La Purisima State Park.
"It's a huge project," Hazard said.
The county also plans to increase the number of prescribed burns countywide, with a goal of burning 1,000 to 2,000 acres a year, he said.
As the Whittier Fire raged up the slopes of the Santa Ynez Mountains, 30 young campers and 12 staff members escaped from Circle V Ranch Camp along the dirt access road to Highway 154. But in the blink of an eye, 83 people, including 56 campers, were trapped by a wall of flame.
With about 14,000 homes in the communities of Vandenberg Village, Mission Hills and Mesa Oaks located on and around the reserve, and with wildfires becoming increasingly stronger and more dangerous, protecting the region from wildland blazes has become a renewed priority for the Santa Barbara County Fire Department.
Residents who lived in Mission Hills during the 2017 Rucker fire share their experiences from what was a frighteningly close call that highlighted local wildfire dangers and risks.
"Firenado" sounds like the title for a campy science-fiction flick, but it's a real phenomenon that firefighters say they're seeing more often as wildfires worldwide become more intense.
While Santa Barbara County's fire marshal Rob Hazard doesn't believe wildfires are becoming more unpredictable in their behavior, he does acknowledge conditions are changing making them bigger, longer lasting, and being more difficult to contain.
The Cave fire that erupted Nov. 25 was a textbook example of Santa Barbara County wildfires, encompassing virtually all the elements that, in one combination or another, have characterized the South Coast's most significant blazes.
Steve and Renée O'Neill consider their 70-acre ranch near the top of Tepusquet Canyon one of the most beautiful properties in Santa Barbara County. 
Fire officials attribute Santa Barbara County's high risk, in part, to its location in the wildfire "Goldilocks zone." The county sits far enough north to get good winter rainfall, but it's far enough south to feel the Southern California summer heat that cooks fuels tinder-dry.