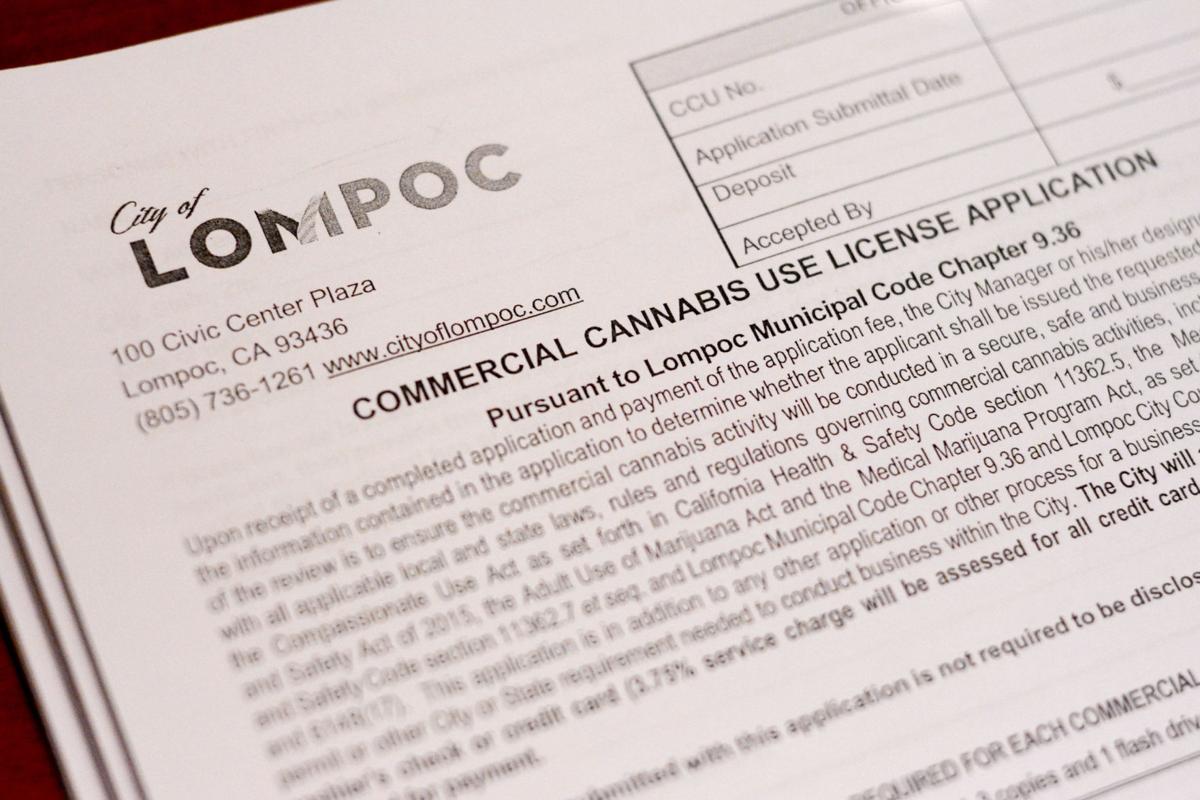 After receiving an update on Lompoc's slow-moving cannabis application process Tuesday night, the Lompoc City Council voted to hold a special meeting on Monday, Nov. 26, to discuss options that could provide some relief to applicants.
That was one of two special meetings scheduled by the council on Tuesday night during a gathering that also included a brief update on the cleanup of the Santa Ynez Riverbed and the adoption of an ordinance that outlines fines that the city will be able to impose on residents who are found in violation of the city's cannabis ordinance.
The other special meeting is scheduled for Thursday, Dec. 6, which is when Santa Barbara County election officials plan to release certified results of this year's midterm election. At that special meeting — which, like the special meeting on Monday, will begin at 6:30 p.m. in the council chambers — the city will swear in the new mayor and discuss whether to hold a special election or go through the appointment process to fill the council seat that will be vacated by the mayor.
Councilwoman Jenelle Osborne held a 306-vote lead — 4,905 votes to 4,599 — over Councilman Jim Mosby in the mayor's race, as of the most recent update on Nov. 16 from the county's election division.
Much of Tuesday's meeting, however, focused on cannabis and the frustrations that are building among applicants and industry supporters regarding the lengthy application process. So far, the city has received 26 applications since it began accepting them on March 1, but has only issued six permits.
City Manager Jim Throop, who noted that city staff was "working diligently" on the applications that have been submitted, ceded some of the time for his city manager's report to Chris Coulter, a representative of SCI Consultants, which was contracted by the city to help process cannabis applications.
Coulter went over some of the hang-ups that can arise during the application vetting process — some applications are significantly more complex than others, he said — and noted that other municipalities are having similar issues.
"We've seen it across pretty much all of the state — there is a high level of scrutiny in these reviews because there is a high level of regulation built into the laws that have been passed, not only by the city but also the state," he said. "We're doing our best to streamline … (and) we've discussed ways to improve where we can while keeping a very thorough level of review."
Throop noted that no additional staff was hired to deal with cannabis applications, so the involved city employees are incorporating those duties on top of their regular work, which he suggested has also led to some of the delays.
"I love money," Throop said, referring to the revenue that could be generated by the legal cannabis market. "I want the money to come flowing in; we need it for the budget. So my goal is to get (them) through as quickly as possible, but it is tough when you still already have your regular job to do and then you have a new permitting process that is extremely cumbersome to go through."
Osborne raised the idea of having the city issue so-called letters of authorization that would allow applicants to receive temporary permits from the state. The letters of authorization would not amount to the local approval needed to open a business, but they would give operators a jump on acquiring the necessary state permits.
You have free articles remaining.
State officials have said that would-be operators must submit applications for those temporary permits, which won't be issued after Dec. 31, to the state by Dec. 1.
It was because of that quickly approaching deadline that Osborne proposed the special meeting for Nov. 26, which was supported by the other members of the council. City Attorney Jeff Malawy — who was appointed as the lead attorney earlier in the meeting, replacing Joe Pannone, who works for the same firm, effective Jan. 1 — said he would prepare a staff report ahead of that meeting that would identify "significant risks that could come into play with issuing those types of letters."
In a separate discussion later in the meeting, the council voted 5-1 — the lone no vote was from Mayor Bob Lingl — to adopt fines for people who are caught illegally growing cannabis.
The set of rules approved by the council call for a $100 fine for a first violation, with a chance to correct the issue within five days; $500 for a second violation within one year; and $1,000 for each additional violation within a year.
Before voting against the fines, Lingl said he did not support the added stipulation that gave illegal growers a chance to resolve the first offense within five days.
Also at Tuesday's meeting, Throop updated the council on the progress of the cleanup of the Santa Ynez Riverbed, which had been home to much of the Lompoc Valley's homeless population.
The city of Lompoc brought on contractor Qwik Response, a Southern California-based company that handles hazardous materials removal, to do much of the heavy lifting of the cleanup. Workers with Qwik Response began clearing out debris on Sept. 22.
So far, according to Throop, the workers have removed 330 tons, or 660,000 pounds, of materials from the waterway. Throop said the workers were about 60 percent of the way through the job, which he said was further along than he expected them to be at this point.
The next regular meeting of the Lompoc City Council, following Monday's special meeting, will be 6:30 p.m. Tuesday, Dec. 4, at City Hall, 100 Civic Center Plaza.
Willis Jacobson covers the city of Lompoc for Lee Central Coast Newspapers. Follow him on Twitter @WJacobsonLR.
Get local news delivered to your inbox!
Subscribe to our Daily Headlines newsletter.