Journey Gamble lugged a shovel in each hand Saturday morning as she joined other volunteers to plant trees Saturday at Adam Elementary School.
"I've done this before," said the 12-year-old Fesler Junior High School seventh-grader before she helped plant a Canary Island pine along the fence that faces West Enos Drive.
Some 65 adult and children volunteers labored alongside urban forest trainers and arborists in cool, breezy weather to plant dozens of trees in the grassy area at the north end of the school, located near the Santa Maria Fairpark and Santa Maria High School.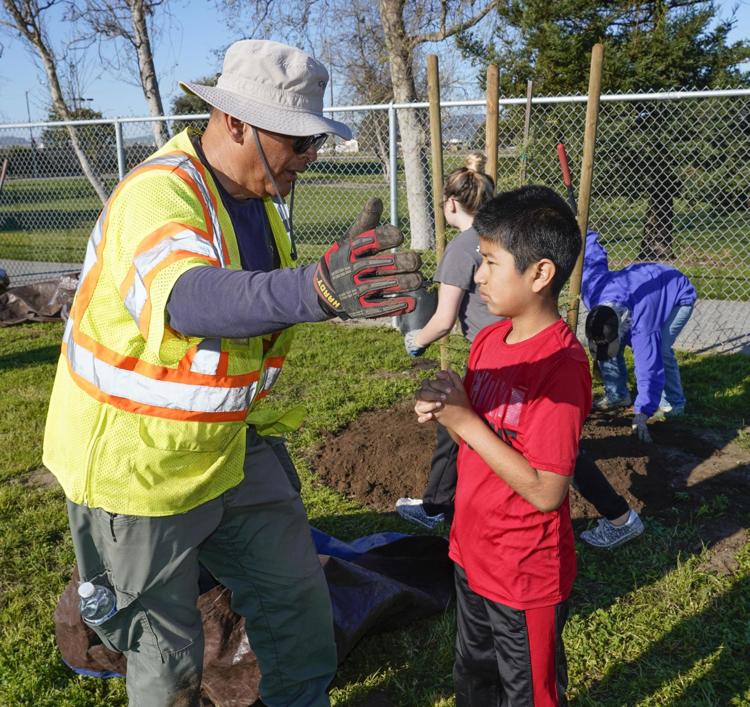 Adam Elementary was approved last month for a $15,260 California Climate Investments grant through the Goleta-based nonprofit Your Children's Trees. California ReLeaf and the California Department of Forestry and Fire Protection Urban and Community Forestry Program provided funding.
Urban forest trainer Lorenzo Perez advised volunteers as they planted.
"You want this to look like a baseball mound," he said as he smoothed some dirt. "It's supposed to rain here next week, and you don't want (the dirt) messed up."
"This is a very good turnout," he added.
Perez, a member of the Guadalupe team of trainers, said the Santa Maria and Guadalupe teams and arborists have worked with volunteers in the past on tree-planting projects. Their next is April 6 at O'Connell Park in Guadalupe.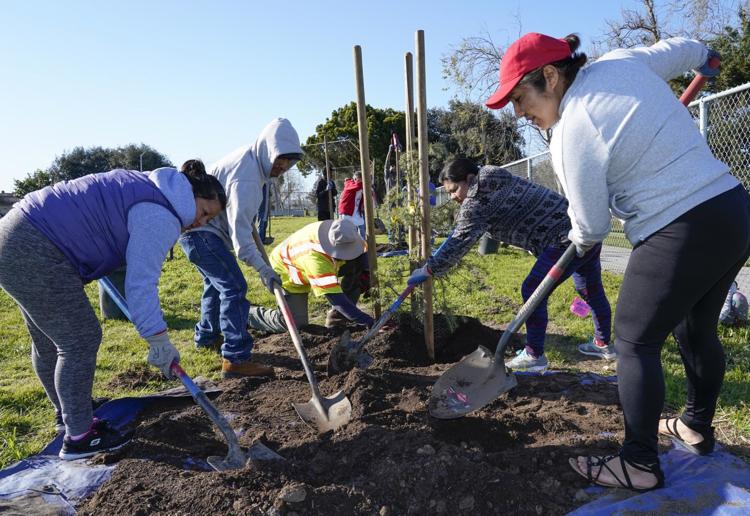 "I've been doing this kind of thing for nine years," arborist George Jimenez said. "The first one I helped at was at Arellanes Elementary School."
Ken Knight, president of Your Children's Trees, said 45 new trees, including Chinese elms, Canary Island pines and coast live oaks, would be planted at Adam Elementary on Saturday.
Another project is scheduled soon for Santa Maria.
"We're going to do one at Waller Park on April 13," the aborist said as he walked briskly toward a planting site.
"It's a nice, natural addition for our landscape," said Adam Elementary Principal Laurie Graak from her office on Saturday.
"Also, it has an effect on ecology and the carbon footprint. It's a good way to help our students get educated about the benefit of trees."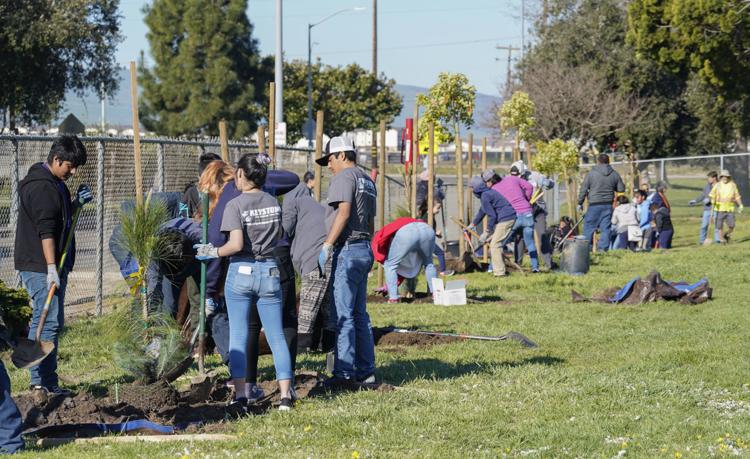 For 11-year-old Emmanuel Perez, an Adam Elementary student, "This is my first time doing this.
"I came here mainly to be with them," he said, as he looked toward Estephanie Carrillo, an eighth-grade student at Fesler, and her father Ismael Carrillo.
"Emmanuel's like an adopted son, a member of our second family," Ismael said with a smile.
"This is the first time I've been to something like this," she added. "It just gives the kids some knowledge of trees, the environment, and events like this help keep that (knowledge) going."
Marilyn Sanchez, 14, an eighth-grader at El Camino Junior High School, was another first-time tree planter.
"I just like helping plant trees," she said as she took a break from helping to plant a cedar tree.