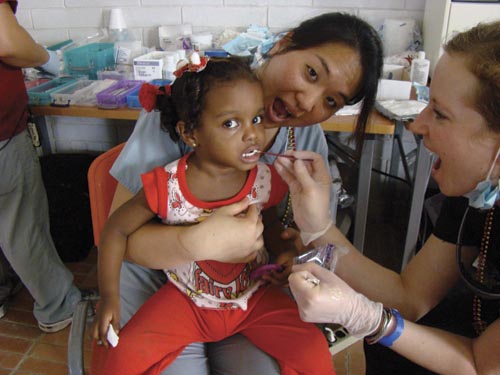 Two local dentists recently traveled to Cartagena, Colombia, to provide dental services, and were struck by the similarities between their practice in Santa Maria and the community they served there. 
Dr. Sunny Fereshteh and Dr. Julia Lerch, both USC graduates who work at the Community Health Centers of the Central Coast, were faculty advisors to a group of 31 dental students from that university's Dental Humanitarian Club.
The group of dental students, dental hygiene students and faculty went to Colombia in mid-December. They provided services to more than 400 patients: "Babies to geriatrics," Lerch said.
"They are warm, wonderful people," Fereshteh observed. "Very much Santa Maria people."
"We went there thinking, 'They're nothing like us.' The scariest part was that we are so similar in many respects," she said. "For example, we see many pregnant teens who have never seen a dentist in Santa Maria, and we saw a similar situation in Cartagena. It's a bit humbling."
In Cartagena, Fereshteh said, "We were able to do comprehensive care, which was our main goal. Instead of just going in and pulling teeth, we were able to assess patients, and they could receive follow-up care at the local University of Sinú dental program."
Fereshteh and Lerch have worked with Community Health Centers of the Central Coast since 2010, in their Santa Maria Dental Clinic and also in the mobile dental van. Both are working on their Spanish skills.
"I'm known as Dr. Muy Bien," Fereshteh said. "I say that all day long, and slowly I'm learning more."
The DHC is still accepting donations for this year's program. Anyone interested in contributing can contact CHC spokesperson Steve Mahr at (805) 478-5742.
To learn more about the Dental Humanitarian Club and its mission to Colombia, visit uscdhc.com
Get local news delivered to your inbox!
Subscribe to our Daily Headlines newsletter.