Santa Barbara County's fire marshal has become an expert in firefighting. 
Over the years Rob Hazard, 45, has seen almost every aspect of firefighting, from being in the trenches to behind the desk as an administrator. 
He started his career in 1988 as a member of the Los Padres Hot Shots, then fought urban fires with the County Fire Department in 1990. He returned to fight wildland fires in 2005 with the creation of a new hand crew program. 
He's now one of the few administrators who still goes out on fires.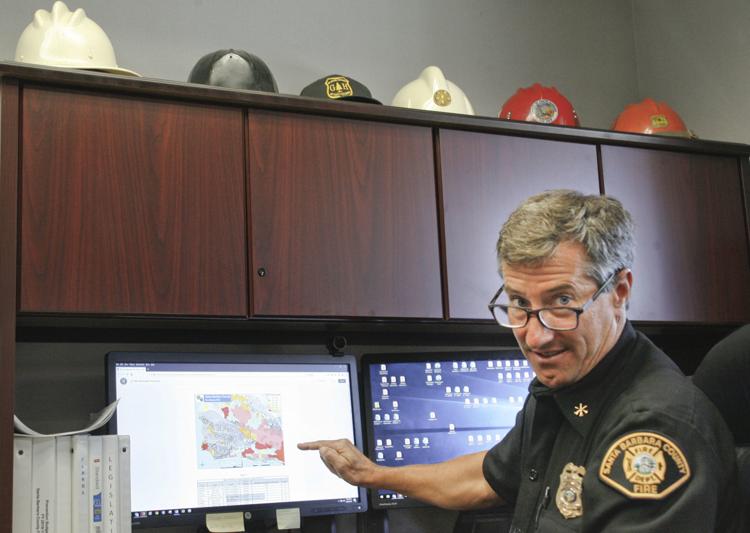 While Hazard doesn't believe wildfires are becoming more unpredictable in their behavior, he does acknowledge conditions are changing, which is making wildfires more difficult to contain. 
And that means wildfires are becoming bigger, lasting longer and doing more damage. 
"I can't say the fires are more unpredictable," Hazard said. "They still follow predictable patterns. But they're becoming more intense, which makes them seem unpredictable.
"We're seeing phenomena we've never seen before," he continued. "Like the fire tornadoes in the Northern California fires.
"I've seen fire whirls before, maybe a few feet high. But big, real fire tornadoes that pick up cars and push fire engines — I've never seen anything like that before."
The forest fire chief for the Los Padres National Forest has also seen wildfires increasing in frequency and intensity, a trend that has accelerated in recent years. 
Jim Harris, 44, started his career in 1992 on the 460,000-acre Cleveland National Forest in Southern California, where two of the state's biggest and most destructive wildfires have burned, both driven through chaparral and coastal sage scrub by gale-force Santa Ana Winds. 
The most recent was the Cedar fire in San Diego County, which burned 273,296 acres at a rate of 3,600 acres per hour in 2003 — the same year Harris transferred to the Los Padres.
"During the drought [people were] considerably surprised by the intensity and rate of spread," Harris said. "As the dry fuels increased from the drought, the fire behavior became more intense. But it was not really more unpredictable.
"The duration of the drought was unprecedented," he added. "None of us had seen anything like that in our careers."
And while bureaucrats declared the drought — which started in December 2011 — was over in March 2019, that doesn't mean it isn't still having an impact on wildlands struggling to recover and likely have been changed indefinitely.
"The effects of the drought, I think, we'll see for years to come," Harris said.
Like Harris, Hazard also sees the deep impact of the drought.
"On the fuels side, there's been a definite change in fuels with the long-term drought — there's more dead fuels and less live fuels," he said. "The drying curve has been progressively getting to the critical level earlier, even dipping below it.
"There's more tree mortality because of the drought, which makes [trees] weak and susceptible to beetles."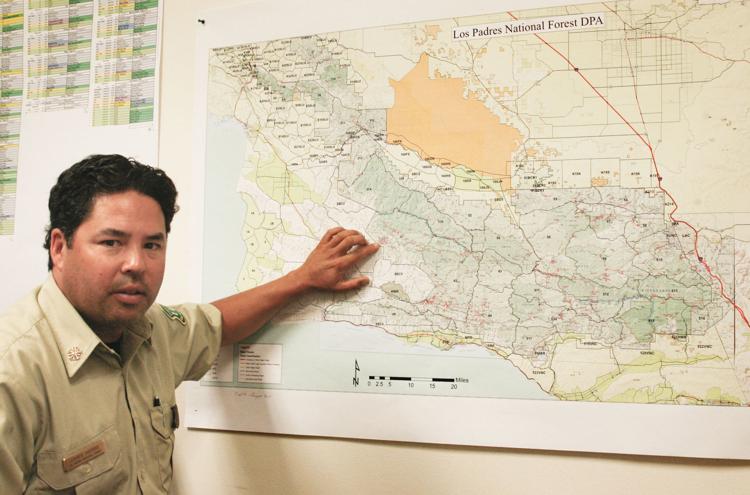 A drought-stressed tree attacked by bark beetles is soon a dead tree — and an ideal fuel for wildfire.
Like Harris and Hazard, other longtime firefighters also have seen the changes in conditions — lower humidity, higher temperatures and more wind.
"In the Thomas fire, there were 12 days of Santa Ana winds in Ventura County," Hazard noted.
But the same changes taking place at night are really making wildfires much harder to contain, he said.
In previous years, daytime crews would try to cut line and do what they could as heat and wind pushed the flames forward and sapped firefighters' energy. 
But at night, the fire would lay down, and aided by higher humidity, less wind and cooler temperatures, hand crews could cut far more fire lines than daytime crews could manage.
"In the past, we had the night," Hazard explained. "What puts out fire is hand crews and that skinny little line they dig."
Daytime crews would return the next day and stand amazed at how much line the night crews had established, even in the dark, Hazard said. 
However, the fires are now being pushed forward almost as hard at night as during the day.
"What changed is those nights got a little warmer, a little drier, a little windier," he said. "There's been an incremental deterioration in nighttime conditions."
As an example, he cited the Thomas and Whittier fires, where the humidity remained in the teens all night long.
"That's just not the normal paradigm," he said. 
While the increased availability of night-flying helicopters has led to more nighttime water drops, Hazard said there are no notable new strategies for fighting fires in the face of changing conditions. 
"It's still the guys on the ground, the hand crews cutting the fire lines, that contain the fires," he said.
Chaparral is the fuel that makes Santa Barbara County wildfires so dangerous and difficult to control. It most areas of the county, it makes up one arm of wildfire's triangle of ingredients — fuels, weather and topography.
Steve and Renée O'Neill consider their 70-acre ranch near the top of Tepusquet Canyon one of the most beautiful properties in Santa Barbara County. 
Residents who lived in Mission Hills during the 2017 Rucker fire share their experiences from what was a frighteningly close call that highlighted local wildfire dangers and risks.
"Firenado" sounds like the title for a campy science-fiction flick, but it's a real phenomenon that firefighters say they're seeing more often as wildfires worldwide become more intense.
Biologists, botanists, ecologists and fire scientists generally embrace the concept that fire is a necessary part of the natural life cycle of…
With about 14,000 homes in the communities of Vandenberg Village, Mission Hills and Mesa Oaks located on and around the reserve, and with wildfires becoming increasingly stronger and more dangerous, protecting the region from wildland blazes has become a renewed priority for the Santa Barbara County Fire Department.
Sundowners blow over, and through, the Santa Ynez Mountains onto the coastal plains around Santa Barbara. The bane of firefighters, they heat the air by compression as they push it downward against the land below, squeezing out its moisture and helping wildfires ignite and spread
The Cave fire that erupted Nov. 25 was a textbook example of Santa Barbara County wildfires, encompassing virtually all the elements that, in one combination or another, have characterized the South Coast's most significant blazes.
Get local news delivered to your inbox!
Subscribe to our Daily Headlines newsletter.