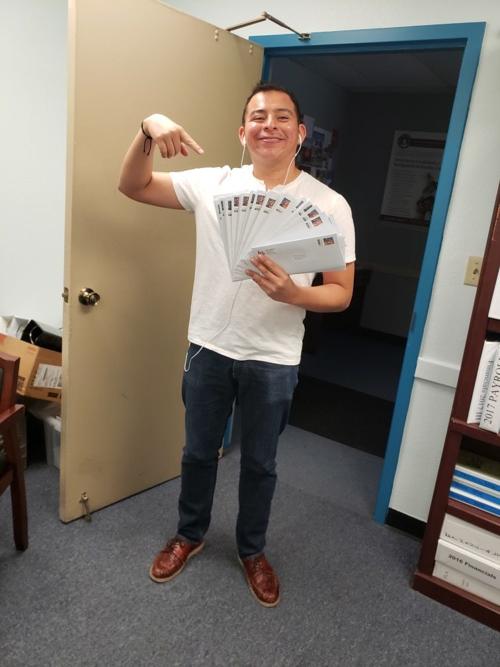 Undocumented families on the Central Coast are beginning to receive donation-funded stimulus checks of $1,200 from the nonprofit disaster relief group 805 Undocufund — an effort to assist those who are ineligible for federal aid during the COVID-19 pandemic.
Founded in 2017 by local grassroots community organizations, 805 Undocufund has raised over $1 million since the end of March to cover stimulus checks for families and individuals in Santa Barbara and Ventura counties, with thousands of individuals applying to receive aid.
Future Leaders of America, the McCune Foundation, Central Coast Alliance United for a Sustainable Economy (CAUSE) and Mixteco Indigena Community Organizing Project (MICOP) originally created the fund to assist undocumented individuals affected by the Thomas fire and Montecito mudslides, raising over $2 million for affected families.
Executive Director of Future Leaders of America Eder Gaona-Macedo said the fund was reopened throughout 2018 and 2019 to meet community need following additional disasters, such as the Woolsey and Hill fires and the Easy and Maria fires, and expanded again in 2020 as organizers began to see the impacts of the COVID-19 crisis on undocumented families.
"We knew COVID-19 was going to overwhelm our communities." Gaona-Macedo said. "We reopened the 805 Undocufund on March 27, and since then we've had over 7,000 people sign up to receive financial assistance ... we were definitely overwhelmed with the number of people that signed up, and that's due to the impacts of COVID-19."
The first day of community COVID-19 testing in Santa Barbara County drew residents from as far as Santa Barbara and southern San Luis Obispo County to the Santa Maria Fairpark Convention Center for a free, 5-minute nasal swab test through federal health service OptumServe.
While 805 Undocufund organizers conducted applicant interviews in person during prior disasters, the higher demand extending into northern Santa Barbara County along with social distancing concerns caused them to switch to a virtual process, Gaona-Macedo said.
The organization reached a milestone on Friday by sending out its first 75 checks to families, and organizers are working through another 200 interviews scheduled this week. Their goal is to process checks every two weeks, Gaona-Macedo said.
"This is the first time we're going to be serving folks in north Santa Barbara County, as previous disasters have been in south Santa Barbara County," he said. 
While a state aid package for undocumented individuals is underway, organizers said the funds are not enough to provide the needed assistance for the state's undocumented population, estimated to be near 2.5 million people.
The $125 million assistance plan for undocumented adults affected by COVID-19, approved by Gov. Gavin Newsom in April, will give 150,000 undocumented adults a one-time cash allocation of up to $1,000 per household beginning this month, according to the governor's office. 
"That's nowhere near enough to provide substantial relief to undocumented families. Although our organization is very proud and thankful that California is leading the way, there needs to be other efforts to provide relief," Gaona-Macedo said. 
In many ways, he said, the COVID-19 pandemic has highlighted larger systemic inequities faced by undocumented immigrants, such as the lack of available disaster aid. Ultimately, it should not be the 805 Undocufund or other organizations meeting this lack of assistance, but the state and federal government, he said. 
"It shouldn't be up to nonprofits. We need a system of change so we can provide more financial assistance," Gaona-Macedo said. 
Along with requesting donations from various foundations, organizers have called on individuals to donate portions of their stimulus checks from the federal government, CAUSE spokesperson Abraham Melendrez said.
"We are doing small local campaigns in cities and regions to encourage those who are able to donate some of the money from their federal checks to the 805 Undocufund. We have had some big community members in the region donate," Melendrez said. 
Local elected leaders such as Santa Maria City Councilwoman Gloria Soto and Santa Barbara Mayor Cathy Murillo have been among the individuals to make donations, something that Soto said felt right to do considering the lack of aid for undocumented families. 
"I am happy to share my stimulus dollars with some of these families who I know are not going to be eligible for these safety nets," Soto said. "I'm just so proud of the work the 805 Undocufund is doing, and them taking initiative to support some of the most vulnerable among us." 
While the fundraising goal for 805 Undocufund is $6.5 million, Gaona-Macedo said they will continue to send out stimulus checks as long as they can.
"It will be a rolling process until we deplete our money or stop getting donations," he said. 
Those interested in donating to 805 Undocufund can find more information at 805undocufund.org/donate. 
Our Neighbors Series: How the Central Coast is adapting to living through a pandemic
We have been publishing a series of stories in print and online titled "Our neighbors: Living through a pandemic." By publishing these short vignettes, we aim to share the struggle and the hope of residents on the Central Coast. Through their stories it becomes clear that we really are facing the coronavirus together. 
Go through our full collection of stories right here, and if you have a story that you think we should know about send an email to JAnderson@santamariatimes.com.
Coronavirus Series: Local impact and reaction to COVID-19 on the Central Coast
We are working hard to get answers about the impact and reaction to the coronavirus in Santa Barbara County, this is a collection of those stories. Do you have a question about coronavirus in Santa Barbara County? The Santa Maria Times news staff will work to answer your questions. Post them to our Facebook page, or email MCooley@SantaMariaTimes.com. You can support the work of local journalists working hard in your hometown by signing up for a News+ Membership online.
Laura Place covers city government for the Santa Maria Times.
Concerned about COVID-19?
Sign up now to get the most recent coronavirus headlines and other important local and national news sent to your email inbox daily.