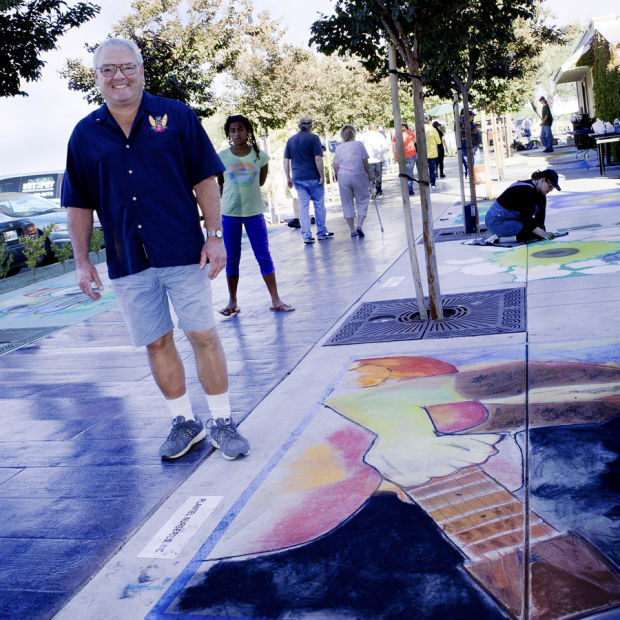 Editor's Note: This article is the second in a three-part series, profiling the recipients of the annual Celebrate Philanthropy! honors. The honorees will be formally recognized at the Celebrate Philanthropy! Luncheon, hosted by the Santa Barbara Foundation and sponsored by the Santa Maria Times, Nov. 7 at the Santa Maria Country Club. Call 346-6123 for more information. Reservations are required.
Mike Gibson lives his life in humble pursuit of the Rotarian motto "Service Above Self," a philosophy he learned from his father.
Some of Gibson's fondest childhood memories include accompanying his father and fellow Rotarians to make repairs at a Boy Scout campground and selling Christmas trees as a fundraiser for the local YMCA in Van Nuys, where he grew up.
"I always admired the volunteer activities that my dad was involved with when I was growing up," Gibson said. "We were always doing something to help the community, and I only hope that I have set half as good an example for others as he did for me."
Gibson's example has included 25 years of service as a board member for organizations including the Rotary Club of Santa Maria Breakfast, Santa Maria Valley YMCA, Boys & Girls Club of Santa Maria Valley, Allan Hancock College Foundation, Orcutt Children's Arts Foundation, Orcutt Union School District, United Way of the Central Coast, Santa Maria Museum of Flight, and C.A.L.M. (Child Abuse Listening and Mediation).
For his community achievements, Gibson will be honored at the 2013 Celebrate Philanthropy! awards luncheon on Nov. 7.
"Mike is a philanthropist in every sense of the word, giving time, talents, and resources to the community," said Joannie Jamieson, past president and board member of the Allan Hancock College Foundation. "He is someone who you can always count on, and he goes about all this selflessly and quietly, never wanting to draw attention to himself."
With a bachelor's degree in economics from Occidental College and a master's in finance from the University of Southern California, Gibson has spent his career focused on finance and investment management for banking institutions and currently works as the business administrator for Andre, Morris & Buttery. He uses his professional knowledge to provide counsel on finance and investment decisions to many nonprofit organizations.
"Mike understands best financial practices, bringing his knowledge and experience to bear on the financial health of the nonprofit organizations he works with," Jamieson said. "Finance is an area that many nonprofits struggle with, and Mike uses his considerable expertise to strengthen their missions."
Focusing his community service on providing opportunities for youth, Gibson's favorite volunteer moments are spending time with Boys & Girls Club youth, speaking with Hancock College students who have received life-changing scholarships, and hearing how YMCA participants are receiving the resources they need to overcome challenging situations.
"My father was my role model in a lot of different ways," Gibson said. "Nothing is sadder to me than knowing there are so many kids out there who don't have that particular blessing in their lives. Seeing the happiness on a young boy's face when he won a bike at a Boys & Girls Club event, especially given his difficult family circumstances, was priceless."
In addition to lending his talents to local organizations, Gibson finds joy in supporting his loved ones in their efforts to contribute to the community. Gibson and his wife of 30 years, Marla, made Santa Maria their home in 1988 and have three children Larissa, Sandra, and Robert.
"A highlight for me was helping to support my wife when she pursued her dream of becoming a registered nurse," Gibson said. "Today she is an R.N. at Marian Regional Medical Center and I am proud of the work she is doing and has done for nearly 20 years."
Gibson is currently serving his 19th consecutive year as co-chair of the Santa Maria Christmas Parade of Lights. His efforts are rewarded by the joy on children's faces and the hope that he can be an example for others, just as his father was for him.
"None of us is perfect," Gibson said. "We can only try to do the best we can, treat people well, be patient, be positive, and help on things we think we can be helpful with."
Be the first to know
Get local news delivered to your inbox!